Global Automotive Front End Module Market is estimated to reach USD 166028.11 million by 2027, growing at a CAGR of 5.30 % between 2019 and 2027
Automotive Front End Modules (FEMs) are usually multi piece assemblies with integrated amount of components. These components are forward lighting, radiators & cooling fans, grille-opening reinforcement (GOR) panels, air conditioning (A/C) condensers, crumple zones, hood latches, bumpers and electronics & wiring. The front end module (FEM) is a composite assembly with very high demands on functionality, technology & fitting accuracy. The front end module (FEM) is beneficial for vehicle makers and the consumers and is essentially useful for the ergonomic aspects of the whole assembly process. The beneficial aspects of front end modules (FEM) for auto makers are reduction in cost of materials, assembly time reduction, length reduction for assembly line, supply chain simplification and tooling cost reduction.
The global demand for automotive front end module (FEM) is due to rising demands for small and heavy duty vehicles. The emerging economies, increased disposable income of middle class group and more consumer centric products with modern digitalization are some of the reasons with which future market is expected to be favourable for the automobile industry and in turn for front end module market. Front end module modularization is gaining importance as in the manufacturing process it saves time, cost and manpower. The rising demand for the lightweight vehicles is also the driving force for the automotive front end module market. Nowadays instead of heavy steel and iron carriers, lightweight components are used which are responsible for fuel efficiency and vehicle performance improvement.
Rising demand for lightweight automotive front-end modules, Increase in demand and sales of commercial vehicles with technological advancements, government stringent emission norms, vehicle weight reduction and higher disposable incomes of the consumers leading to higher demand.Increasing main safety from accidents and growing consumer preferences in application of front end module for passenger's Vehicles have created huge demand in market for Automotive Front End Module Market. Vehicle parts modernization and emerging Aftermarket participants can hamper the growth of Automotive Front End Module Market. Besides, strict adherence to safety standards pertaining to the use of advanced, lightweight front-end module components in vehicles also hinders the market growth to some extent.
The study covers detail analysis, growth and forecast of the Automotive Front End Module Market. The report includes market analysis on global and regional level. The study covers historical data analysis from 2014 to 2017 and market forecast for 2019 to 2027 based on revenue generated. The study includes market value in terms of revenue in billion USD for years 2014-27 and compound annual growth rate (CAGR) in % for from 2019-2027. The market is expected to show constant growth between 2019-2027.
The report comprises value chain analysis for each of the product segments. Value chain analysis offers in depth information about value addition at each stage. The study includes drivers and restraints for Automotive Front End Module Market along with their impact on demand during the forecast period. The study also provides key market indicators affecting the growth of the market. Research report includes major player analysis with shares of each player inside market, growth rate and market attractiveness in different end users/regions. Our study Automotive Front End Module Market helps user to make precise decision in order to expand their market presence and increase market share.
The report provides Automotive Front End Module Market Dynamics ,includes industry growth drivers, challenges, opportunities , risk, constraints as well as threats .Reports also includes Manufacturing Cost Analysis mainly included Raw Materials Analysis, Price Trend of product, Mergers & Acquisitions, Expansion, Key Suppliers of product, Concentration Rate of Automotive Front End Module Market, Manufacturing Process Analysis. Research Report contains Market Effect Factors analysis mainly included Technology Progress, Consumer Needs Trend, External Environmental Change.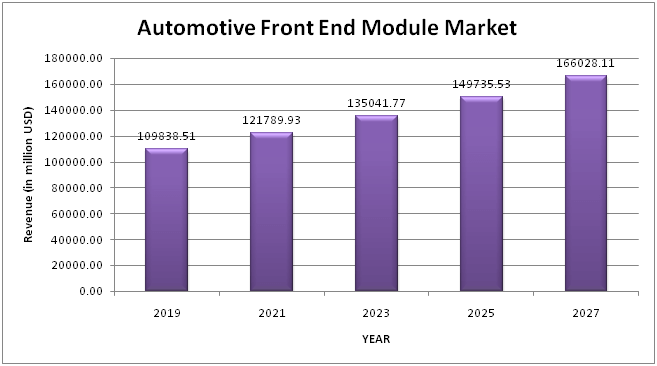 Global Automotive Front End Module Market: Product Type
Steel
Composite
Hybrid
Plastic
Global Automotive Front End Module Market: Application
Passenger Vehicle
Commercial Vehicle
Global Automotive Front End Module Market: Competitive Analysis
Report includes accurate analysis of key players with Market Value, Company profile, SWOT analysis. The Study constitutes of following key players in Global Automotive Front End Module Market:

HBPO Group
Magna
Faurecia
Valeo
DENSO
Calsonic Kansei
Hyundai Mobis
SL Corporation
Yinlun
Geographical analysis of Global Automotive Front End Module Market:
North America
Europe

France
Germany
Spain
UK
Rest of Europe

Asia Pacific

China
Japan
India
South East Asia

Latin America
Middle East and Africa
Global Automotive Front End Module Market Report delivers comprehensive analysis of :
Market Forecast for 2019-27
Market growth drivers
Challenges and Opportunities
Emerging and Current market trends
Market player Capacity, Production, Revenue (Value)
Supply (Production), Consumption, Export, Import analysis
End user/application Analysis
---
Automotive Front End Module Market was valued at around USD 121789.93 million in 2021 & estimated to reach USD 174827.5933 by 2028.
Automotive Front End Module Market is likely to grow at compounded annual growth rate (CAGR) of 5.3% between 2022 to 2028.
Yes, the report includes COVID 19 impact on the market.