Automotive Millimeter Wave Radar Market is estimated to grow at a CAGR of 15.1 % between 2022 and 2028
Product type & Competitive analysis
24GHz, 77GHz, and 79GHz are primary product included in Automotive Millimeter Wave Radar. 24 GHz is a portion of the SHF radio spectrum internationally allocated to amateur radio and amateur satellite use. An industrial, scientific and medical (ISM) band includes in 24 GHz band from 24.0 GHz to 24.25 GHz. This band is called the narrowband (NB) which have a bandwidth of 250 MHz. If we see 77 GHz, there is a 76-77 GHz band available for vehicular long-range radar applications. This band has the advantage of high allowed equivalent isotropcic radiated power (EIRP). The prime and one of the most important benefits of 77 GHz is the wide bandwidth available in that band. The significantly higher bandwidth available at 77 GHz as compared to the 200 MHz ISM band, which is available at 24 GHz. Particularly, the 77-81 GHz SRR band provides up to 4 GHz of sweep bandwidth. The benefits of the 79 GHz are the higher frequency radar systems tend to perform better because they are more reliable and more accurate. Radar devices is a single technology can be used for all applications and it is a much smaller device.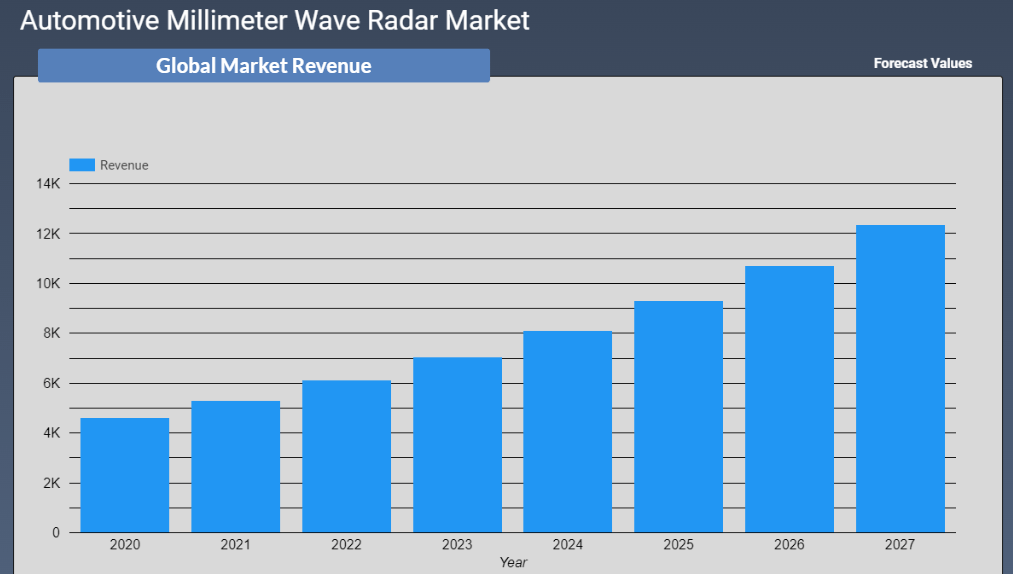 Application & Regional analysis
Study indicates that the Automotive Millimeter Wave Radar is divided into four applications which are blind spot detection (BSD), lane change assist (LCA), rear pre-crash system (RPS), and autonomous emergency braking (AEB). Blind Spot Detection (BSD) system is implemented in automobiles for monitoring vehicles at the rear and side of the driver or vehicle and it is a sensor based detection system. BSD systems produce tactile, audible, vibrating or visual form of warnings. When there are other vehicles approaching from the sides, they also assist the driver at the parking lots. Passengers, headrests and window pillars are the various objects which caused the blind spots. For removing the blind spots mirrors are commonly used.
The Blind Spot Detection (BSD) system can monitor to avoid hazardous situations. BSD systems, with the help of cameras and sensor systems generate information about various objects that are outside the range of driver's vision. Sensors or cameras are used by the lane change assist technology to monitor the perimeter of the car, and alerts the driver if a car is approaching fastly from behind or is floating in the blind spot. Based on sensor data, the lane change assist warns the driver acoustically and haptically of imminent collisions when changing lanes. The possibility of an accident and automatically closes the electronic windows and optional panoramic sunroof are identifies by the pre-crash which is a proactive passenger safety system. It also tensions the front seat belts as a precautionary measure. Autonomous emergency braking (AEB) is a vital piece of kit you should have on your new car and it is a safety feature that could save your life. Autonomous emergency braking (AEB) is becoming increasingly common on new cars and it steps in automatically to prevent a collision. In recent years, leading safety experts rate AEB as one of the most important road safety advances.
Geographically, the Automotive Millimeter Wave Radar is divided into Europe, Middle East, and Africa. In Europe; Germany, France, UK, Russia, Italy and Benelux. In Middle East; Saudi Arabia, Israel, UAE and Iran and in Africa; South Africa, Nigeria, Egypt and Algeria. The Europe held the largest share in the global production market of Automotive Millimeter Wave Radar and its revenue of global market exceeds 40% in 2018. The next is USA. The growing adoption of adaptive cruise control systems in the vehicles due to increased occurrences of road accidents and growing concerns towards road safety are expected to drive the use of millimeter wave radar IC in this application. AEBS is expected to witness the highest growth over the forecast period. North America is the largest region by value and volume due to stringent government regulations on safety and increasing demand of autonomous vehicles.

Automotive Millimeter Wave Radar Market: Product Type
Automotive Millimeter Wave Radar Market: Application
Blind Spot Detection (BSD)
Lane Change Assist (LCA)
Rear Pre-Crash System (RPS)
Autonomous Emergency Braking (AEB)
Automotive Millimeter Wave Radar Market: Competitive Analysis
Report includes accurate analysis of key players with Market Value, Company profile, SWOT analysis. The Study constitutes of following key players in Automotive Millimeter Wave Radar Market:

Bosch
Continental Automotive
TRW (ZF)
Delphi
Hella
Denso
Fujitsu
Autoliv
Valeo
Geographical analysis of Automotive Millimeter Wave Radar Market :
North America
Europe

France
Germany
Spain
UK
Rest of Europe

Asia Pacific

China
Japan
India
South East Asia

Latin America
Middle East and Africa
Automotive Millimeter Wave Radar Market Report delivers comprehensive analysis of following parameters :
Market Estimates & Forecast from 2022 to 2028

Market Intelligence to consolidate decisions

Market growth drivers, emerging and current market trends

Challenges and Opportunities overview

In-detailed segment & End user/application analysis

Top player Production insight, Revenue (Value), market share, recent developments & future outlook

Supply (Production), Consumption, Export-Import analysis

Covid 19 impact & sustainability strategies in a post-pandemic market
---
Automotive Millimeter Wave Radar Market was valued at around USD 5309.68 million in 2021 & estimated to reach USD 14210.05024 by 2028.
Automotive Millimeter Wave Radar Market is likely to grow at compounded annual growth rate (CAGR) of 15.1% between 2022 to 2028.
segment dominated the global market in terms of revenue generation. region is likely to show the highest growth rate between 2021 to 2028.
Yes, the report includes COVID 19 impact on the market.