Automotive Laser Headlight Market is estimated to grow at a CAGR of 65.2 % between 2022 and 2028
Overview
Automotive Laser headlights are laser-assisted headlights which primarily comprise of laser diodes and a phosphorous lens. These laser lights offer almost four times the brightness of an LED-powered light. Manufacturer in the market are expected to focus on the miniaturization of the headlight systems without compromising on the intensity of light. For drivers, the common advantage of laser-assisted headlights is that these headlights have the longest illumination range which is very useful for drivers while driving the cars mostly in nights. Improving visibility for the driver and better road safety which is twin advantages provided by laser-assisted headlights.
Product type & Competitive analysis
35W, 40W, and 60W are primary product included in automotive laser headlights. 35W, 40W, and 60W automotive laser headlights are available in market. These all kinds of watts in laser headlights has risen the demand for automotive laser headlights by companies as customers loves this kinds of power full laser headlights to their cars. Nearby all different kind of vehicle such as cars, trucks, bikes, ambulance etc. used these kinds of watt laser headlights. 35W laser headlights are mostly used by two wheelers and 40W and 60W automotive laser headlight is used by heavy vehicles like cars, trucks etc.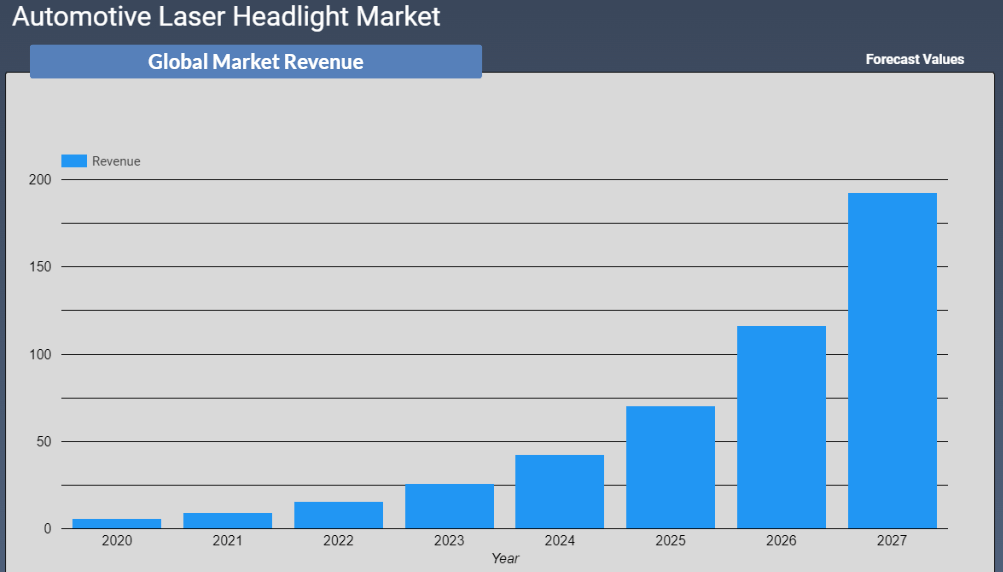 Application & Regional analysis
Study indicates that the automotive laser is divided into two applications which are passenger vehicle and commercial vehicle. In terms of revenue, passenger vehicle segment held the largest market share in 2016, owing to the increased in demand for passenger vehicle embedded with hi-tech features on account of increased disposable income over the couple of years growing in the emerging nations. The increasing disposable incomes, especially in the developing economies of the world are expected to play an integral role in the adoption of automotive laser headlights in passenger cars. Due to the high cost of commercial vehicles, vehicles are likely to be slow adopters of automotive laser headlights. Commercial vehicles are divided into two parts LCV and HCV. For transportation of goods or paying passengers, a commercial vehicle is used.
A commercial vehicle is defined by the European Union as any motorized road vehicle that by its kind of construction and equipment is designed for transporting. LCV stands for light commercial vehicle. With a gross vehicle weight of no more than 3.5 metric tons, LCV in the European Union, Australia, and New Zealand is a commercial carrier vehicle. In both Canada and Ireland, the LCV designation is also occasionally, where Commercial Van is more generally used. In India, light commercial vehicles market is projected to surpass $ 8 billion by 2025. HCV stands for Heavy Commercial Vehicle. A vehicle with GVW of more than 6 ton is defined as HCV. Heavy weight vehicles are used to transport raw materials to work site and finished goods to the market.
Geographically, the automotive laser headlight is divided into Europe: Germany, France, UK, Russia, Italy and Benelux; Middle East: Saudi Arabia, Israel, UAE; Africa: South Africa, Nigeria, Egypt and Algeria. In 2016, Europe dominated the automotive laser headlight market with more than 40% share and is expected to follow the same trend during the forecast period. Germany is at the forefront with significant adoption of this innovative technology. The well-established automobile manufacturers in the developed parts of Europe are expected to keep this regional market ahead of others. Europe and North America are well known for being the pioneers of automotive technologies. Hence, it is highly probable that growing technological advancements will be deployed in these regions in significant numbers, considering the acceptance from end customers. Asia Pacific too is expected to show tremendous progress as the emerging economies offer lucrative opportunities to the automotive sector. A wide base of younger population with a higher purchasing power in countries such as Japan, India, and China are expected to propel the automotive laser headlight market of Asia Pacific.

Automotive Laser Headlight Market: Power Type
Automotive Laser Headlight Market: Application
Passenger Vehicle
Commercial Vehicle
Automotive Laser Headlight Market: Competitive Analysis
Report includes accurate analysis of key players with Market Value, Company profile, SWOT analysis. The Study constitutes of following key players in Automotive Laser Headlight Market:

OSRAM
ZKW Group
Robert Bosch
Valeo
SORAALASER
Geographical analysis of Automotive Laser Headlight Market :
North America
Europe

France
Germany
Spain
UK
Rest of Europe

Asia Pacific

China
Japan
India
South East Asia

Latin America
Middle East and Africa
Automotive Laser Headlight Market Report delivers comprehensive analysis of following parameters :
Market Estimates & Forecast from 2022 to 2028

Market Intelligence to consolidate decisions

Market growth drivers, emerging and current market trends

Challenges and Opportunities overview

In-detailed segment & End user/application analysis

Top player Production insight, Revenue (Value), market share, recent developments & future outlook

Supply (Production), Consumption, Export-Import analysis

Covid 19 impact & sustainability strategies in a post-pandemic market
---
Automotive Laser Headlight Market was valued at around USD 9.47 million in 2021 & estimated to reach USD 317.9949916 by 2028.
Automotive Laser Headlight Market is likely to grow at compounded annual growth rate (CAGR) of 65.2% between 2022 to 2028.
segment dominated the global market in terms of revenue generation. region is likely to show the highest growth rate between 2021 to 2028.
Yes, the report includes COVID 19 impact on the market.