Automotive Audio Market is estimated to grow at a CAGR of 5 % between 2022 and 2028
Overview
Automotive industry throughout the globe is evolving and adopting advanced technological developments and innovations, along with increased focus on driver's comfort and safety. The technology like voice-enabled audio and smartphone controlled audio systems is a part of automotive audio market has also observed developments in various technologies. Automotive audio systems have become important equipment for drivers and occupants, as the time spent in passenger cars by consumers is increasing due to traffic congestion and increase in daily work commute by personal vehicles. Automotive audio systems are designed to create superior sound quality comprised of numerous speakers, sound amplifiers, and tweeters which deliver optimum sound quality compared to regular audio systems.
Product type & Competitive analysis
A speaker that is 4-way consists of a bass and mid-range cone as well as 2 tweeters. With an extra tweeter gives better high-range sound to this speaker, but commonly adds little to the overall quality. 4-6 Speakers speaker set comes with Vertical Attach Surround Technique (VAST) which essentially increases the speaker's effective radiating cone area without increasing the speaker size. This technique results in a 25% increase in active radiating cone area compared to a standard 4x6 speaker. The Punch P1462 has a flex fit basket which utilizes slots where possible instead of single screw sized holes. This feature facilitates slight adjustment of the speaker when it is mounted. > 6 Speakers are used in cars, trucks, or in luxury cars. < 4 Speakers, 4-6 Speakers, > 6 Speakers this all are the different kinds of speakers which is used in different types of cars with their suitability. The price of this speakers is different as compared with each other and price speakers is also differs due to their quality of material is used while manufacturing.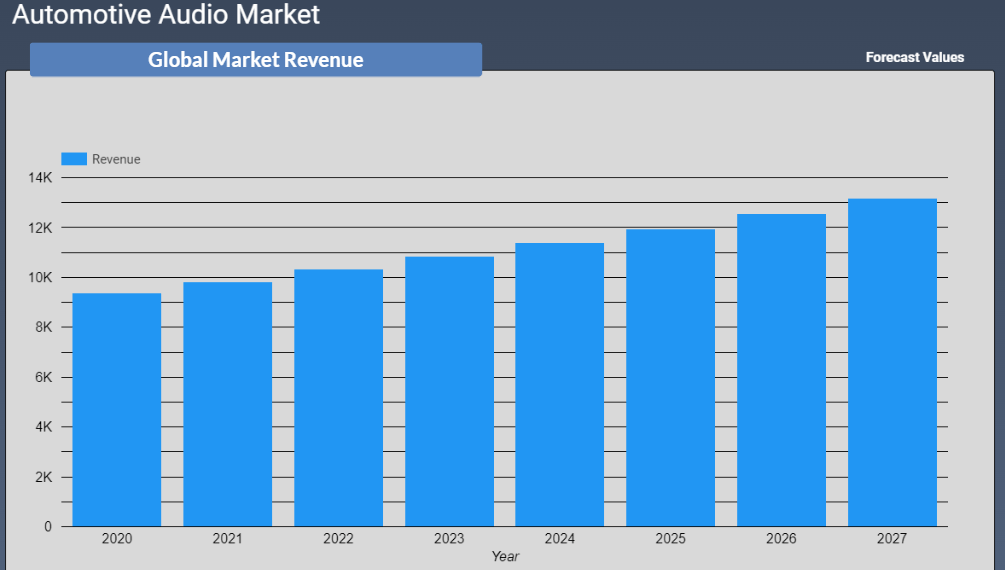 Application & Regional analysis
Study mainly considers application of automotive audio system in passenger vehicles and commercial vehicles. A passenger car is a motor vehicle designed or adapted primarily to carry people on highways and streets. Most cars, station wagons, vans, and some pick-up trucks are passenger cars. This passenger car largely consists of automotive audio systems in it. Not only passenger cars but commercial car also consist of automotive audio in it, as commercial cars are divided into two sections LCV and HCV and this both light commercial cars and heavy commercial cars consist of automotive audio in it. LCV stands for light commercial vehicle. With a gross vehicle weight of no more than 3.5 metric tons, LCV in the European Union, Australia, and New Zealand is a commercial carrier vehicle. In both Canada and Ireland, the LCV designation is also occasionally, where Commercial Van is more generally used. HCV stands for Heavy Commercial Vehicle. A vehicle with GVW of more than 6 ton is defined as HCV. Heavy weight vehicles are used to transport raw materials to work site and finished goods to the market.
Geographically, the automotive audio is divided into United States, China, Europe, Japan, Southeast Asia, and India. In automotive audio market, Japan is the largest supplier of automotive audio. In automotive audio market, North America is the second largest supplier of automotive audio. The automotive audio production market of North America have nearly 15% share in 2017. In 2018, China is the largest consumption place, with 27% share of consumption market. With the consumption market share of 23%, China and Europe is the second largest consumption place. Europe is largest adopter of automotive audio systems, followed by North America.

Automotive Audio Market: Product Type
Head Unit
Speaker
Amplifier
Connectors
Automotive Audio Market: Control type
Automotive Audio Market: Application
Passenger Vehicles
Commercial Vehicles
Automotive Audio Market: Competitive Analysis
Report includes accurate analysis of key players with Market Value, Company profile, SWOT analysis. The Study constitutes of following key players in Automotive Audio Market:

Panasonic
Harman
Continental
Pioneer
Visteon
Clarion
Fujitsu Ten
Delphi
MOBIS
BOSE
Alpine
Geographical analysis of Automotive Audio Market:
North America
Europe

France
Germany
Spain
UK
Rest of Europe

Asia Pacific

China
Japan
India
South East Asia

Latin America
Middle East and Africa
Automotive Audio Market Report delivers comprehensive analysis of following parameters :
Market Estimates & Forecast from 2022 to 2028

Market Intelligence to consolidate decisions

Market growth drivers, emerging and current market trends

Challenges and Opportunities overview

In-detailed segment & End user/application analysis

Top player Production insight, Revenue (Value), market share, recent developments & future outlook

Supply (Production), Consumption, Export-Import analysis

Covid 19 impact & sustainability strategies in a post-pandemic market
---
Automotive Audio Market was valued at around USD 9836.07 million in 2021 & estimated to reach USD 13840.33825 by 2028.
Automotive Audio Market is likely to grow at compounded annual growth rate (CAGR) of 5% between 2022 to 2028.
segment dominated the global market in terms of revenue generation. region is likely to show the highest growth rate between 2021 to 2028.
Yes, the report includes COVID 19 impact on the market.