The global wood vinegar market is valued at USD 3.8 million in 2016 and is expected to reach USD 7.7 million by the end of 2026, growing at a CAGR of 7.3 % between 2018 and 2026.
Wood vinegar is a dark liquid also known as pyroligneous acid, liquid smoke or mokusaku. Wood vinegar is obtained as a byproduct during charcoal production when a biomass is heated in an airless container; wood vinegar is obtained in gaseous form. When the gas is cooled, it condenses into liquid. Wood vinegar ia cost effective as farmers can produce it from branches trimmed from trees. Wood vinegar is proving to be an attractive replacement for synthetic chemicals as it can be used as organic pesticide as well as animal fodder.
Wood vinegar is safe to human beings, animals, plants, and environment. It not only eliminates the pests but also improves soil quality. Wood vinegar is able to accelerate the development of roots, stems, tubers, leaves, flowers, and fruit. Low cost of production helps in savings from cost of chemicals. Wood vinegar product provides various health benefits including better digestion, protects liver disease, promotes oral health, reduces the effect of vomiting and diarrhea and maintains normal cholesterol level.
Wood vinegar market is segmented into slow pyrolysis, fast pyrolysis, and intermediate pyrolysis on the basis of pyrolysis method. Slow pyrolysis possesses largest market share in global market in 2017 and is expected to be the largest market share holder during the forecast period. Agriculture, animal feed, food, medicinal and consumer products sector are application sector segment of wood vinegar market. Agriculture is the largest sector in global wood vinegar market in 2017 and is anticipated to hold largest market share during forecast period.
Asia Pacific is the largest Wood vinegar 2016 as wood vinegar is rapidly gaining acceptance as an essential Asian natural farming input. Asia is the largest producer and user of wood vinegar. About 80% of global wood vinegar produced in Asia in 2016. Asia Pacific is expected to be the largest player during the forecast period in global Wood Vinegar Market. North America and Europe boost this market due to high rate of technological developments. Lack of government policies and low level of awareness in Asian countries is a big hurdle for growth of this market.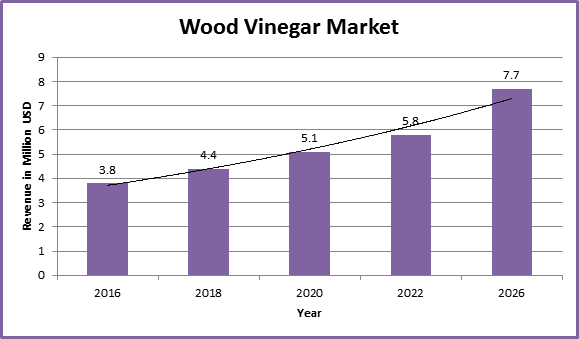 Wood Vinegar Market : Product Type
Slow Pyrolysis
Fast Pyrolysis
Intermediate Pyrolysis
Wood Vinegar Market : Application
Agriculture
Animal Feed
Food
Medicinal
Consumer Products
Global Wood Vinegar Market: Competitive Analysis
Report includes accurate analysis of key players with Market Value, Company profile, SWOT analysis. The Study constitutes of following key players in Global Wood Vinegar Market:
ACE (Singapore) Pte Ltd
Tagrow Co., Ltd
Wood Vinegar Australia
New Life Agro
Verdi Life, L.L.C.
Taiko Pharmaceutical Co., Ltd.
Nettenergy B.V.
Sort Of Coal
Dongying Runyi Biological Technology Co, Ltd
Applied Gaia Corporation
Geographical analysis of Wood Vinegar Market :
North America
Europe

France
Germany
Spain
UK
Rest of Europe

Asia Pacific

China
Japan
India
South East Asia

Latin America
Middle East and Africa
Wood Vinegar Market Report delivers comprehensive analysis of :
Market Forecast for 2018-26
Market growth drivers
Challenges and Opportunities
Emerging and Current market trends
Market player Capacity, Production, Revenue (Value)
Supply (Production), Consumption, Export, Import analysis
End user/application Analysis
---
Wood Vinegar Market was valued at around USD million in 2021 & estimated to reach USD by 2028.
Wood Vinegar Market is likely to grow at compounded annual growth rate (CAGR) of % between 2022 to 2028.
Yes, the report includes COVID 19 impact on the market.