The global Chickpea Flour market is valued at USD 3.21 billion in 2016 and is expected to reach USD 5.33 billion by the end of 2026, growing at a CAGR of 5.2 % between 2018 and 2026.
Chickpea flour is simply ground raw chickpeas. It grows in tropical and sub- tropical regions. It is also known as gram or garbanzo bean flour. Chickpea flour is naturally gluten-free as it is solely made of chickpeas and also rich in protein, fiber, and other vitamins and minerals. Chickpea flour is a staple ingredient in South Asia and Southern Europe. However, it has recently gained popularity worldwide as gluten-free flour as it can be used as part of a gluten-free flour mix for baked goods, as a binder for veggie burgers and fritters, as a thickener for soups and as a subtle flavor which makes it perfect for desserts as well as savory dishes.
Chickpea flour market is split as bakery and confectionary, beverages, extruded products, dairy products, and animal feed on the basis of end-user applications. Bakery and confectionary is the largest segment and is expected to grow with high CAGR during forecast period. Chickpea flour market is compartmented as desi and kabuli chickpea flour on product basis. Desi chickpea flour is expected to witness significant growth as compared to the kabuli chickpea flour during forecast period. As chickpea flour is widely used in producing baked food products, hence the demand for chickpea flour is high among the companies producing backed products.
Asia Pacific is the largest chickpea flour market followed by Europe. Asia Pacific region is expected to grow at the highest CAGR during forecast period due to high cultivation of chickpea in the region is contributing to the growth of the chickpea flour market. Rising health consciousness, changing life-style with changing eating habits is driving this market. Increasing application of chickpea flour in bakery, snack and savory market is expected to boost significantly to the revenue growth of chickpea flour market.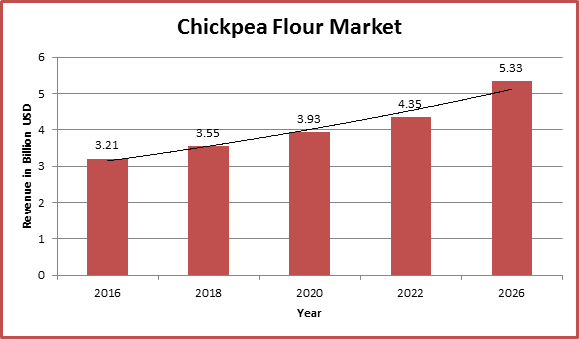 Chickpea Flour Market : Product Type
Chickpea Flour Market : Application
Bakery and Confectionery
Extruded Products
Beverages
Animal Feed
Global Chickpea Flour Market: Competitive Analysis
Report includes accurate analysis of key players with Market Value, Company profile, SWOT analysis. The Study constitutes of following key players in Global Chickpea Flour Market:
Ingredion
ADM
The Scoular Company
SunOpta
Anchor Ingredients
EHL Limited
Batory Foods
Diefenbaker Spice & Pulse
Blue Ribbon
Great Western Grain
Best Cooking Pulses
Bean Growers Australia
Parakh Agro Industries Ltd
CanMar Grain Products
Geographical analysis of Chickpea Flour Market :
North America
Europe

France
Germany
Spain
UK
Rest of Europe

Asia Pacific

China
Japan
India
South East Asia

Latin America
Middle East and Africa
Chickpea Flour Market Report delivers a comprehensive analysis of the following parameters :
Market Forecast for 2018-26
Market growth drivers
Challenges and Opportunities
Emerging and Current market trends
Market player Capacity, Production, Revenue (Value)
Supply (Production), Consumption, Export, Import analysis
End-user/application Analysis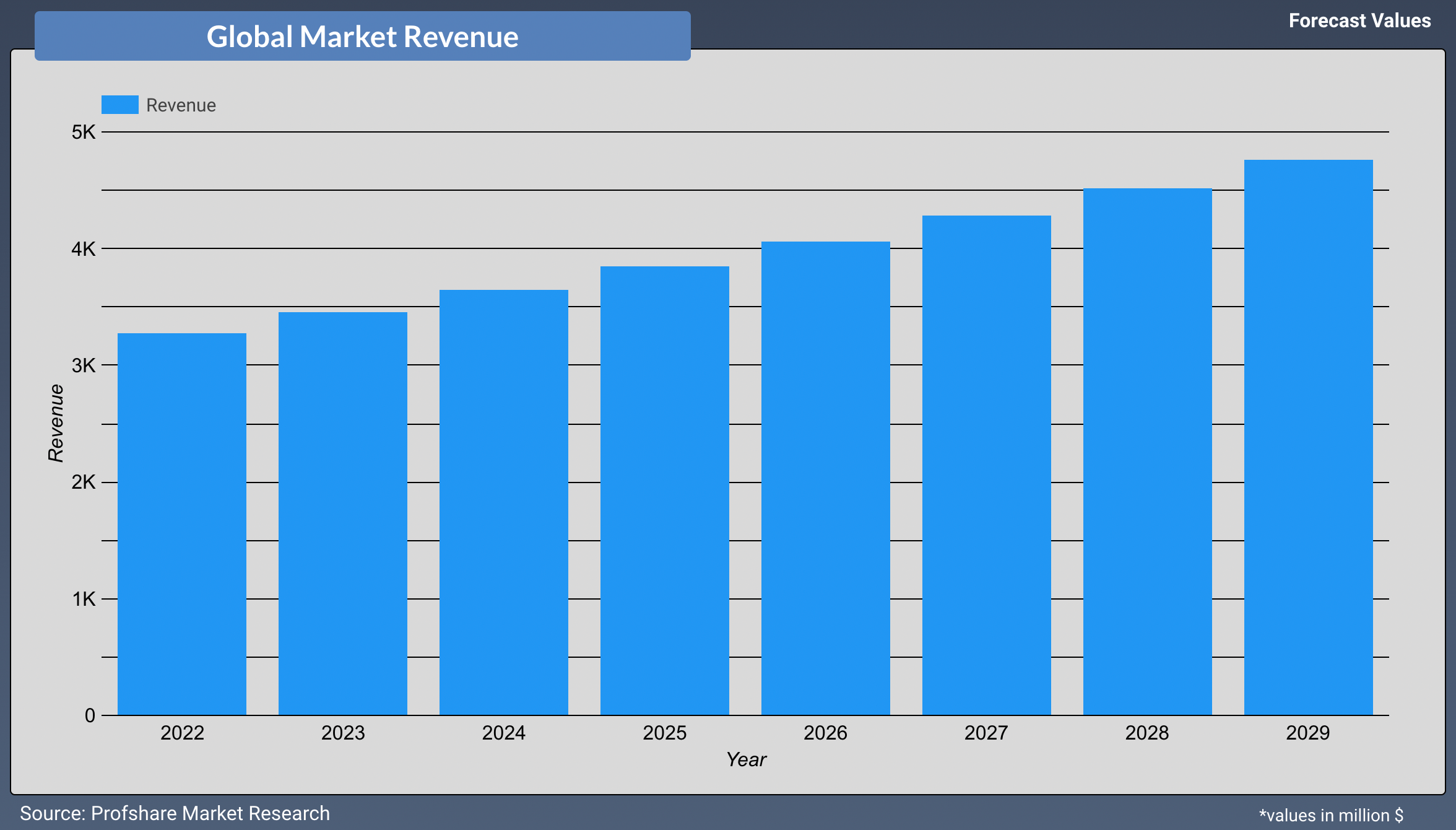 Market Estimates & Forecast from 2023 to 2029

Market Intelligence to consolidate decisions

Market growth drivers, emerging and current market trends

Challenges and Opportunities overview

In-detailed segment & End user/application analysis

Top player Production insight, Revenue (Value), market share, recent developments & future outlook

Supply (Production), Consumption, Export-Import analysis

Covid 19 impact & sustainability strategies in a post-pandemic market