Report Summary
Global Window Films Market is valued at USD 52.3 billion in 2016 and is expected to reach USD 120.44 billion by the end of 2026, growing at a CAGR of 8.7% between 2018 and 2026.
Window Film is a self-adhesive polyester film which is mainly applied to glass surfaces. In automobiles, homes and commercial buildings this Window Film used as a retrofit application to upgrade solar control, safety and appearance. Window Film is a sheet of strong polyester laminate treated in a variety of ways to improve the look and performance of existing windows. Window Film has one side scratch resistance coating and the other has an adhesive that bonds the film to the glass surface. Low e-Window Film enhances the solar and insulting performance of building's windows, reducing excessive solar heat gain, it also reduces cooling loads and peal demand. By improving window insulting performance result in reducing heating costs.
Window Films are mainly segmented into four types on the basis of product type and these 4 types are sun control films, decorative films, safety & security film, and privacy Window Film. On the basis of end application, these Window Films segmented into 4 types. Sun control films are better known as "custom window tints" than sunblock, but entire Alomar's line of sun control automotive films will protect you from 99% of harmful UV rays, every day. Safety & security Window Films protect your property from the break and break crimes to accidents and natural disasters. It also provides precious time by helping to deter unwanted individuals from entering your home.
Window Films are widely used in Automotive, construction and marine industries. All types of Window Films can be installed by cutting first and then apply. One has to cut the pieces of film so they measure about 1/2" larger than the window panes being covered. With the help of clear water spritz the window pane, remove the backing from the film and stick the film to the window. Water can be used as it makes it easier to position the film and helps hold it on the window. As the main purpose of Window Film is to reduce the excessive solar heat gain, it also reduces cooling loads and peal demand.
The market is expected to have considerable growth owing to increasing demand from end-user industries includes automotive, construction, and marine. In the construction sector surging use of Window Films in green building and net-zero energy buildings is anticipated to drive its consumption. In developed economies such as U.S. and Germany to reduce carbon dioxide emissions coupled with concerns related to energy conservation is likely to boost demand over the forecast period. Global Window Films market is highly concentrated and competitive in nature due to the presence of large manufacturers such as Eastman, 3M, Solar Gard-Saint Gobain, Madico, Johnson, Hanita Coating, Haverkamp, Sekisui S-Lec America, GarwareSunControl, Wintech, Erickson International, KDX Optical Material operating in it.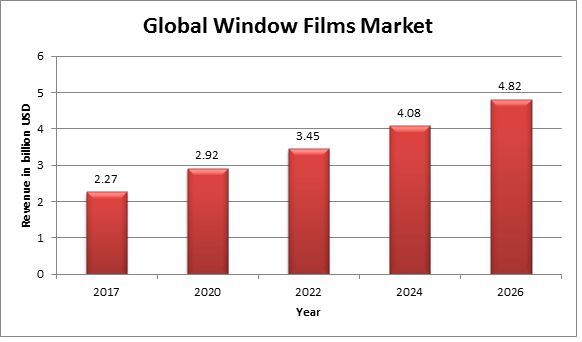 Window Films Market: Product Type
Sun control films
Decorative films
Safety & security films
Privacy Window Films
Window Films Market : Application
Automotive
Construction
Marine
Global Window Films Market: Competitive Analysis
Report includes accurate analysis of key players with Market Value, Company profile, SWOT analysis. The Study constitutes of following key players in Global Window Films Market:
Eastman
3M
Solar Gard-Saint Gobain
Madico
Johnson
Hanita Coating
Haverkamp
Sekisui S-Lec America
GarwareSunControl
Wintech
Erickson International
KDX Optical Material
Geographical analysis of Window Films Market:
North America
Europe

France
Germany
Spain
UK
Rest of Europe

Asia Pacific

China
Japan
India
South East Asia

Latin America
Middle East and Africa
Window Films Market Report delivers a comprehensive analysis of the following parameters :
Market Forecast for 2018-26
Market growth drivers
Challenges and Opportunities
Emerging and Current market trends
Market player Capacity, Production, Revenue (Value)
Supply (Production), Consumption, Export, Import analysis
End-user/application Analysis
Report Coverage
| Parameters | Details |
| --- | --- |
| Base Year | 2022 |
| Historical Data | 2017-2022 |
| Forecast Data | 2023-2029 |
| Regional Scope | North America, Europe, Asian Pacific, Latin America, Middle East and Africa, and ROW |
---
Frequently Asked Questions (FAQ)
Window Films Market report considers 2021 as the base year.
Window Films Market report considers data for period 2016 to 2021 as the historical data to predict market forecast between 2022 to 2029.
Yes, report is inclusive in-detailed analysis of key players in Window Films Market
Window Films Market Study is broadly divided into North America, Europe, Asian Pacific, Latin America, Middle East and Africa, and ROW. Also these regions are further analysed as per various countries
Window Films Market Report includes Market Segmentation, Regional outlook, Application Analysis, Competitive analysis, Supply-Demand Analysis, Pricing insight.
Yes, the report includes COVID 19 impact on the market.