Global WI-FI Camera Market is estimated to reach USD 40307.82 million by 2027, growing at a CAGR of 11.7 % between 2019 and 2027
Wi-Fi is a wireless technology that allows network devices transmit data through wireless signal (2.4GHz UHF band, 5GHz SHF band). Once the camera supports Wi-Fi, the user will be able to view or download what's on the camera either via short-distance direct wireless transmission or via internet, in which case, the camera needs to connect a router wirelessly. Wi-Fi cameras provide wide range of features such as cloud storage system for storing photos and albums, quick access to storage, and it almost eliminates the need for a USB cable which reduces the hassle of connecting the USB cord. WI-FI cameras are obtainable in a very large choice of specifications, sizes, and determination, however, their prime function is to capture and store a video for security purpose. Home security cameras facilitate to watch the activities within the house furthermore as around the house. Major factors driving the house security camera market are a simple installation of security cameras and also the increasing awareness of security desires.
The factors such as rising social media influence on day-to-day life, technological advancements such as night vision, motion & heat detection, and two way talks and significant demand for residential security cameras are driving the market growth. On the basis of product type, the Global Wi-Fi camera market is segmented into Home Security Camera, Digital Camera with Wi-Fi, Car Camera, Sports Camera, and Others. The digital camera with Wi-Fi segment is projected to contribute for the larger share of the global market in 2018. Sports Camera is growing fastest of the market during the forecast period.
The major key players present in the Global WI-FI camera market are: Canon , Sony, Samsung, Panasonic, Nikon, Gopro, Kodak, Fujifilm, Olympus, Ricoh, Garmin, TP-Link , HIKVISION , Netgear , D-Link , JADO , Philips , LG , Uniden , Motorola , Summer Infant , Dahua (LeChange), iON Cameras , and TASER International (AXON).The key market players of Wi-Fi camera market are using strategies such as product launch, and acquisitions in order to sustain the market competition. At CES 2018, Panasonic launched GH5s Camera with enhanced image quality and expanded video recording capability. The market is very competitive with the entire player's competitor to achieve market share. Intense competition, fast advances in technology, often changes in government policies, and environmental regulations are major key factors that face market growth. The vendors compete supported price, product quality, liableness, and aftermarket service. It's crucial for the vendors to supply cost-efficient and high-quality home security camera services, to survive and achieve an intensely competitive market surrounding.
On the basis of End-users/Application, included in this market are Home Security, Consumer Electronics, Sports Enthusiasts, Car Security, and Others. The consumer electronics application is expected to account for the largest share of the global market in 2017. Wi-Fi cameras are also used in different sectors for security and surveillance, and includes different cameras such as surveillance cameras, baby monitors, etc.
On the basis of geographical analysis, Global WI-FI camera market is divided into several regions including India, North America, China, Japan, Europe, and South-East Asia. North America is a market leader and is projected to continue impressive growth through the forecasted period. The presence of major technology giants and start-ups, wide adoption of WI-FI camera are promoting market growth. However, Asia Pacific shows the major growth rate through the forecast period. The region is experiencing growing advancement in infrastructure, support from government bodies, and various emergences new companies providing services, and the rise of technology are the major reasons for this steep growth in the region.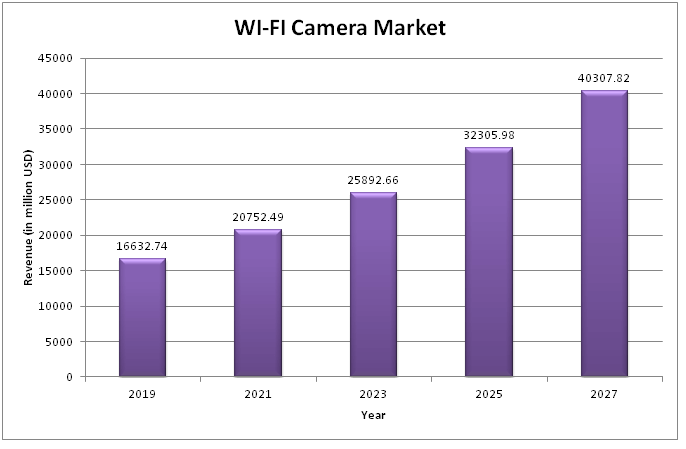 Global WI-FI Camera Market: Product Type
Home security camera
Digital camera with WI-FI
Car camera
Sports camera
Global WI-FI Camera Market: Application
Home security
Car security
Consumer electronics
Sports enthusiasts
Global WI-FI Camera Market: Competitive Analysis
Report includes accurate analysis of key players with Market Value, Company profile, SWOT analysis. The Study constitutes of following key players in Global WI-FI Camera Market :

Canon
Sony
Samsung
Panasonic
Nikon
Gopro
Kodak
Fujifilm
Olympus
Ricoh (PENTAX)
Garmin
TP-Link
HIKVISION
Netgear
D-Link
JADO
Philips
LG
Uniden
Motorola
Summer Infant
Dahua (LeChange)
iON Cameras
TASER International (AXON)
Geographical analysis of Global WI-FI Camera Market :
North America
Europe

France
Germany
Spain
UK
Rest of Europe

Asia Pacific

China
Japan
India
South East Asia

Latin America
Middle East and Africa
Global WI-FI Camera Market Report delivers comprehensive analysis of :
Market Forecast for 2019-27
Market growth drivers
Challenges and Opportunities
Emerging and Current market trends
Market player Capacity, Production, Revenue (Value)
Supply (Production), Consumption, Export, Import analysis
End user/application Analysis
Report Coverage
| Parameters | Details |
| --- | --- |
| Base Year | 2022 |
| Historical Data | 2017-2022 |
| Forecast Data | 2023-2029 |
| Base Year Value (2022) | USD 20752.49 million |
| Forecast Value (2029) | USD 45023.82887 million |
| CAGR (2022 to 2028) | 11.7 % |
| Regional Scope | North America, Europe, Asian Pacific, Latin America, Middle East and Africa, and ROW |
---
WI-FI Camera Market was valued at around USD 20752.49 million in 2022 & estimated to reach USD 45023.82887 million by 2029.
WI-FI Camera Market is likely to grow at compounded annual growth rate (CAGR) of 11.7% between 2023 to 2029.
Yes, the report includes COVID 19 impact on the market.