Global Sensor Fuse Market is estimated to reach USD 1185.02 million by 2027, growing at a CAGR of 5.1 % between 2019 and 2027
Sensor fusion is a technology that combines data from various other sensors to gain a more accurate picture of the sensor's subject to expand the system performance or to develop the application. Sensor fusion is commonly used in scientific research installations, in camera systems, and image processing. Sensor fusion works mainly on software that intelligently combines data from several sensors in order to improve application and system performance. The principle requirement for sensor fusion are global positioning system and inertial navigation system.
Increasing demand for different end-use application segments such as automotive, consumer electronics, home automation, healthcare, industrial and military among others has boosted the demand of sensor fusion to a great extent in the global market. The growth of the market is driven by growing demand for consumer electronic devices such as smartphones, wearable devices, gaming consoles, and smart TVs, the rising trend of miniaturization in electronics, increasing demand for advanced driver assistance systems and growing demand for image and radar-based products in automotive safety systems.
On the basis of product line Global sensor fusion market is segmented into Inertial Combo Sensors Type, Radar + Image Sensors Type, Environmental Sensors Type, and IMU + GPS Type. Based on technology the market has been segregated into micro-electromechanical system (MEMS) and non- MEMS. Moreover, growing usage of micro-electromechanical system (MES) imposed by manufactures globally have also boosted the demand for sensor fusion market. The major key players present in the Global sensor fusion market are: Invensense, Stmicroelectronics, NXP Semiconductors, Bosch Sensortec GmbH, Kionix, Analog Devices, Renesas Electronics Corp, Hillcrest Labs,. Microchip technologies, Senion, Baselabs GmbH, and Memsic. Across the globe, the market for sensor fusion is highly competitive as the market is dominated by major players in the sensor fusion market. The sensor fusion implementation common example is the smartphone.
On the basis of end user/application, the Global sensor fusion market can be split into Consumer Electronics, Automotive, Military Application, Environmental Controlling, and Robotics. The consumer electronics and automotive applications sector hold the major share of the sensor fusion market. Home automation segment is anticipated to hold the highest rate during the forecast period because of mostly the sensor fusion technology is used for controlling and monitoring purposes in home mechanization application using multiple sensor data such as light control, in-house environment control, automatic appliance control, and security purpose. The significant growing demand for home automation devices around the world is projected to boost the sensor fusion market.
Geographically, the global sensor fusion market has been segmented into North America, Europe, Asia Pacific, South America and the Middle East and Africa (MEA). In terms of revenue, Asia Pacific (APAC) held the largest market share in the global sensor fusion market as of 2016. Within the Asia Pacific, China held the largest market revenue share due to growing consumer preference for electronic products. In addition, rising demand from the automotive industry is also driving the growth of the Global Sensor Fusion Market. On the other hand, Europe is expected to become the most promising with a second highest share followed by others region. Owing to significant economic growth China, India, the US, Germany and Japan among others are the major market for sensor fusion. Furthermore, ever-changing consumer needs in electronic segment market are the key factor influencing the market growth for sensor fusion market.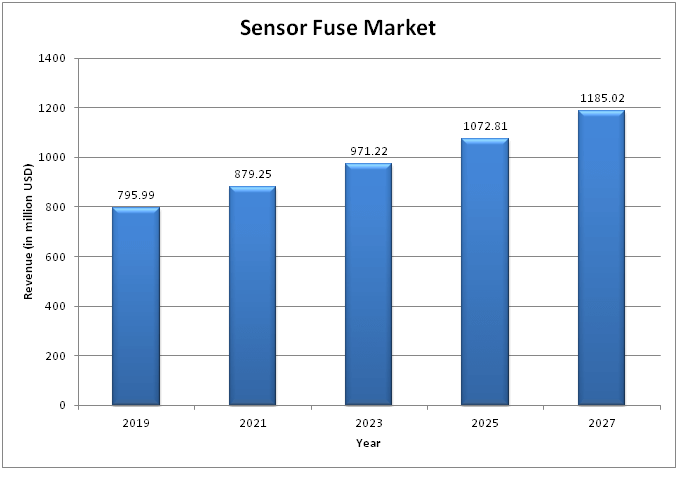 Global Sensor Fuse Market: Product Type
Inertial Combo Sensors Type
Radar + Image Sensors Type
Environmental Sensors Type
IMU + GPS Type
Global Sensor Fuse Market: Application
Consumer Electronics
Automotive
Military Application
Environmental Controlling
Robotics
Global Sensor Fuse Market: Competitive Analysis
Report includes accurate analysis of key players with Market Value, Company profile, SWOT analysis. The Study constitutes of following key players in Global Sensor Fuse Market :

Invensense
Stmicroelectronics
NXP Semiconductors
Bosch Sensortec GmbH
Kionix
Analog Devices
Renesas Electronics Corp
Hillcrest Labs
Microchip technologies
Senion
Baselabs GmbH
Memsic
Geographical analysis of Global Sensor Fuse Market :
North America
Europe

France
Germany
Spain
UK
Rest of Europe

Asia Pacific

China
Japan
India
South East Asia

Latin America
Middle East and Africa
Global Sensor Fuse Market Report delivers comprehensive analysis of :
Market Forecast for 2019-27
Market growth drivers
Challenges and Opportunities
Emerging and Current market trends
Market player Capacity, Production, Revenue (Value)
Supply (Production), Consumption, Export, Import analysis
End user/application Analysis
Report Coverage
| Parameters | Details |
| --- | --- |
| Base Year | 2022 |
| Historical Data | 2017-2022 |
| Forecast Data | 2023-2029 |
| Base Year Value (2022) | USD 879.25 million |
| Forecast Value (2029) | USD 1245.464603 million |
| CAGR (2022 to 2028) | 5.1 % |
| Regional Scope | North America, Europe, Asian Pacific, Latin America, Middle East and Africa, and ROW |
---
Sensor Fuse Market was valued at around USD 879.25 million in 2022 & estimated to reach USD 1245.464603 million by 2029.
Sensor Fuse Market is likely to grow at compounded annual growth rate (CAGR) of 5.1% between 2023 to 2029.
Yes, the report includes COVID 19 impact on the market.