Global Three-Way Catalysts (TWC) Market by Application /End User(CNG Engines, LPG Engines, Gasoline Engines) by Product Type (Non-Precious Metal Three-Way Catalyst, Precious Metal Three-Way Catalyst) Industry Analysis, Volume, Share, Growth, Challenges, Trends, and Forecast 2016–2022.
07-Oct-2017 | Number of pages: 123| Report Code:PSMR-00058| Report Format : PDF | Status : Published
Demo Statistics
Global Three-Way Catalysts (TWC) Market: Summary
Three-Way Catalysts includes reactions between CO, HC, and NOx result in the simultaneous removal of all three major exhaust pollutants.Three-way catalysts are used with air to fuel ratio controllers which maintain the mixture composition at stoichiometric. These controllers utilize a feedback signal from the oxygen sensor positioned in front of the catalyst in the exhaust system. The range of A/F ratio required for satisfactory catalyst operation is known as the "catalyst window".Concentrations of pollutants in the exhaust gas depend on the fuel mixture composition. At lean fuel mixtures the exhaust gases contain little carbon monoxide or hydrocarbons but high concentrations of NOx.

Global Three-Way Catalysts (TWC) Market is expected to reach USD 22.78 billion by 2022 at a CAGR of 7.7 %. Growth in Three-Way Catalysts (TWC) Market is primarily driven by increasing demand of gasoline vehicles, especially in passenger cars.Global sales of passenger cars are expected to reach 88.7 million by 2019 ,it will lead Three-Way Catalysts (TWC) Market for same forecasted period.The Asia-Pasific has shown highest growth rate in terms of value since last decade.Large population ,increase in disposable income,cost advantages for OEMs, health and environmental awareness in Asia-Pacific region resulted into automobile hub hence driving Three-Way Catalysts (TWC) Market.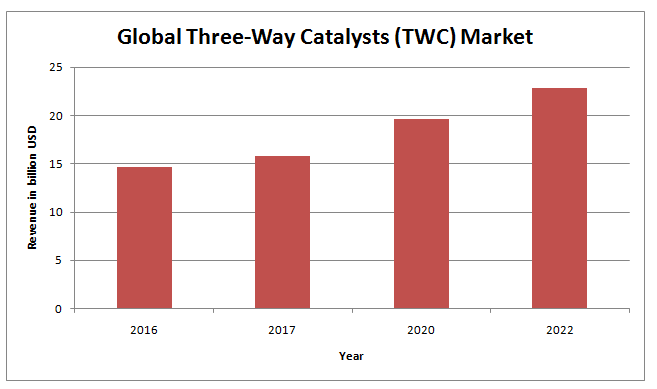 Three-way converters are effective when the engine is operated within a narrow band of air-fuel ratios near the stoichiometric point, such that the exhaust gas composition oscillates between rich (excess fuel) and lean (excess oxygen). Conversion efficiency falls very rapidly when the engine is operated outside of this band. Under lean engine operation, the exhaust contains excess oxygen, and the reduction of NOx is not favored. Under rich conditions, the excess fuel consumes all of the available oxygen prior to the catalyst, leaving only oxygen stored in the catalyst available for the oxidation function.

Global Three-Way Catalysts (TWC) Market: End Users/Application Analysis
• CNG Engines
• LPG Engines
• Gasoline Engines
Global Three-Way Catalysts (TWC) Market: Product Type Analysis
• Non-Precious Metal Three-Way Catalyst
• Precious Metal Three-Way Catalyst