Global Soybean Oil based Lubricants Market by Application /End User(Metalworking Fluids,Engine Oils, Hydraulic Fluids, Process Oils, Food Grade Lubricants) Industry Analysis, Volume, Share, Growth, Challenges, Trends, and Forecast 2016–2022.
28-Oct-2017 | Number of pages: 101 | Report Code:PSMR-00057| Report Format : PDF | Status : Published
Demo Statistics
Soybean oil can be used to manufacture many different products that traditionally use a petroleum base. These include foams, films, lubricants, plastic moulded parts, composites and packaging. Although many technologies and processes for soybean oil are still in their infancy, there is definite potential to replace petroleum-based ingredients with those from soy. A rapidly growing market for soybean oil is bio-based lubricants and industrial fluids. This includes everything from hydraulic and transmission fluids to greases, motor and penetrating oils and fuel additives.

Global Soybean Oil based Lubricants Market is expected to reach USD 1.09 billion by 2022 at a CAGR of 7.2 %. Soybean Oil based Lubricants Market is showing growth primarily because of including environmental concerns, green
marketing opportunities, cost reduction, solving supply problems, and improving product performance.Growing regulatory pressures, combined with an increasing need by companies to demonstrate environmental responsibility,
are helping move these technologies forward. Most of this can be avoided by using vegetable oil-based products, which are biodegradable.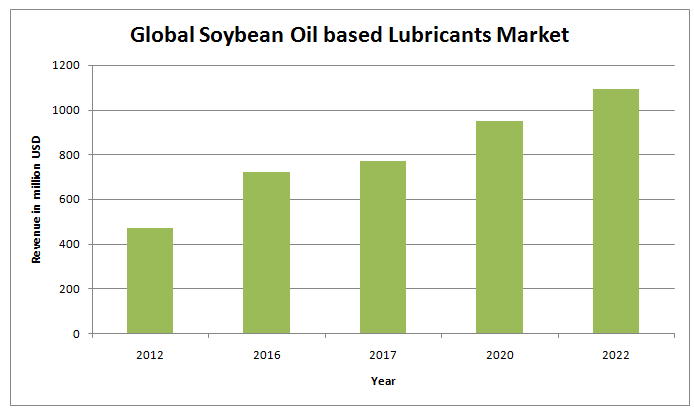 Soybean oil-based lubricants have low toxicity levels and are readily biodegradable. When compared to petroleum-based lubricant ingredients, vegetables oils, including soy, have a higher viscosity index, lower evaporation loss and the potential to enhance lubricity, which could improve energy efficiency. Viscosity index is a measure of a fluid's change in viscosity with temperature and the higher the index, the smaller the relative change in viscosity due to temperature. Lubricity refers to oil's capacity to lubricate; studies show that the lubricity of vegetable oils is superior to that of mineral oil. Many vegetable oil-based products cost less than synthetic, non-petroleum-based alternatives, making them a good economic choice as well as an environmentally friendly one.
Global Soybean Oil based Lubricants: End Users/Application Analysis
• Metalworking Fluids
• Engine Oils
• Hydraulic Fluids
• Process Oils
• Food Grade Lubricants
Global Solder Balls Market : Product Type Analysis
• Type I
• Type II