Global Small Wind Turbines Market is estimated to reach USD 13.54 billion by 2026, growing at a CAGR of 12.7% between 2018 and 2026.
Small wind Turbines is made up of wind turbines mounted on height such as tower to provide better access to stronger winds. Small wind electrical system also requires the balance of system components with the turbine and tower. Unequal heating of the Earth's surface by the sun creates wind. Basically Wind turbines works on principle of conversion of kinetic energy of wind into electrical energy. When wind turbines blade spin, rotor captures the kinetic energy of wind and convert it into rotary motion to drive the generator. It's very difficult to keep the rotor from spinning out of control, to resolve that issue most of the turbines have automatic over speed-governing system. Through your power provider, a small wind system can be connected to the electric grid or it can stand alone (off-grid).
Small wind Turbines mainly segmented into three types on the basis of technology as Horizontal Axis wind turbines (HAWT), Vertical Axis wind turbines (VAWT) and novel technology. Horizontal axis wind turbines at the top of a tower contain rotor shaft and electrical generator, and they must be pointed towards the wind. Horizontal Axis wind turbines further segmented into on-shore and off-shore HAWT. On the basis of end users, on-shore HAWT further segmented into Residential rooftops, Industrial loads and commercial generation. The wind turbine does not need to be pointed into the wind that's the main advantage of VAWT. VAWT further segmented into Darrieus, Giromill, Savonius and twisted savonious. Novel Technology small wind turbines further segmented into KiteGen and MARS.
On the basis of applications small wind turbines segmented as a grid-tied system with larger capacity, off-grid applications continue to play an important role in remote areas of developing countries. Normally Off-grid applications include telecommunication stations,, rural residential electrification, hybrid systems with diesel and solar, off-shore generation. Over 80 % of the manufacturers produce stand-alone applications. Off-grid China Market hold the highest market share in 2017. In the USA, off-grid small wind turbines account most of the units deployed in distributed wind applications.
The Asia-Pacific region accounted for more share of the total revenue, followed by North America and Europe. Developing countries such as India in the Asia-Pacific region are anticipated to register steady growth rates due to the increase in developments in commercial applications. Moreover, the rise in investments by governments in the deployment of renewable sources of energy is another key aspect that fuels the growth of the Asia-Pacific region in the market. Global small wind turbines market is highly concentrated and competitive in nature due to the presence of large manufacturers operating in it included BOBST, PCMC, Heidelberger Druckmaschinen AG, Mark Andy, Nilpeter, UTECO, Comexi, KBA-Flexotecnica S.p.A., WINDMOELLER&HOELSCHER, OMET, Rotatek, Weifang Donghang, Ekofa, Taiyo Kikai, XI'AN AEROSPACE-HUAYANG, Omso, Lohia Corp Limited, bfmS.r.l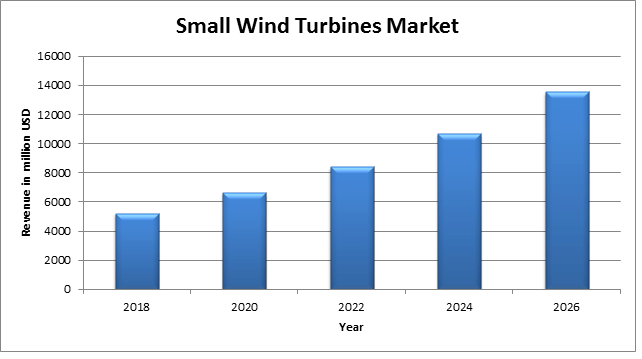 Small Wind Turbines Market : Product Type
Horizontal-Axis Wind Turbine
Vertical-Axis Wind Turbine
Small Wind Turbines Market :Application
Municipal and Government
Hospital
Airport
Industrial
Global Small Wind Turbines Market: Competitive Analysis
Report includes accurate analysis of key players with Market Value, Company profile, SWOT analysis. The Study constitutes of following key players in Global Small Wind Turbines Market:

Fortis Wind Energy
BergeyWindpower
XZERES
Ampair
Evance Wind Turbines
Endurance Wind Power
Polaris America
Windspire Energy
Gaia-Wind
Kestrel Wind Turbines
Urban Green Energy
ElectroVent
Geographical analysis of Small Wind Turbines Market:
North America
Europe

France
Germany
Spain
UK
Rest of Europe

Asia Pacific

China
Japan
India
South East Asia

Latin America
Middle East and Africa
Small Wind Turbines Market Report delivers comprehensive analysis of :
Market Forecast for 2018-26
Market growth drivers
Challenges and Opportunities
Emerging and Current market trends
Market player Capacity, Production, Revenue (Value)
Supply (Production), Consumption, Export, Import analysis
End user/application Analysis
---
Small Wind Turbines Market was valued at around USD million in 2021 & estimated to reach USD by 2028.
Small Wind Turbines Market is likely to grow at compounded annual growth rate (CAGR) of % between 2022 to 2028.
Yes, the report includes COVID 19 impact on the market.