Report Summary
Global Textile Machines Market is valued at USD 34.61 billion in 2017 and is expected to reach USD 90.05 billion by the end of 2026, growing at a CAGR of 11.21 % between 2018 and 2026.
Textile Machines are the machines which mainly used in the fabrication and processing of fabrics, textiles, and other woven and non-woven material. This machines used in processes such as spinning, weaving and dying. Textile equipment also used to manufacture dye and finish materials such as fiber, yarn, and thread. It also used for the extrusion of non-wovens synthetic fiber and various plastics. Textile manufacturing involves a number of processes include fiber production, yarn production, fabric production, pre-treatment of fiber, dyeing, and printing, and, finally, applying finishing treatments. Textiles can be felt (produced by matting, condensing and pressing fibers together or spun fibers made into yarn and subsequently nettled looped, knit, or woven to make fabrics.
Textile Machinery is mainly segmented into spinning machines, weaving machines, knitting machines, and Texturing Machines. Spinning machinery refers to machines which processor spin prepared cotton roving into workable yarn or thread. The machine used for the process of Weaving known as Weaving Machines. A knitting machine is a device used to create knitting fabrics in a semi or fully automated fashion. Texturing machines output is total 1,200 rolls per month, it is a highly flexible machine design which covers a large number of roll sizes and diameters.
Textile machinery widely used in textile and clothing manufacturing industries, for the purpose of fabrication and processing of fabrics, textiles, and other woven and non-woven material. The loads, speeds and vibrations to which bearings, chains, and gear wheels are exposed can be very high. In specific applications in order to streamline the use of oils, greases and coatings. In general, the number of different lubricants can thus be reduced while maintaining the quality of lubrication. We work out a practical and economically attractive solution for you.
In the Apparel Manufacturing market, Volatile cotton prices and recession-induced drops in consumer spending pressured the industry slightly in the past five years. However, increasing population and disposable income growth will bolster industry revenue in the five years to come. Companies will also continue moving production to low wage cost countries to offer more competitive prices. Asia Pacific region is expected to grow at the high CAGR during forecast period. Global Textile Machinery Market is highly concentrated and competitive in nature due to the presence of large manufacturers operating in it included Oerlikon, Rieter, Picanol, Toyota Industries, ITEMA, Staubli, Tsudakoma, KARL MAYER, Benninger, YINCHUAN Machine, Dornier, NEDCO, Salvadè, Bonas, Lakshmi Machine Works, Marzoli, STOLL, Truetzschler, JINGWEI, ERLANGER, RIFA, Golden Eagle, QINGDAO SPARK GROUP, JINSHENG, JINGGONG, PACIFIC MECHATRONIC, CTM, Qingdao Textile, DONGJIA, CHONGLEE MACHINERY.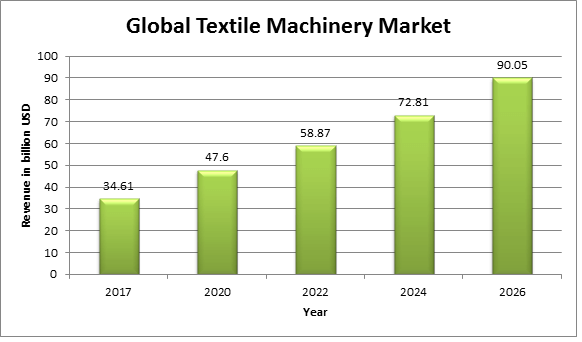 Textile Machinery Market: Machine Type
Spinning Machines
Weaving Machines
Knitting Machines
Texturing Machines
Textile Machinery Market : Application
Textile Industry
Clothing Industry
Global Textile Machinery Market: Competitive Analysis
Report includes accurate analysis of key players with Market Value, Company profile, SWOT analysis. The Study constitutes of following key players in Global Textile Machinery Market:

Oerlikon
Rieter
Picanol
Toyota Industries
ITEMA
Staubli
Tsudakoma
KARL MAYER
Benninger
YIINCHUEN Machine
Dornier
NEDCO
Salvadè
Bonas
Lakshmi Machine Works
Marzoli
STOLL
Truetzschler
JINGWEI
ERFANGJI
RIFA
Golden Eagle
QINGDAO SPARK GROUP
JINSHENG
NGGONG
PACIFIC MECHATRONIC
CTM
Qingdao Textile
DONGJIA
CHONGLEE MACHINERY
Geographical analysis of Textile Machinery Market:
North America
Europe

France
Germany
Spain
UK
Rest of Europe

Asia Pacific

China
Japan
India
South East Asia

Latin America
Middle East and Africa
Textile Machinery Market Report delivers comprehensive analysis of :
Market Forecast for 2018-26
Market growth drivers
Challenges and Opportunities
Emerging and Current market trends
Market player Capacity, Production, Revenue (Value)
Supply (Production), Consumption, Export, Import analysis
End user/application Analysis
Report Coverage
| Parameters | Details |
| --- | --- |
| Base Year | 2022 |
| Historical Data | 2017-2022 |
| Forecast Data | 2023-2029 |
| Regional Scope | North America, Europe, Asian Pacific, Latin America, Middle East and Africa, and ROW |
---
Frequently Asked Questions (FAQ)
Textile Machinery Market report considers 2021 as the base year.
Textile Machinery Market report considers data for period 2016 to 2021 as the historical data to predict market forecast between 2022 to 2029.
Yes, report is inclusive in-detailed analysis of key players in Textile Machinery Market
Textile Machinery Market Study is broadly divided into North America, Europe, Asian Pacific, Latin America, Middle East and Africa, and ROW. Also these regions are further analysed as per various countries
Textile Machinery Market Report includes Market Segmentation, Regional outlook, Application Analysis, Competitive analysis, Supply-Demand Analysis, Pricing insight.
Yes, the report includes COVID 19 impact on the market.