Sleeping Aids is the generic term includes both prescription and over-the-counter medications. These are used to help those who find difficulty falling asleep or staying asleep on their own. Sleeping pills are hypnotics that is they promote or extent sleep sometimes they are known as sedatives also refer as "the ability to cause drowsiness". Classes of drugs called benzodiazepines or benzodiazepine receptor agonists are the most prescription sleeping pills or hypnotics. In Today's world, many people struggle to get the amount of sleep they need and this will result in frustration as well as exhaustion. Third and half Americans suffering from insomnia in which they struggle to get the amount of sleep they need, sleeping aids are the solution for those people.
Sleeping Aids is mainly segmented into medication, Mattresses and Pillows, Sleep Laboratories and Sleep Apnea Devices. Life expectancy at the time of birth is increased, representing growth in the geriatric population of the country. Due to the increase in the geriatric population, the frequency of sleep disorders is increasing, which results in increased demand for these products. Mattresses and Pillows are further had sub-categories include chin straps and mouthpieces and nasal devices. This mattresses and pillows sub-segment is the most lucrative product type which is largely adopted as a sleep aid. Mattress and Pillows have the largest market and estimated to reach the highest value by the end of the assessment period.
Sleeping Aids products widely used by those who struggle to get the amount of sleep they need such as a person suffering from Insomnia, Restless Legs Syndrome, Sleep Apnea, Narcolepsy, and Sleep Walking. In America especially in US people are actively searching for secrets in order to fall asleep faster and stay asleep longer period. In today's Modern Era 1 in 3 adults do not get there recommended sleep hours which may result in weight gain and obesity, high blood pressure, diabetes, heart disease, stroke and greater risk of death. Now people are more health conscious so Sleeping Aids have a great market in upcoming years.
North America dominates the sleeping aid market as Third and half Americans suffering from insomnia in which they struggle to get the amount of sleep they need, sleeping aids are the solution for those people. The growing incident of sleep disorders and rising initiatives by several governments and non-government organization for increasing awareness about sleep disorders and sleep hygiene. Key players in the market are Takeda Pharmaceutical Company, CareFusion Corporation, Pfizer, Teva Pharmaceutical Industries, Natus Medical Incorporated, Compumedics Limited, Merck, Sanofi, GlaxoSmithKline Plc, Serta International.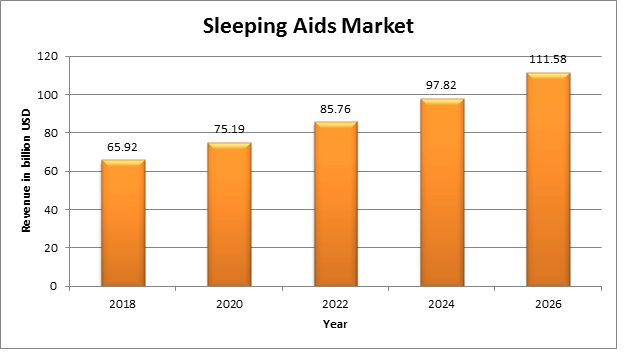 Sleeping Aids Market: Product Type
Medication
Mattresses and Pillows
Sleep Laboratories
Sleep Apnea Devices
Sleeping Aids Market :Application
Insomnia
Restless Legs Syndrome
Sleep Apnea
Narcolepsy
Sleep Walking
Global Sleeping Aids Market: Competitive Analysis
Report includes accurate analysis of key players with Market Value, Company profile, SWOT analysis. The Study constitutes of following key players in Global Sleeping Aids Market:

Takeda Pharmaceutical Company
CareFusion Corporation
Pfizer
Teva Pharmaceutical Industries
Natus Medical Incorporated
Compumedics Limited
Merck
Sanofi
GlaxoSmithKline Plc
Serta International
Geographical analysis of Sleeping Aids Market:
North America
Europe

France
Germany
Spain
UK
Rest of Europe

Asia Pacific

China
Japan
India
South East Asia

Latin America
Middle East and Africa
Sleeping Aids Market Report delivers comprehensive analysis of :
Market Forecast for 2018-26
Market growth drivers
Challenges and Opportunities
Emerging and Current market trends
Market player Capacity, Production, Revenue (Value)
Supply (Production), Consumption, Export, Import analysis
End user/application Analysis
---
Sleeping Aids Market was valued at around USD million in 2021 & estimated to reach USD by 2028.
Sleeping Aids Market is likely to grow at compounded annual growth rate (CAGR) of % between 2022 to 2028.
Yes, the report includes COVID 19 impact on the market.