Global Resection Guides Market is estimated to reach USD 12031.49 million by 2027, growing at a CAGR of 5.5 % between 2019 and 2027
Resection is the medical term for surgically cutting or removing part of an organ or structure. A resection may be done for a wide variety of reasons. A resection may remove an organ that is known to be cancerous or diseased, and the surgery may treat or cure a disease course. Depending on the structure or organ, resection surgery may be an open surgery or may be done with a scope through a small cut or a natural entry point, such as the urethra or cervix. One very common type of resection is a small bowel resection, a procedure where one or more segment of the small intestine is removed. For people who are suffering colon difficulties in a specific area of the intestine, removing that area may make it possible for the colon to task normally after the healing process is complete.
The surgery can be done through an open cut or through small cuts using a laparoscope. For another patient, they may be identified with cancer in their colon. Treatment for cancer may include the surgical cutting out the cancerous area and a margin of surrounding tissue, a colectomy. This can be done as a treatment to a patient or it can be a cure for the problem. Resections can be performed on areas of the body other than the digestive tract, these two types of surgeries are just examples. If there's a diseased area of the liver, a partial liver resection could be done to remove the bad organ and leave the good and healthy organ of the liver in place. A lung resection would remove an area of diseased lung organ.
The study covers detail analysis, growth and forecast of the Resection Guides Market. The report includes market analysis on global and regional level. The study covers historical data analysis from 2014 to 2017 and market forecast for 2019 to 2027 based on revenue generated. The study includes market value in terms of revenue in billion USD for years 2014-27 and compound annual growth rate (CAGR) in % for from 2019-2027. The market is expected to show constant growth between 2019-2027.
The report comprises value chain analysis for each of the product segments. Value chain analysis offers in depth information about value addition at each stage. The study includes drivers and restraints for Resection Guides Market along with their impact on demand during the forecast period. The study also provides key market indicators affecting the growth of the market. Research report includes major player analysis with shares of each player inside market, growth rate and market attractiveness in different end users/regions. Our study Resection Guides Market helps user to make precise decision in order to expand their market presence and increase market share.
The report provides Resection Guides Market Dynamics ,includes industry growth drivers, challenges, opportunities , risk, constraints as well as threats .Reports also includes Manufacturing Cost Analysis mainly included Raw Materials Analysis, Price Trend of product, Mergers & Acquisitions, Expansion, Key Suppliers of product, Concentration Rate of Resection Guides Market, Manufacturing Process Analysis. Research Report contains Market Effect Factors analysis mainly included Technology Progress, Consumer Needs Trend, External Environmental Change.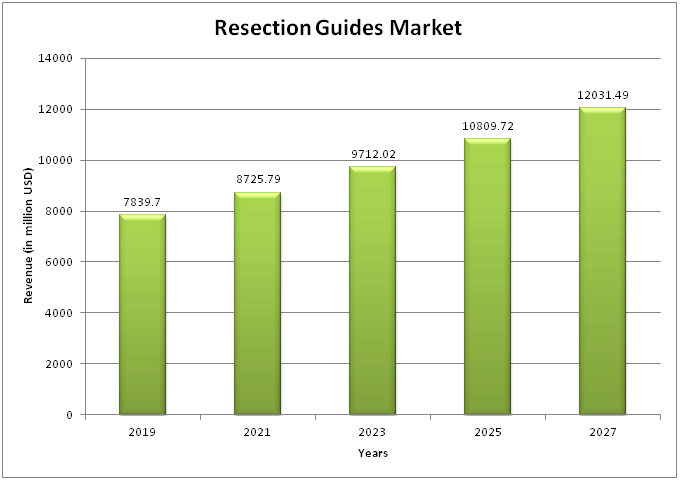 Global Resection Guides Market: Product Type
Knee Prosthesis
Hip Prosthesis
Ankle Prosthesis
Cranial Prosthesis
Global Resection Guides Market: Application
Government Hospitals
Private Hospitals and Surgical Clinics
Medical Colleges
Global Resection Guides Market: Competitive Analysis
Report includes accurate analysis of key players with Market Value, Company profile, SWOT analysis. The Study constitutes of following key players in Global Resection Guides Market:

3D Side
Biomet
Depuy Synthes
EUROS
Medacta
Wright Medical Technology
Xilloc
Geographical analysis of Global Resection Guides Market:
North America
Europe

France
Germany
Spain
UK
Rest of Europe

Asia Pacific

China
Japan
India
South East Asia

Latin America
Middle East and Africa
Global Resection Guides Market Report delivers comprehensive analysis of :
Market Forecast for 2019-27
Market growth drivers
Challenges and Opportunities
Emerging and Current market trends
Market player Capacity, Production, Revenue (Value)
Supply (Production), Consumption, Export, Import analysis
End user/application Analysis
---
Resection Guides Market was valued at around USD 8725.79 million in 2021 & estimated to reach USD 12693.22488 by 2028.
Resection Guides Market is likely to grow at compounded annual growth rate (CAGR) of 5.5% between 2022 to 2028.
Yes, the report includes COVID 19 impact on the market.