The global Shortening Fats market is valued at USD 3.1 billion in 2016 and is expected to reach USD 5.1 billion by the end of 2026, growing at a CAGR of 5.2% between 2016 and 2026. Shortening Fats are solid fats at room temperature. Shortening Fat is used to prevent the formation of a gluten matrix in baked goods, allowing for the creation of non-elastic pastries like cakes. Shortening Fats can be used to give foods a crumbly and crisp texture such as pastry. Butter, margarine, vegetable oils and lard are some of the examples of shortening fats.
Rubbing the fat in causes the baked product to have a flaky texture, as the dough is separated into layers. When fat is whisked with sugar, a process called creaming, the texture will be more like a cake, and be soft and springy. Shortening fat is used in most doughs and batters, to give the baked product a crisp and crumbly texture. Shortening fat can be made from either animal fat or vegetable oil, but shortening made from partially or fully hydrogenated vegetable oil is more common nowadays.
Shortening provides three textural attributes in baked goods a short bite, a lubricative moist texture and the crunchy or crispy auditory sounds. It is also used for delivering flavor, creaming as well as richness to bread and cakes. These extraordinary properties shorting fats used for improving food appearance, flavor, texture, nutrition, and high melting point make it highly suitable for the food processing industry, at a global level. This makes bakery, confectionery and snacks the largest shortening fat consuming food segments, globally.
Asia Pacific is the largest shortening fats market both in terms of volume and revenue in 2016 due to high production and consumption capacity of the region. Asia Pacific will remain as the fastest growing market in forecast period. India and China are fastest-growing consumer markets for shortenings fats, whereas, Malaysia and Indonesia are the major producers in the region. The global demand for shortening fat is expected to be 20 to 25% higher during the forecast period.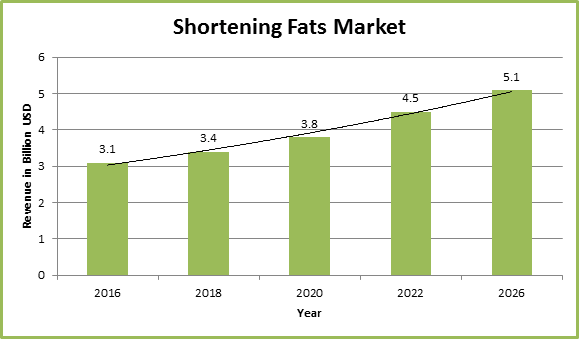 Shortening Fats Market Report: Product Type
Soybean and Maize
Rapeseeds and Sunflower Seed
Palm and Palmkernel
Coconut and Linseed
Groundnut
Shortening Fats Market Report: Application
Confectionary
Ice Cream
Snacks
Bakery
Shortening Fats Market: Company Analysis
Unilever
Bunge
NMGK Group
ConAgra
Zydus Cadila
Wilmar-International
Fuji Oil
BRF
Yidiz Holding
Grupo Lala
NamChow
Sunnyfoods
Cargill
COFCO
Uni-President
Mengniu
Yili
Brightdairy
Dairy Crest
Geographical analysis of Shortening Fats Market:
North America
Europe
China
Japan
Southeast Asia
India
Shortening Fats Market Report delivers comprehensive analysis of :
Market Forecast for 2018-26
Market growth drivers
Challenges and Opportunities
Emerging and Current Market trends
Market player Capacity, Production, Revenue (Value)
Supply (Production), Consumption, Export, Import analysis
End user/application Analysis
---
Shortening Fats Market was valued at around USD million in 2021 & estimated to reach USD by 2028.
Shortening Fats Market is likely to grow at compounded annual growth rate (CAGR) of % between 2022 to 2028.
Yes, the report includes COVID 19 impact on the market.