The global nutraceutical ingredients market is valued at USD 32.6 billion in 2016 and is expected to reach USD 62.9 billion by the end of 2026, growing at a CAGR of 6.8% between 2016 and 2026.
Nutraceuticals is describe as any product derived from food sources with extra health benefits in addition to the basic nutritional value found in foods. Nutraceutical is a commercial term used for foods or food products that might help to prevent and treat diseases. Nutraceuticals can include prebiotics, probiotics, amino acids, peptides, proteins, vitamins and minerals, fibers and carbohydrates and other dietary supplements. Nutraceuticals consumes food products to be taken as part of the usual diet in order to have beneficial effects that go beyond basic nutritional function and used to promote general well-being, control symptoms and prevent malignant processes.
Nutraceuticals are also called functional foods. Nutraceuticals are can be considered non-specific biological therapies that could play an important role in biological processes, including antioxidant defenses, cell proliferation, gene expression, and safeguarding of mitochondrial integrity. Therefore nutraceuticals may be used to improve health, prevent chronic diseases, postpone the aging process (and in turn increase life expectancy), or just support functions and integrity of the body. They are considered to be healthy sources for prevention of life threatening diseases such as diabetes, renal and gastrointestinal disorders, as well as different infections.
Asia Pacific is the largest market size for nutraceutical ingredients market both in terms of volume and revenue in 2016 and is anticipated to grow at a significant during the forecast period both in terms of value and volume. Factors such as the rise in awareness about health and fitness, the rising government mandates for food security and quality, increasing urbanization, increased life expectancy among consumers, and changes in lifestyles are boosting the growth of the market. However, increased prices of nutraceutical ingredients may prove to be barrier for the growth of nutraceutical ingredients market as these high prices may hamper the demand for the nutraceutical ingredient.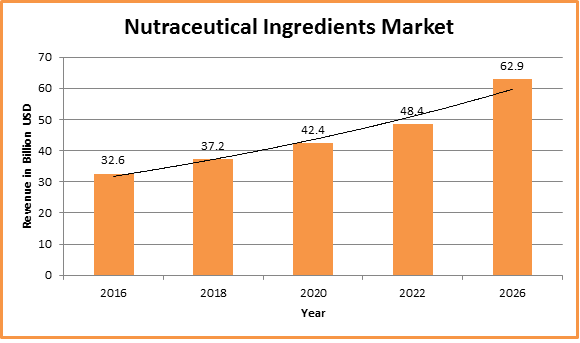 Nutraceutical Ingredients Market Report: Product Type
Amino Acids, Peptides and Proteins
Lutein
Zeaxanthin
Minerals
Polyphenols and Flavonoids
Probiotics
Nutraceutical Ingredients Market Report: Application
Functional Foods
Functional Beverages
Dietary Supplements
Animal Nutrition (for Meat and Milk)
Cosmeceuticals
Nutraceutical Ingredients Market: Company Analysis
Archer Daniel Midland Co.
BASF SE
Cargill Inc.
DuPont
Royal DSM N.V.
Tate & Lyle
Ajinomoto
FMC
Ingredion
Lonza
Evonik
Balchem Corporation
Arla Foods Ingredients Group
Blue California
Kemin Industries
Nutraceutix
Valensa International
Kyowa Hakko
Riken Vitamin
Yakult Honsha
Nestle
Geographical analysis of Nutraceutical Ingredients Market:
North America
Europe
China
Japan
Southeast Asia
India
Nutraceutical Ingredients Market Report delivers comprehensive analysis of :
Market Forecast for 2018-26
Market growth drivers
Challenges and Opportunities
Emerging and Current Market trends
Market player Capacity, Production, Revenue (Value)
Supply (Production), Consumption, Export, Import analysis
End user/application Analysis
---
Nutraceutical Ingredients Market was valued at around USD million in 2021 & estimated to reach USD by 2028.
Nutraceutical Ingredients Market is likely to grow at compounded annual growth rate (CAGR) of % between 2022 to 2028.
Yes, the report includes COVID 19 impact on the market.