Self Service Machines Market by Product Type (ATM (Automatic Teller Machine), Self-Service Kiosk, Vending Machines) By Application /End User (Financial, Traffic, Shopping and Others) by Industry Analysis, Volume, Share, Growth, Challenges, Trends, and Forecast 2016–2024.
08-Jan-2018 | Number of pages: 106 | Report Code:PSMR-00210| Report Format : PDF | Status : Published
Demo Statistics
Global Self Service Machines Market is estimated to reach $56.54 billion by 2024; growing at a CAGR of 15.3% between 2016 and 2024. Self-service machines are developed to help in serving oneself, usually when purchasing items. These machines have improved the lifestyle of people. Self-service can be done on phone, web, and email to facilitate customer service interactions using automation. Now a days Self-service software and apps become very common. There are different types of self service machines, like ATM(Automatic Teller Machine), Self-Service Kiosk, Vending Machines, Internet based self service, self checkout, ticket machines etc.
An automated teller machine (ATM) is electronic machine that enables people to perform financial transactions, like cash withdrawals, deposits, transfer funds, or obtaining account information, at any time and without the need for direct interaction with bank staff. A self service kiosk is a computer terminal having specialized hardware and software that provides access to information and applications for communication, commerce, entertainment, or education.A vending machine is an automated machine that provides items such as snacks, beverages, alcohol, cigarettes and lottery tickets to consumers after money or a credit card is inserted into the machine. Self-checkout (also known as self-service checkout and as semi-attended customer-activated terminal, SACAT) machines provide a mechanism for customers to process their own purchases from a retailer.
ATM has dominated the self-service technology market. The advance security services is expected to fuel the demand of this segment in upcoming years. Kiosks segment will have rapid growth in the forecast period due to the emergence of digital kiosks which are more user-friendly. Increasing demand for cashless payment systems is expected to prompt the demand for vending machine segments.
Geographically, Global Self Service Machines Market is segmented into several regions i.e. North America, Europe, Asia Pacific and Latin America, Middle East & Africa. North America covers largest market for self-service machines due to the high technology adoption rate. The emerging new business models will exhibit stable growth rate in North American self-service machines market. There is exponential growth of urbanization across countries like China and India in the banking sector.ThereforeAsia-Pacific is estimated to dominate the global self-service machines market during forecast period.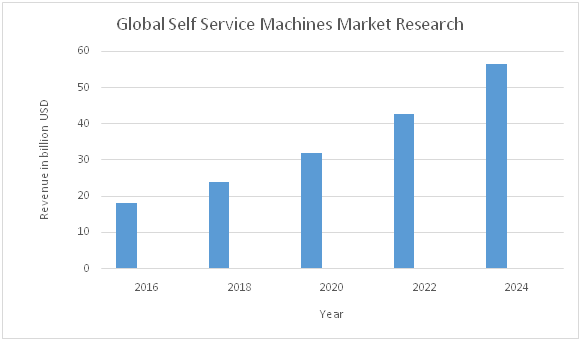 Global Self Service Machines Market : End Users/Application Analysis
• Financial
• Traffic
• Shopping
Global Self Service Machines Market: Product Type Analysis
• ATM (Automatic Teller Machine)
• Self-Service Kiosk
• Vending Machines