Global Rail Freight Transportation Market is estimated to reach USD 387.4 billion by 2027, growing at a CAGR of 3.6 % between 2019 and 2027
The rail freight transportation market consists of sales of rail freight transportation services by entities (sole traders, organizations, and partnerships) that provide the carriage of goods from a point of loading, or goods station, to a point of unloading, again a station capable of handling the loading and unloading of the goods carried. These goods are usually heavy in bulk and of low value in relation to their bulk. Examples include coal, building materials, iron and steel. Tracking and tracing systems of rail freight using GSM and GPS helps the transportation organizations to overcome the rail freight transportation problems such as lost and theft. It brings full-fledged security and monetarization of freights and more efficient and effective freight transportation over short distances for smaller loads.
ViWaS project equipped with smart telematics systems in Europe has introduced tracking technology in rail freight. With increasing technological advances, the scope and potential for the global rail freight market is expected to significantly rise in the forecast period. The rail freight transport is cheap when compared to other modes of transportation and is more efficient as it allows larger volume of cargo to be transported to long distances. The transport of goods by train reduces the quantity of fuel and emissions. The rail transportation is considered to be six to seven times more efficient than road transportation and decreases emissions by ~30-70%.
Recently in July 2018, China has announced that it is planning to increase the rail freight by 30% by 2020, in order to fight against the growing smog. This presents a massive opportunity for the operators in rail freight transport and services market. The road transportation is the leading mode of transportation and accounts for more than 50% in most of the countries. However, rising road congestion, costs, and emissions is shifting the focus toward the rail freight movement. This, in turn, leads to the demand in services such as storage and warehousing, consolidation, and customs clearance in case of cross border transport.
One of the major challenges for rail freight market in the US is an exchange of coal by natural gas in power generation. Rail transport has always covered behind road transport due to first and last mile transport often required in rail freight movement. Low oil prices over the past 3 years have further knocked the growth of rail freight whereas making truck freight even more competitive. The high energy tax problem on the rail freight in the US and Europe is a major challenge to rail freight market. The advent of new digital marketplaces, fuel economy improvement technologies and ADAS have made road transport even more shipper friendly. The rapidly growing economies of the developed and developing countries, urbanization and rising disposable income, etc. are leading to an increase in the flow of goods.
Developing infrastructure, adoption of advanced technologies, etc. are some of the key factors driving the market growth of the rail freight transportation and services. However, the operation of the railways by government in some of the countries may lead to inefficiency and rise in costs. The factors, such as restrictions imposed on foreign entry and other barriers, are restraints to the growth of the market in some countries. So, is the growth timeframe for rail freight over? Well. Not exactly. The system protects the US, billions of dollars through reduced energy consumption and reduced air pollution. The rail freight system needs to improve its processes and make it shipper friendly. The utilization of digital technology on rolling stock will do just that. It will make it possible to enhance the reliability and safety of operations at the same time making them more transparent.
Global rail freight transportation market can be segmented into Intermodals, Tank Wagons, and Freight Cars. The rail freight transportation market in global market by intermodals segment is expected to grow moderately during the forecast period. Intermodals connect various transport modes to rail transport. They can transport complex commodities and bulk goods such as coal, minerals, and liquefied petroleum through cost-effective ways. The use of intermodals is high as it reduces the congestion on roadways owing to the less number of trucks used. This mode of transportation also aids to reduce fuel expenses by over 40% and carbon emissions by 75%.
Applications includes, the global rail freight transportation market can be categorized into Oil & Gas Industry, Mining Industry, Chemical Industry, and Transport Industry. According to this global rail freight transportation market, the oil and gas industry was the major application to the rail freight transportation market during the forecast period. The large capacity of rail freight wagons to carry goods in bulk make them preferable for the oil and gas sector. Moreover, growth in the consumption and production of primary and secondary energy in global market will also drive the market for the oil and gas industry.
On region regional, the global rail freight transportation market is divide into key regions such as North America, South America, Asia-Pacific, Eastern Europe, Western Europe, Middle East and Africa. Among these regions, North America dominates the world in rail freight movement with a large railway network of more than 200,000 miles. In 2017, the United States transported total goods of 2,448 billion metric tons – km. Asia-Pacific's rail freight transportation market accounts for the major share in the global rail freight market. In Asia Pacific, China is one of the largest transporters of goods by railway. In 2017, the total rail freight turnover of China stood at 3.689 billion metric tons. Moreover, with China's ambitious One Belt One Road initiative, which includes transport corridors connecting east and west, the rail transport in Central and Eastern Europe is expected to grow further along with China and other Central Asian countries.
Major players in the global rail freight transportation market include CN Railway, BNSF Railway, Union Pacific, SBB Cargo, CTL Logistics, PKP Cargo, Colas Rail, RSI Logistics, Nippon Express, SNCF, DB Schenker, and Duetsche Bahn AG. In current years, trends in infrastructure concerns, mainly related with other modes of transport, have significantly impacted the competitiveness of rail freight operators. The market power of rail freight operators is more regionalized now than ever. For instance, BNSF Railway and Union Pacific Railroad have a strong presence in the Western US, and CSX Transportation and Norfolk Southern are predominant in the Eastern US. This market has also seen normal merger to reduce competition and maintain healthy freight rates over past 2 decades.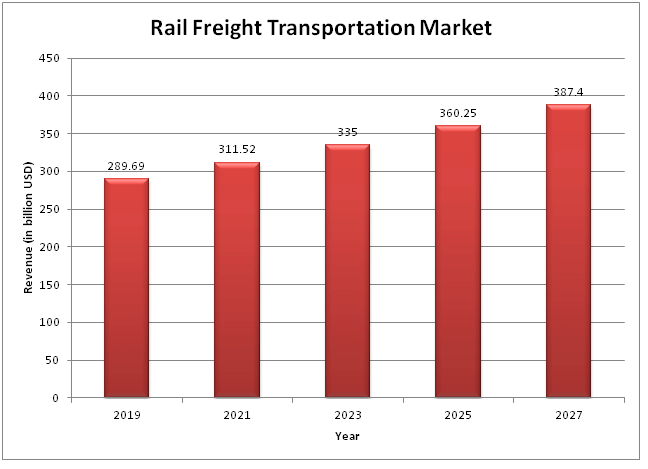 Global Rail Freight Transportation Market: Product Type
Intermodals
Tank Wagons
Freight Cars
Global Rail Freight Transportation Market: Application
Oil & Gas Industry
Mining Industry
Chemical Industry
Transport Industry
Global Rail Freight Transportation Market: Competitive Analysis
Report includes accurate analysis of key players with Market Value, Company profile, SWOT analysis. The Study constitutes of following key players in Global Rail Freight Transportation Market:

CN Railway
BNSF Railway
Union Pacific
SBB Cargo
CTL Logistics
PKP Cargo
Colas Rail
RSI Logistics
Nippon Express
SNCF
DB Schenker
Duetsche Bahn AG
Geographical analysis of Global Rail Freight Transportation Market:
North America
Europe

France
Germany
Spain
UK
Rest of Europe

Asia Pacific

China
Japan
India
South East Asia

Latin America
Middle East and Africa
Global Rail Freight Transportation Market Report delivers comprehensive analysis of :
Market Forecast for 2019-27
Market growth drivers
Challenges and Opportunities
Emerging and Current market trends
Market player Capacity, Production, Revenue (Value)
Supply (Production), Consumption, Export, Import analysis
End user/application Analysis
---
Rail Freight Transportation Market was valued at around USD 311.52 million in 2021 & estimated to reach USD 399.0287815 by 2028.
Rail Freight Transportation Market is likely to grow at compounded annual growth rate (CAGR) of 3.6% between 2022 to 2028.
Yes, the report includes COVID 19 impact on the market.