Hot Drinks Packaging Market is estimated to grow at a CAGR of 4.8 % between 2022 and 2028
Overview
Increasing demand of Hot Drinks especially coffee is prime reason behind growth of Hot Drinks Packaging Market. In recent times manufacturer are mainly focusing flexible packaging with gas valves to release carbon dioxide as well as preventing oxygen to mix with beverages. Coffee parchment is major factor along with increasing pollution due use plastic material in packaging has become major issue for Hot Drinks Packaging Market. Single use plastic is becoming serious issue in many countries & leading to increase pollution index.
Product type & Competitive analysis
Government all around the world forcing packaging manufacturer to use eco-friendly packaging materials. Even though it has hampered market to some extent but many leading manufacturers are adopting eco-friendly packaging trend for hot drinks. In 2019 Amcor, a leading Hot Drinks Packaging manufacturer launched AmLite Ultra Recyclable product to deliver sustainable, eco-friendly packaging material. Eco friendly material not only helps to reduce pollution but also lowers raw material cost. Hot Drinks Packaging Market with use of reusable material, cost- energy saving as well as technological advancement of machines expected to show impressive growth rate in recent years.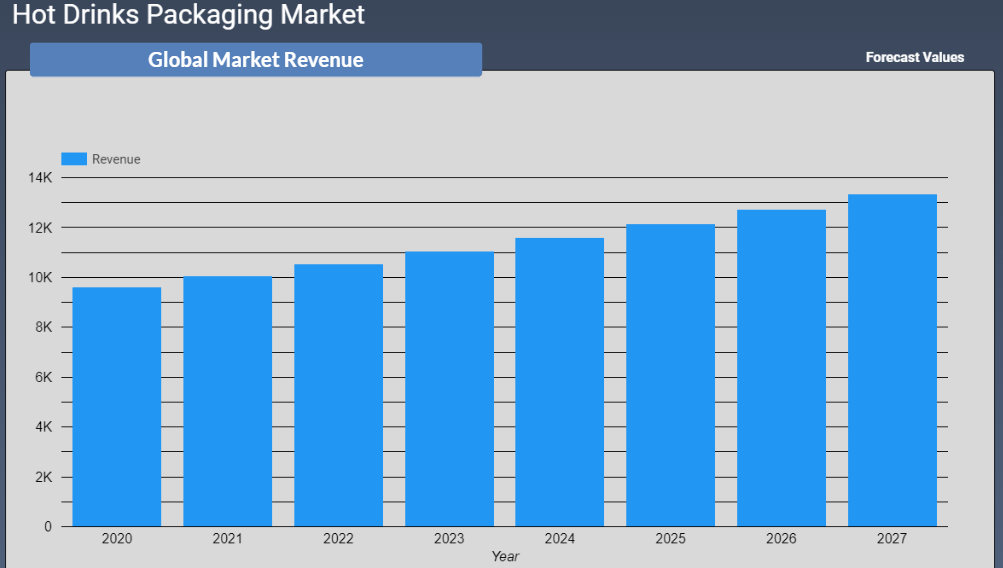 Application & Regional analysis
Application & Regional analysis
Coffee Hot Drinks Packaging dominates the market with around 60% of market share in 2018. North America leads the market & continues to show constant growth rate in upcoming years. Rising food service sector along with health awareness are primary reasons for Hot Drinks Packaging Market growth. Glass & Plastic are mainly used in packaging hot drinks. Plastic materials are expected to show high growth compare to glass during forecasted years. Eco-friendly Bioplastics solution is emerging trend & estimated to generate healthy revnue in upcoming years.
The report provides Hot Drinks Packaging Market Dynamics, includes industry growth drivers, challenges, opportunities, risk, constraints as well as threats. A report also includes Manufacturing Cost Analysis mainly included Raw Materials Analysis, Price Trend of product, Mergers & Acquisitions, Expansion, Key Suppliers of product, Concentration Hot Drinks Packaging Market, Manufacturing Process Analysis. Research Report contains Market Effect Factors analysis mainly included Technology Progress, Consumer Needs Trend, External Environmental Change.
The report comprises value chain analysis for each of the product segments. Value chain analysis offers in depth information about value addition at each stage. The study includes drivers and restraints for Hot Drinks Packaging Market along with their impact on demand during the forecast period. The study also provides key market indicators affecting the growth of the market. Research report includes major player analysis with shares of each player inside market, growth rate and market attractiveness in different end users / regions. Our study on Hot Drinks Packaging Market helps user to make precise decision in order to expand their market presence and increase their market share.
Report present Merger & Acquisition (M&A) scenario that helps user to build strong M&A strategy. Self-assessment analysis of the acquiring company along with strategy for growth plan through the target is performed. Screening company is done to identify better potential candidate called due diligence. Next stage is negotiated merger after performing required negotiations on various parameters. M & A is very integral part of research study and keep user up-to-date with recent ongoing of industry.

Global Hot Drinks Packaging Market: Material Type
Global Hot Drinks Packaging Market: Product Type
Global Hot Drinks Packaging Market: Competitive Analysis
Report includes accurate analysis of key players with Market Value, Company profile, SWOT analysis. The Study constitutes of following key players in Global Hot Drinks Packaging Market:

Amcor
Ball
Bemis
Graham Packaging
Mondi
Owens-Illinois
Printpack
Silgan Holdings
All American Containers
AptarGroup
Crown Holdings
Mead Westvaco
Geographical analysis of Global Hot Drinks Packaging Market :
North America
Europe

France
Germany
Spain
UK
Rest of Europe

Asia Pacific

China
Japan
India
South East Asia

Latin America
Middle East and Africa
Hot Drinks Packaging Market Report delivers comprehensive analysis of following parameters :
Market Estimates & Forecast from 2022 to 2028

Market Intelligence to consolidate decisions

Market growth drivers, emerging and current market trends

Challenges and Opportunities overview

In-detailed segment & End user/application analysis

Top player Production insight, Revenue (Value), market share, recent developments & future outlook

Supply (Production), Consumption, Export-Import analysis

Covid 19 impact & sustainability strategies in a post-pandemic market
---
Hot Drinks Packaging Market was valued at around USD 10074.51 million in 2021 & estimated to reach USD 13987.91262 by 2028.
Hot Drinks Packaging Market is likely to grow at compounded annual growth rate (CAGR) of 4.8% between 2022 to 2028.
segment dominated the global market in terms of revenue generation. region is likely to show the highest growth rate between 2021 to 2028.
Yes, the report includes COVID 19 impact on the market.