Plant based Water Market is estimated to grow at a CAGR of % between 2022 and 2028
Overview
Plant-based waters are the alternatives to the regular drink and provide high amount of nutrition. Plant-based water are the new trend drinks which means the drinks are produced from the plants. Nearby all of the plant waters remain a lower-sugar, sustainable alternative to routine drinks. These provide trace amounts of nutrition, but like other drinks, it is considered to take in limited quantity due to their sugar levels. The most popular plants-based water are coconut water, aloe water, maple water or birch water. Depending on the plant type, the water can be processed in numerous different ways. Plant based water may have extra health benefits. Depending on the type of water and the additions, the calories and nutrients can vary. If u see at a few of the more popular waters, they may have small amount of sodium, potassium, calcium and magnesium. If the additional nutrients and calories are needed then nearby all plants-based water are not harmful or if a person eats a balanced diet then he should not have a need of plant-based waters. The plain water is always better than the plant-based water but if you enjoy the flavor of the plant-based waters and that allows you to drink the amount of liquid you need to be well hydrated then they are better option for you.
The demand of plant-based waters has been rising in the last few years. The plant-based waters are mostly used in sports and performance industry. The demand of plant-based water has also rising day by day as it gives instant nutrient and calcium. The major competitors of plant-based water in market are The Coca-Cola Company, PepsiCo Inc., All Market Inc., Oviva Maple Water Company, Cali water, LLC, World Waters, LLC, ARTY Water Company, Sibberi, DrinkSEVA, Steaz, Harmless Harvest and DRINK maple. So with these competitors plant-based waters have to compete in market. The innovative Packaging has a magnetic effect in rising the sales of the product. The less calorie content present in the plant-based waters will boost the global market. Earlier the liquid from the trees was collected by the hole in the tree and bucket. But now, the firms are developing automated solutions that collects liquid hygienically from the tree. Drink companies are opting for contract manufacturing for souring liquid from trees. Supply chain of plant-based waters are more complex as compared to that of fizzy drinks which can hamper the growth of the product. On the other hand, sustainability challenges and lack of documented health claims might obstruct the growth of plant-based waters.
Product type & Competitive analysis
On the basis of product type, the plant-based water are divided into two categories, by product type and by flavor variant. There are various plant-based products in market like Coconut Water, Maple Water, Birch Water, Artichoke Water and Cactus Water. Coconut water is rich in potassium and it is popular for drinking before exercise because of its ability to hydrate and replenish electrolytes. Maple water has more than forty six bioactive nutrients including electrolytes, amino acids and antioxidants. Maple water can be good for diabetics. Birch water is a source of antioxidants, electrolytes and saponins has been used as a diuretic. Artichoke water is rich in vitamin C and K, potassium, magnesium and folate. This water is good for the liver. Artichoke water contains antioxidants and phytonutrients and it is the good source of fiber. Cactus Water is high in vitamin C, minerals and electrolytes and helps with inflammation. Cactus Water is benefited for skin health and help with under-eye puffiness and it has antioxidants including betalains. The plant-based water market in terms of flavor type is segmented as flavor and original. Plant-based water occurrence is natural in nature and is mostly available as flavor and non-flavor. Unflavoured plant-based waters dominate the market of flavor type.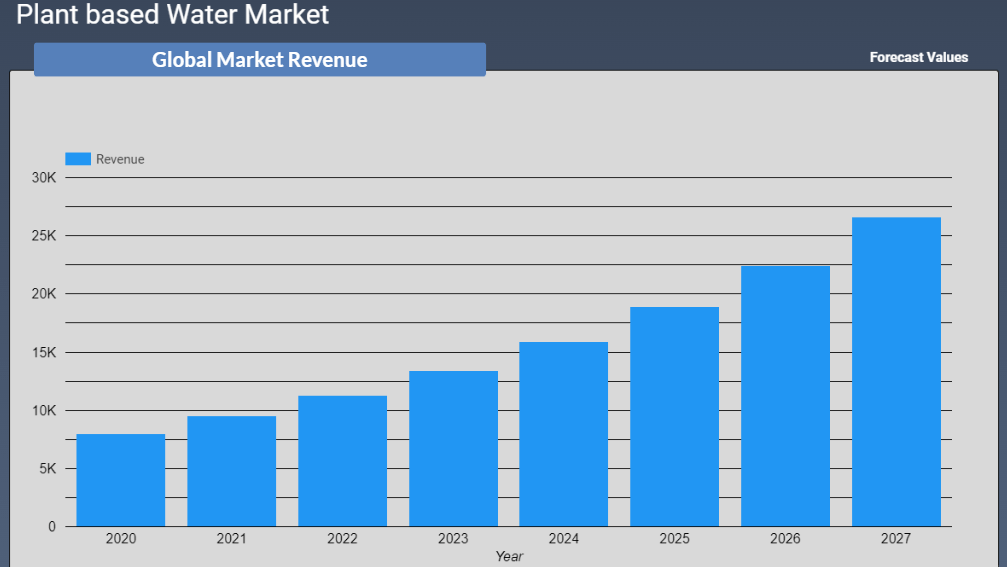 Application & Regional analysis
The application for plant-based water is Online Sale, Retail Stores and Cafes & Fitness Centers. Online sales hold the major market share of plant-based waters and online sales plays a vital role in marketing of products. The ease of accessibility of the product and hectic lifestyle of people has led to the popularity of online sales. The retail stores accounted for the next highest share of market and are expected to boom with highest CAGR of about twenty three percent. This stores have continuously evolved and will continue to increase in number payable to the broad portfolio of the product.
The plant-based water are split into various regions of Asia Pacific which are as follows: China, Japan, South Korea, Taiwan, India, Southeast Asia and Australia. Asia Pacific provides huge opportunities in the future for the players as packages and branded coconut water use an untapped market in countries such as India etc. due to rich supply of coconut and is non-branded and unorganized class.

Plant based Water Market : Product Type
By Product

Coconut Water
Maple Water
Birch Water
Artichoke Water
Cactus Water

By Flavor Variant
Plant based Water Market : Application
Online Sale
Retail Stores
Cafes & Fitness Centers
Plant based Water Market : Competitive Analysis
Report includes accurate analysis of key players with Market Value, Company profile, SWOT analysis. The Study constitutes of following key players in Plant based Water Market :

The Coca-Cola Company
PepsiCo Inc.
All Market Inc.
Oviva Maple Water Company
Caliwater, LLC
World Waters, LLC
ARTY Water Company
Sibberi
DrinkSEVA
Steaz
Harmless Harvest
DRINKmaple
Geographical analysis of Plant based Water Market :
North America
Europe

France
Germany
Spain
UK
Rest of Europe

Asia Pacific

China
Japan
India
South East Asia

Latin America
Middle East and Africa
Plant based Water Market Report delivers comprehensive analysis of following parameters :
Market Estimates & Forecast from 2022 to 2028

Market Intelligence to consolidate decisions

Market growth drivers, emerging and current market trends

Challenges and Opportunities overview

In-detailed segment & End user/application analysis

Top player Production insight, Revenue (Value), market share, recent developments & future outlook

Supply (Production), Consumption, Export-Import analysis

Covid 19 impact & sustainability strategies in a post-pandemic market
---
Plant based Water Market was valued at around USD million in 2021 & estimated to reach USD by 2028.
Plant based Water Market is likely to grow at compounded annual growth rate (CAGR) of % between 2022 to 2028.
segment dominated the global market in terms of revenue generation. region is likely to show the highest growth rate between 2021 to 2028.
Yes, the report includes COVID 19 impact on the market.