Pea Starch Market is estimated to grow at a CAGR of % between 2022 and 2028
Overview
Pea starch is derived from yellow peas. Peas contain forty percent of starch. Starch is a polymeric carbohydrate consisting of a large number of glucose units and is produced by all green plants. This is a non-GMO and non-allergenic-free ingredient. Pea Starch is a rich source of amylose and this unique feature gives it good thickening and gelling properties which are better than other commonly used starches. Pea starch also includes starch, proteins and fibre derivatives of these ingredients. Pea starch are much benefited to athlete. It improved endurance and reduced bloating. Pea starch has no sugar high or sugar crash and has long lasting energy. Pea starch is differentiated from other native starches because of the high amylose content in the pea starch particles. Pea starch is the starch solution that is extracted from the peas and it is healthy for human body. The majority of the pea starch are considered to be very healthy due to the nutritional benefits such as gluten and lactose free solution. Pea starch plays an important role in improving the product quality of snacks and savouries. It is used in snacks to cater to the customer demand for convenience in usages, texture and enhance taste.
The market growth of pea starch is raising day by day as it is healthy for human being and provides proteins through it. The pea starches are being employed by food manufacturers in different product formulation as an alternatives for remake starches and thus boosting the pea starch market growth globally. Technological advancement has also plays the vital role in raising the demand for pea starch in global market as this technological advancement have resulted in various innovations. Increase in demand for convenience food and rise in the production of pea are driving the market. The lack of awareness regarding the remarkable benefits of the pea starch is preventing the market. High consumption of soups, starch noodles, and sauces in Asian countries like South Korea, Japan, Singapore, and China is the prime reason for market growth of pea starch.
Product type & Competitive analysis
On the basis of the product, pea starch are divided into two grades, Food Grade and Industrial Grade. The global market has been segmented, based on product into food grade and industry grade. Food grade is the largest product segment which will grow by a CAGR during the forecaster timeframe. Industry grade product type held a smallest share of less than ten percent of the overall market during previous years. This products used in end-user industry like textile, strengthening, paper, etc. Pea starch use in various foods such as processed food, beverages, confectionary products and others. Pea starch is used to maintain the texture of food and to generate texture in water-based products. The market in the Asia Pacific is predicted to expand at the highest CAGR during the forecast period. The rapid growth of the market in this region is mainly allocated to the rising demand for pea starch in the food & beverage industry in China and India.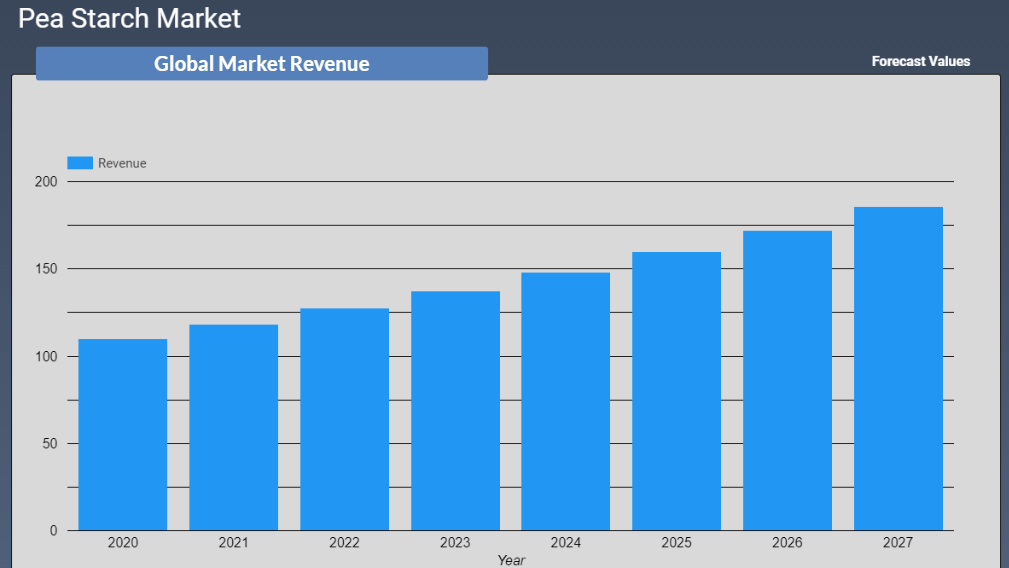 Application & Regional analysis
On the basis of the application, the pea starch are spilt into several areas which are as follows: Pharmaceutical Industry, Textile Industry, Food Production and Feed Industry. Considering the application, the product is extensively used in food and beverages items like coating, dairy, snacks, pasta, meat, bakery product, potato products, soups, poultry, fish etc. as a thickening and binding agent and hence can drive the market. The ingredient has been found to play different role in every segment of food and beverage industry in terms of its functionality. Within pharmaceuticals industry, Roquette has launched a non-GMO pre-gelatinized hydroxypropyl pea starch with an optimum amount of amylose, as a soft capsule gelatine replacement. Presently, the product is used as excipient, control release polymer, plasma volume expander in the pharmaceutical areas. High growth in the global pharmaceutical industry will augment this segments development during the forecast timeframe. Industry product used in end-user industry like textile, strengthening, paper etc.
On the basis of geographical analysis, the pea starch are divided into various key regions which are China, Japan, South Korea, Taiwan, India, Southeast Asia, and Australia. The global market has been led by the Asia Pacific. North America has raising consumption of processed food coupled with developments in the animal feed industry will propel the regional market in coming years. Awareness among the regional population about the benefits of healthy eating habits has resulted in a rise in cooking at home. By the region, Asia Pacific accounted for highest share follow by North America, Europe and others in previous years.

Pea Starch Market : Product Type
Food Grade
Industrial Grade
Pea Starch Market : Application
Pharmaceutical Industry
Textile Industry
Food Production
Feed Industry
Pea Starch Market : Competitive Analysis
Report includes accurate analysis of key players with Market Value, Company profile, SWOT analysis. The Study constitutes of following key players in Pea Starch Market :

Roquette Freres
Shuangta Food
Yantai Oriental Protein Tech
Vestkorn Milling
Shandong Jianyuan Group
Emsland-Starke
Cosucra-Groupe Warcoing
Sanstar Bio-Polymers
Yantai Dingfeng Biological Technology
Parrheim Foods
Meelunie
Geographical analysis of Pea Starch Market :
North America
Europe

France
Germany
Spain
UK
Rest of Europe

Asia Pacific

China
Japan
India
South East Asia

Latin America
Middle East and Africa
Pea Starch Market Report delivers comprehensive analysis of following parameters :
Market Estimates & Forecast from 2022 to 2028

Market Intelligence to consolidate decisions

Market growth drivers, emerging and current market trends

Challenges and Opportunities overview

In-detailed segment & End user/application analysis

Top player Production insight, Revenue (Value), market share, recent developments & future outlook

Supply (Production), Consumption, Export-Import analysis

Covid 19 impact & sustainability strategies in a post-pandemic market
---
Pea Starch Market was valued at around USD million in 2021 & estimated to reach USD by 2028.
Pea Starch Market is likely to grow at compounded annual growth rate (CAGR) of % between 2022 to 2028.
segment dominated the global market in terms of revenue generation. region is likely to show the highest growth rate between 2021 to 2028.
Yes, the report includes COVID 19 impact on the market.