Pervious Pavement Market is estimated to grow at a CAGR of 5.5 % between 2022 and 2028
Overview
According to latest study published by Profshare Market Research the pervious pavement is also called as permeable paving allows storm water to filter through the soil below the paved surface, decreases the number of issues of environmental associated with water runoff. The market is acquiring fame due to the modern construction industry's growing responsibility for storm water management, in which porosity allows for fast filtration and drainage. A recent trend in pervious pavements is that it helps reduce temperatures on and around pavements, reducing heat and its effects. It is extensively used in structures such as driveways, sidewalks, commercial & multi-acre spaces, parking lots, and low-traffic streets. Due to its high porosity, this pavement type is often considered as durability compromised. However, it is still used in a large number of applications that have grown drastically over recent years. Pervious pavement makes an ideal choice for developing green parking lots, rain gardens, solar covers, and other creative elements.
Product type & Competitive analysis
Pervious Concrete, Porous Asphalt, and Porous Brick are primary material used in pervious pavement materials. Pervious concrete also known as porous concrete, permeable concrete, no fines concrete and porous pavement. Pervious concrete is a special kind of concrete with a high porosity used for concrete flatwork applications. For storm water management, the porous asphalt is an environmentally friendly instrument. A porous brick has minute holes so that water can pass through it. In places like water parks, bathrooms, swimming pools, clubs etc. as porous bricks will absorb the water; it can be used by the builder and still are functional for that section. Rainwater and snowmelt become runoff which may contribute to flooding. From surfaces, contaminants are washed through directly into waterways without experiencing the filtration that nature planned. For land development plans, porous asphalt pavements are allow that are more pensive and sustainable. Porous asphalt pavements promote infiltration which cleanses storm water, replenish aquifers, protect streams etc.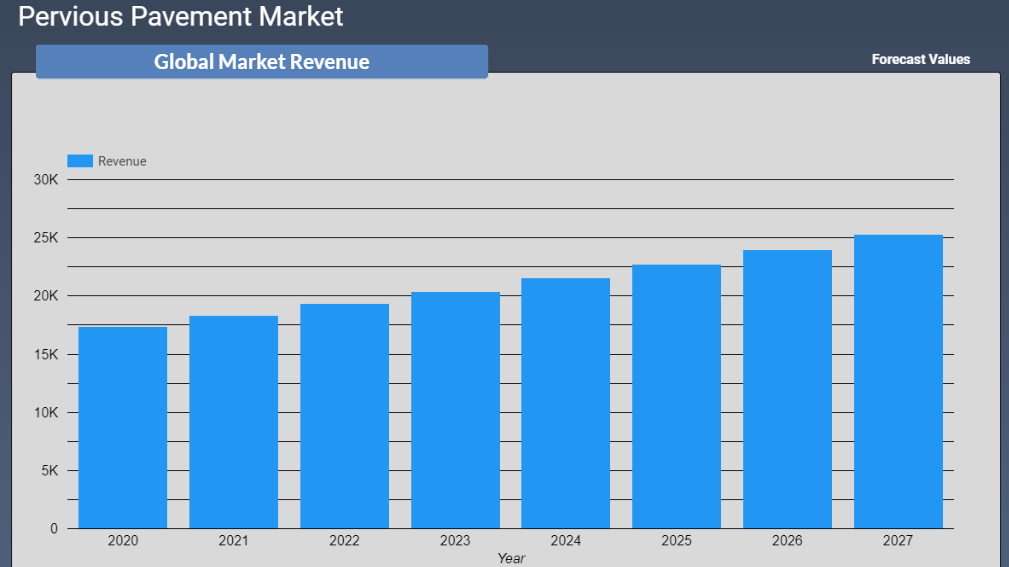 Application & Regional analysis
Study indicates that the pervious pavement materials are considers applications such as Floors & Hardscape. Historically, without any formal construction or maintenance still many roads were simply recognizable routes. Removal of geographic obstacles are involves in modern road construction. The use of new construction materials those are far more improved and durable in modern road construction. Embankments, tunnels, and bridges are constructed, and then vegetation is removed by deforestation, if necessary. By using a range of road construction equipment the pavement material is laid. The use of roadways by vehicles and pedestrians, the roadways are commonly designed and constructed. Sediments and erosion are controlled to avoid damaging effects. For carrying waste water to a waterway, stream, river, or the sea, the drainage systems are constructed so for this reason the Municipal Transportation Service is spread in all over India. The Municipal Transportation operates a large number of bus lines in the metropolitan area like Mumbai, Pune, and Gujarat etc. These buses are called Municipal Transport. It also has operation outside city limits. Road construction and municipal transportation uses the pervious pavement materials while constructions.
The North America market is expected to grow the fastest and projected to be the largest market size for pervious pavement. North America has gained substantial popularity and has become an integral part of low impact design and best management practices for storm water management. Permeable pavement designs to provide sufficient structural capacity to accommodate the anticipated vehicle loadings manage storm water flowing into the surface and soil subgrade, as well water draining out of the base. Asia-Pacific region is projected to grow with the second-highest growth rate due to emerging economies such China, India, and the countries in the Middle East.
Substantial investments are made in the increasing number of infrastructure redevelopment projects by public and private organizations, which, as a result, drive the regional market. The Asia Pacific pervious paving market is emerging as a lucrative, globally. Rapidly developing economy in the region is fuelling the already flourishing modern construction sector. Besides, the brisk urbanization, investment in infrastructure, and government support are some of the factors would create a massive demand in the market. The latest trend of rain harvesting is supporting market growth, generating a significant amount of demand for the pavement.

Global Pervious Pavement Market: Product Type
Pervious Concrete
Pervious Asphalt
Porous Brick
Global Pervious Pavement Market: Application
Global Pervious Pavement Market: Competitive Analysis
Report includes accurate analysis of key players with Market Value, Company profile, SWOT analysis. The Study constitutes of following key players in Global Pervious Pavement Market:

Lafargeholcim Ltd
Cemex
CRH PLC
BASF SE
Sika AG
Ultratech Cement Limited
Boral Limited
Balfour Beatty PLC
Raffin Construction Co.
Chaney Enterprises
Geographical analysis of Global Pervious Pavement Market :
North America
Europe

France
Germany
Spain
UK
Rest of Europe

Asia Pacific

China
Japan
India
South East Asia

Latin America
Middle East and Africa
Pervious Pavement Market Report delivers comprehensive analysis of following parameters :
Market Estimates & Forecast from 2022 to 2028

Market Intelligence to consolidate decisions

Market growth drivers, emerging and current market trends

Challenges and Opportunities overview

In-detailed segment & End user/application analysis

Top player Production insight, Revenue (Value), market share, recent developments & future outlook

Supply (Production), Consumption, Export-Import analysis

Covid 19 impact & sustainability strategies in a post-pandemic market
---
Pervious Pavement Market was valued at around USD 18347.12 million in 2021 & estimated to reach USD 26689.17313 by 2028.
Pervious Pavement Market is likely to grow at compounded annual growth rate (CAGR) of 5.5% between 2022 to 2028.
segment dominated the global market in terms of revenue generation. region is likely to show the highest growth rate between 2021 to 2028.
Yes, the report includes COVID 19 impact on the market.