Heat Shrink Labels Market is estimated to grow at a CAGR of 6.2 % between 2022 and 2028
Overview
Packaging and labelling industry is one the fastest growing industry globally primarily due to rise in population, increasing household income as well as standardization of living especially in developing countries. Heat Shrink Labels Market has shown significant growth & major contributor in the labelling industry. In 2018 Food Packaging industry has valuation of approximately USD 310 billion & considered to be major parameter in the growth of Heat Shrink Labels. Currently packaging manufacturers across the globe are primarily focusing on aesthetically pleasing and better packaging methods. On manufacturing side Heat Shrink Labels are printed digitally with premium printing quality & hence printing plates are not required in the process.
Product type & Competitive analysis
Research study mainly focuses on PVC, PETG, OPS, PE as primary manufacturing material types for Heat Shrink Labels. PVC is one the most common material used for manufacturing primarily due its characteristic properties like better print quality, clarity & most important improved shrinkage rates. In 2017 around 51% of Heat Shrink Labels market is occupied by labels made from PVC material. PETG material Heat Shrink Labels are more expensive compare to all other material type. OPS material with cost effectiveness also delivers money friendly solution for manufacturer & consumer. Polyethylene (PE) material labels are primarily used in Electronics application.
Key players of the Heat Shrink Labels Market are identified through secondary research and in order to gain better insight of organization primary research is used. Secondary research included the research of the annual and financial reports of the top manufacturers; whereas, primary research included extensive interviews of key opinion leaders and industry experts such as experienced front-line staff, directors, CEOs and marketing executives. The percentage splits, market shares, growth rate and breakdowns of the product markets are determined through using secondary sources and verified through the primary sources.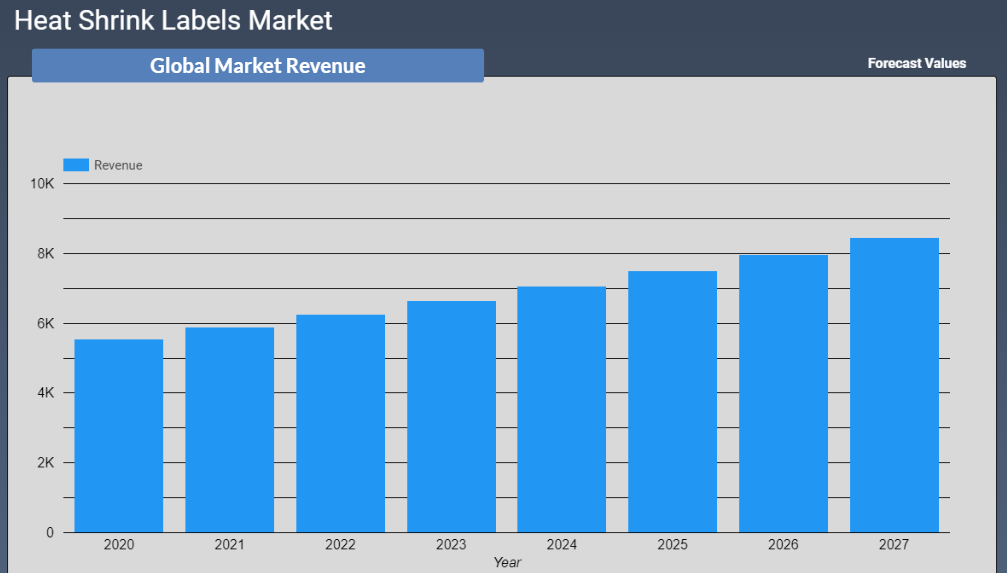 Application & Regional analysis
Application & Regional analysis
Food & beverage, Pharmaceutical & Healthcare, Home & personal care, industrial consumables, and Retail are primary end user of Heat Shrink Labels. Food & beverage sector dominates the Heat Shrink Labels market with approximate market share of 33 % in 2018. In developing countries rising online food delivery services are considered to be vital factor for growth of market in recent years. Pharma industry though shown small correction in last few years holds significant market volume & expected to grow at impressive growth rate. Luxury cosmetic, fragrance and beauty products to toiletries, oral care, OTC medicines, household cleaning and laundry products majorly falls under industrial consumables, and Retail. With rise population these product sell is increasing hence that of Heat Shrink Labels.
Regional analysis of Heat Shrink Labels Market includes North America, Asia Pacific, Europe, and Middle East & Africa as major region. Regional outlook is one of the most important aspects of research study. Research study delivers clear picture of product market for various regions globally. APAC region dominates the market due to industrialization & population. Middle East has seen significant growth in recent years as demand of packaged food & consumable is increasing at significant growth rate.

Global Heat Shrink Labels Market: Product Type
Global Heat Shrink Labels Market: Application
Food & Beverage
Pharmaceutical & Healthcare
Home & Personal Care
Industrial Consumables
Retail Labels
Global Heat Shrink Labels Market: Competitive Analysis
Report includes accurate analysis of key players with Market Value, Company profile, SWOT analysis. The Study constitutes of following key players in Global Heat Shrink Labels Market:

Multi-Color Corporation
Fort Dearborn Company
Inland
Walle
Precision Press
Hammer Packaging, Corp.
CPC packaging
NCL Graphic Specialties
Yupo Corporation
Anchor
Resource Label Group
Epsen Hillmer Graphics
Labels West Inc
Oak Printing
General Press Corporation
International Papers
Berry Plastics
Cenveo
Macfarlane Group
CCL Label Inc
DOW Chemical
Fuji Seal International Inc
Klockner Pentaplast Group
Huhtamaki
Geographical analysis of Global Heat Shrink Labels Market:
North America
Europe

France
Germany
Spain
UK
Rest of Europe

Asia Pacific

China
Japan
India
South East Asia

Latin America
Middle East and Africa
Heat Shrink Labels Market Report delivers comprehensive analysis of following parameters :
Market Estimates & Forecast from 2022 to 2028

Market Intelligence to consolidate decisions

Market growth drivers, emerging and current market trends

Challenges and Opportunities overview

In-detailed segment & End user/application analysis

Top player Production insight, Revenue (Value), market share, recent developments & future outlook

Supply (Production), Consumption, Export-Import analysis

Covid 19 impact & sustainability strategies in a post-pandemic market
---
Heat Shrink Labels Market was valued at around USD 5901.97 million in 2021 & estimated to reach USD 8992.255017 by 2028.
Heat Shrink Labels Market is likely to grow at compounded annual growth rate (CAGR) of 6.2% between 2022 to 2028.
segment dominated the global market in terms of revenue generation. region is likely to show the highest growth rate between 2021 to 2028.
Yes, the report includes COVID 19 impact on the market.