Global Patient Apparel Market is estimated to reach USD 8959.4 million by 2027, growing at a CAGR of 6.1 % between 2019 and 2027
Overview
Patient Apparel or Hospital Gowns is worn by patients so that hospital staff can easily access the part of the patient's body being treated. Some apparel has snaps along the top of the shoulder and sleeves, so that the apparel can be removed without disrupting intravenous lines in the patient's arms. Demand for patient apparel is increasing as hospitals and clinics are rising in everywhere. Top-down and bottom up approaches have been used to estimate the market size of patient apparel market. The number of manufacturing and suppliers of patient's apparel has also risen as compared to previous years. Manufacturing companies has also started to design the apparel in the patient's point of view and this will help the manufacturing company to raise their sell more in market as there are many competitors in market.
Product type & Competitive analysis
On the basis of product type, the patient apparel is divided into several parts like Multilayer, Cotton/Poly, and velour and other. Patient apparel is made up off different materials. The patient apparel which is made from multilayer means apparel is consisting of several or many layers. Using multilayers in apparel allows for flexible clothing to match the needs of each situation, so that patients will feel comfortable. Cotton/ poly is the another product type of patient apparel. The cotton/poly apparel has its own advantages like moisture control, weatherproof, comfort, durability etc. The cotton apparel is mostly used in market because of its advantages. Sometimes patients by mistake drop liquid food or food on their apparel, so this cotton apparel absorbed and removes liquid from the skin and it allows patients to remain comfortable. Cotton/Poly segment covers around 60 % of market share in 2018.
Velour is a knitted fabric, textile and plush and it is similar to velvet. It is usually made from cotton and also be made from synthetic material such as polyester. Velour apparel is also used for patients in hospitals and clinics. Velour not only provide patients apparel but also provide various clothing. There are also other types of patients apparel are available in market which is used by hospitals and clinics for their patients. The major competitors of patient apparel in market are Medline, Monarch, Encompass Group, Alpha Pro Tech, Halyard Health, Edwards Garment etc. There is also increase in the growth of various apparel which is used in different areas like home apparel and clinic apparel.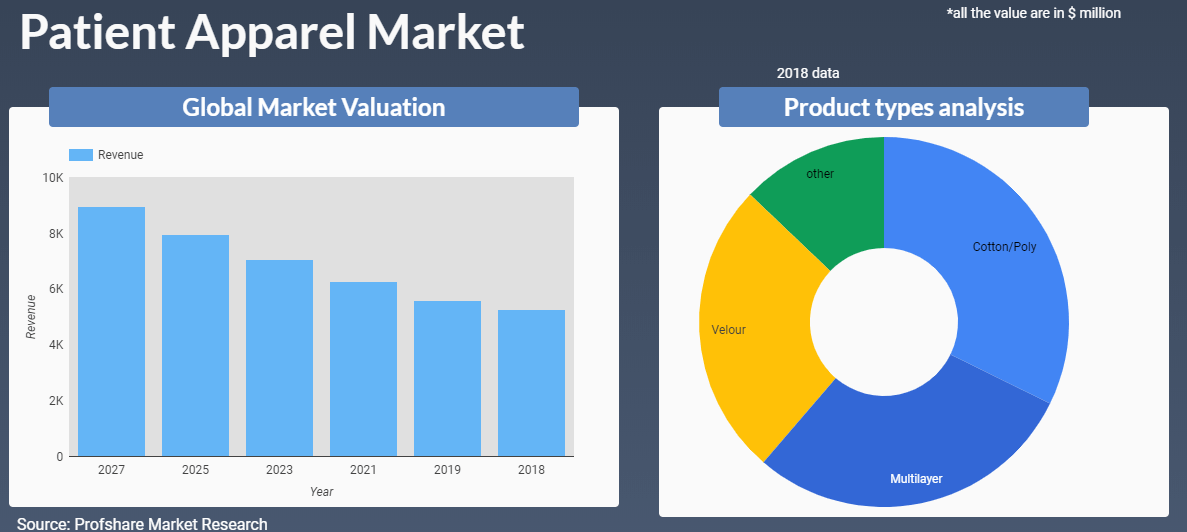 Application & Regional analysis
Application wise, patients apparel are majorly using in market. The application of patient's apparel is spilt into three areas which are as follows: hospital, clinic and homes. In hospitals all the patients have to wear or used apparel compulsorily and there are different apparel for doctors and staff of the hospitals. Multinational hospitals have its first priority to wear the apparel which is for the both patients as well as for the staff. Clinic means where outpatients are given medical treatment, especially of a specialist nature. The used of apparel are also done in clinics. It is also known as Medical Centre or Health Centre. Apparel are also used in homes for cooking the foods and for various works of the homes like cleaning the fans, bedrooms, washing cloths etc. for cutting the vegetables home apparel is used.
Regional outlook of research study is based on analysis of Market in North America, Europe, Asia Pacific, Middle East, South America, and Africa & Rest of the World. The patient apparel market globally is a standout amongst the most arising and amazingly approved areas. This worldwide market has been developing at a higher speed with the development of imaginative frameworks and a developing end-client propensity. Asia Pacific is fastest growing market due to massive improvement in healthcare infrastructure.

Patient Apparel Market : Product Type
Cotton/Poly
Multilayer
Velour
other
Patient Apparel Market : Application
Patient Apparel Market : Competitive Analysis
Report includes accurate analysis of key players with Market Value, Company profile, SWOT analysis. The Study constitutes of following key players in Patient Apparel Market :

Dupont
Kimberly-Clark
Medline
Encompass Group
Halyard Health
Monarch
Alpha Pro Tech
Encompass Group
MarketLab
Edwards Garment
Aramark Uniform & Career Apparel
Lebilp
Geographical analysis of Patient Apparel Market :
North America
Europe

France
Germany
Spain
UK
Rest of Europe

Asia Pacific

China
Japan
India
South East Asia

Latin America
Middle East and Africa
Patient Apparel Market Report delivers comprehensive analysis of :
Market Forecast for 2019-27
Market growth drivers
Challenges and Opportunities
Emerging and Current market trends
Market player Capacity, Production, Revenue (Value)
Supply (Production), Consumption, Export, Import analysis
End user/application Analysis
---
Patient Apparel Market was valued at around USD 6280.39 million in 2021 & estimated to reach USD 9505.923189 by 2028.
Patient Apparel Market is likely to grow at compounded annual growth rate (CAGR) of 6.1% between 2022 to 2028.
Yes, the report includes COVID 19 impact on the market.