The global Organic Elemental Analyzer market is valued at USD 70.15 million in 2016 and is expected to reach USD 89.53 million by the end of 2026, growing at a CAGR of 2.47 % between 2017 and 2025.
Organic Elemental Analyzer (OEA) is a simultaneous technique used for determination of carbon, hydrogen, nitrogen, sulfur and oxygen (CHNS/O) contained in organic and inorganic materials in solid, liquid, and gas forms. In other words, Organic elemental analysis is the quantitative and qualitative estimation of organic compounds. Organic Elemental Analyzer is a fast, reliable, and accurate 24/7 analytical solution testing organic solids, liquids, volatiles or viscous substances to across a wide a range of industries applications including polymers, energy, environment, chemicals, pharmaceuticals, agriculture, geology, energy.
Organic elemental analyzer technique fulfills the need for an efficient analytical technique for characterizations of carbon, hydrogen, nitrogen, sulfur and oxygen (CHNS/O) in coal, oil, lubricants, oils, polymers and plastics, carbon black waste, fertilizers, pesticides, fine chemicals, pharmaceutical products, synthetic rubber fiber materials, cement, ceramics, glass fiber and other samples. Globalized market demands more accurate quality control of product characteristics, in order to protect commercial value, to safeguard consumer health and manufacturer reputation. For this reason the organic elemental analysis technique is recognized by international associations as an alternative to the classical methods, for more precise, compliant and automated analysis.
North America is the largest organic elemental analyzer market followed by Europe. Europe and North America together accounting for more than 50% of the global market share in the organic elemental analyzer market. Asia Pacific is estimated to grow with the fastest CAGR during the forecast period. With increasing urbanization, industrialization and rising income, Asia Pacific is emerging as a largest market player for manufacturers which results in increasing establishing subsidiaries of key elemental analysis products in the Asia Pacific region. Also, growing awareness regarding safety of pharmaceuticals adds to boost this market in region.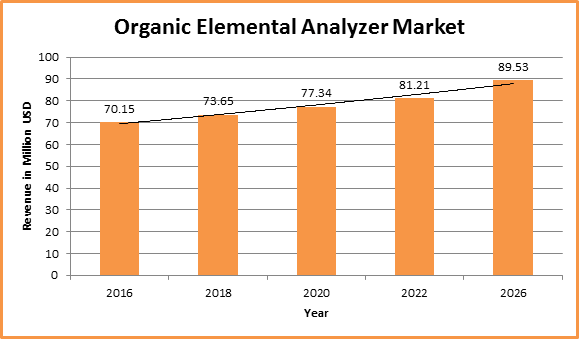 Organic Elemental Analyzer Market : Product Type
GC Chromatography
Frontal Chromatography
Adsorption-Desorption
Organic Elemental Analyzer Market: Application
Energy
Chemical Industry
Environment
Agriculture
Geology
Organic Elemental Analyzer Market : Company Analysis
Elementar
Leco
EuroVector
Analytik Jena
Thermo
ELTRA
PerkinElmer
Costech
Exeter
Geographical analysis of Organic Elemental Analyzer Market:
North America
Europe
China
Japan
Rest of Asia
Organic Elemental Analyzer Market Report delivers comprehensive analysis of :
Market Forecast for 2018-26
Market growth drivers
Challenges and Opportunities
Emerging and Current Market trends
Market player Capacity, Production, Revenue (Value)
Supply (Production), Consumption, Export, Import analysis
End user/application Analysis
---
Organic Elemental Analyzer Market was valued at around USD million in 2021 & estimated to reach USD by 2028.
Organic Elemental Analyzer Market is likely to grow at compounded annual growth rate (CAGR) of % between 2022 to 2028.
Yes, the report includes COVID 19 impact on the market.