The global Conveying Equipment market is valued at USD 33.4 billion in 2016 and is expected to reach USD 43.6 billion by the end of 2026, growing at a CAGR of 2.7 % between 2017 and 2025.
Conveying equipment carries ingredients, products, containers, packs or packaging components from one place to another. Conveying equipment is helpful in achieving efficient warehouse management and operation. Conveying equipment, in their simplest form, are mechanical assemblies which can be demountable and easy to move while, in their most sophisticated form, they are can be complex machines with drives, controls and sensors. Complex conveying equipment is required for highly accurate sorting, ordering or distribution of the items or products being conveyed.
Conveying equipment usually consists of frames that support rollers, wheels, or belts and may be motor powered or manual devices. There are a large number of different types of conveying equipment which are designed to convey different types of product or to perform particular tasks. Conveying equipment for bulk products e.g. powders or free flowing solids, conveying equipment for both bulk products and small unit loads, conveying equipment for small unit loads e.g. bottles or cartons, conveying equipment for large unit loads e.g. pallets or kegs. Conveying equipment market is segmented into unit handling, bulk handling, parts & attachments on product basis. Unit handling equipment was the largest product segment.
Global conveying equipment market finds application as goods carrier in several industries including metal mining and coal, power, food and beverages, steelworks, airports, cement, ports, soft drinks, alcoholic beverages, home care, , cosmetics and personal care, agricultural, computer, electronic, packaging, aerospace, pharmaceuticals, automotive, canning and bottling, print finishing, and chemicals. Conveying equipment can transport equipment of all loads, shapes, weights, and sizes also offer cost-effective and efficient techniques for easy and fast goods transportation.
Europe is the largest conveying equipment market followed by North America. Asia Pacific is estimated to grow with the fastest CAGR during the forecast period. The growing industrial production urbanization and rising income with the rising trend of e-commerce mainly in China and India is expected to drive the market over the forecast period. The growing transportation boom in China, South Korea, Malaysia, Thailand, Vietnam, Indonesia, and India significantly help the market growth over the forecast period.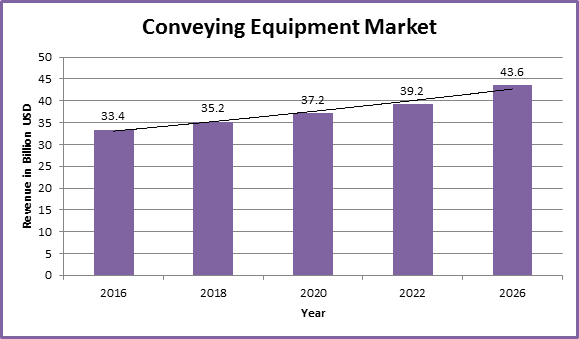 Conveying Equipment Market : Product Type
Unit Handling
Bulk Handling
Parts & Attachments
Conveying Equipment Market: Application
Durable Goods Manufacturing
Nondurable Goods Manufacturing
Conveying Equipment Market : Company Analysis
Dematic Group
Rexnord
Sandvik AB
Intelligrated
Nordstrong Equipment
Webster Industries
Daifuku
FMC Technologies
Hitachi
Hytrol Conveyer Company
Fritz Schafer
Richards Wilcox
Mecalux
Murata Machinery
Siemens AG
Durr
Dearborn Mid-West Conveyor Company
Geographical analysis of Conveying Equipment Market:
United States
Europe
China
Japan
Southeast Asia
India
Conveying Equipment Market Report delivers comprehensive analysis of :
Market Forecast for 2018-26
Market growth drivers
Challenges and Opportunities
Emerging and Current Market trends
Market player Capacity, Production, Revenue (Value)
Supply (Production), Consumption, Export, Import analysis
End user/application Analysis
---
Conveying Equipment Market was valued at around USD million in 2021 & estimated to reach USD by 2028.
Conveying Equipment Market is likely to grow at compounded annual growth rate (CAGR) of % between 2022 to 2028.
Yes, the report includes COVID 19 impact on the market.