Global Motorcycle Tires Market is estimated to reach USD 17575.66 million by 2027, growing at a CAGR of 3.8 % between 2019 and 2027
Motorcycle tires are the exterior part of a motorcycle's wheels and they are mainly attached to wheel rims, offering traction, and absorbing surface unevenness and anomalies. They are resistant to wear and tear and permit the rider to effectively turn the motorcycle via counter steering. Contact with the front and rear tires is the ultimate connection of the motorcycle with the ground, thus the tires must be designed and manufactured according to safety standards and codes. An ideal tire is one wherein the bike's suspension behaviour adheres to braking, fuel economy, safety and noise level and offers a seamless riding experience. The chief function of the rear and front tires is to sustain shocks and blows while riding in unpleasant conditions, such as uneven, rough or badly serviced roads and tracks.
Another function of motorcycle tires is to gain proper grip on the road so that the motorcycle is perfectly balanced and can be ridden with utmost comfort. Recent industrialization has empowered manufactures to produce motorcycles which are powerful and can travel at high speeds, thus motorcycle tires have also advanced to become more efficient and match the engine configuration. In the current situation, motorcycle tires need to be manufactured to offer great consistency and perfection so that there are no accidents due to the defective manufacturing of motorcycles tires. The history of motorcycle tires is a vibrant evolution of balanced development allowing better acceleration, grip, turning and effective braking, convoyed by improved, safety, durability, reliability and comfort.
The study covers detail analysis, growth and forecast of the Motorcycle Tires Market. The report includes market analysis on global and regional level. The study covers historical data analysis from 2014 to 2017 and market forecast for 2019 to 2027 based on revenue generated. The study includes market value in terms of revenue in billion USD for years 2014-27 and compound annual growth rate (CAGR) in % for from 2019-2027. The market is expected to show constant growth between 2019-2027.
The report comprises value chain analysis for each of the product segments. Value chain analysis offers in depth information about value addition at each stage. The study includes drivers and restraints for Motorcycle Tires Market along with their impact on demand during the forecast period. The study also provides key market indicators affecting the growth of the market. Research report includes major player analysis with shares of each player inside market, growth rate and market attractiveness in different end users/regions. Our study Motorcycle Tires Market helps user to make precise decision in order to expand their market presence and increase market share.
The report provides Motorcycle Tires Market Dynamics ,includes industry growth drivers, challenges, opportunities , risk, constraints as well as threats .Reports also includes Manufacturing Cost Analysis mainly included Raw Materials Analysis, Price Trend of product, Mergers & Acquisitions, Expansion, Key Suppliers of product, Concentration Rate of Motorcycle Tires Market, Manufacturing Process Analysis. Research Report contains Market Effect Factors analysis mainly included Technology Progress, Consumer Needs Trend, External Environmental Change.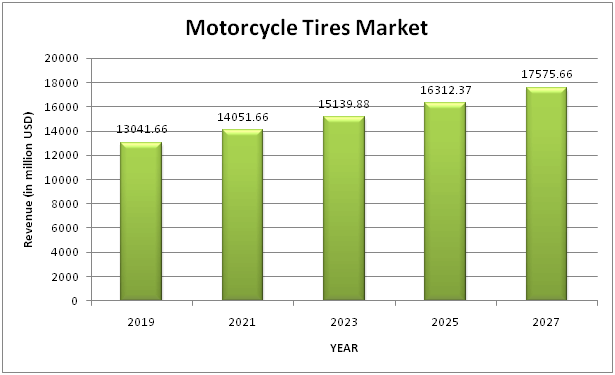 Global Motorcycle Tires Market: Product Type
Tubbed Tire
Tubeless Tire
Solid Tire
Global Motorcycle Tires Market: Application
Global Motorcycle Tires Market: Competitive Analysis
Report includes accurate analysis of key players with Market Value, Company profile, SWOT analysis. The Study constitutes of following key players in Global Motorcycle Tires Market:

Metro Tyres Limited
Continental Corporation
Bridgestone Corporation
Kenda Tires
Michelin
LEVORIN
Pirelli &C.S.p.A
Dunlop
MRF
CEAT Ltd.
Geographical analysis of Global Motorcycle Tires Market:
North America
Europe

France
Germany
Spain
UK
Rest of Europe

Asia Pacific

China
Japan
India
South East Asia

Latin America
Middle East and Africa
Global Motorcycle Tires Market Report delivers comprehensive analysis of :
Market Forecast for 2019-27
Market growth drivers
Challenges and Opportunities
Emerging and Current market trends
Market player Capacity, Production, Revenue (Value)
Supply (Production), Consumption, Export, Import analysis
End user/application Analysis
---
Motorcycle Tires Market was valued at around USD 14051.66 million in 2021 & estimated to reach USD 18243.53976 by 2028.
Motorcycle Tires Market is likely to grow at compounded annual growth rate (CAGR) of 3.8% between 2022 to 2028.
Yes, the report includes COVID 19 impact on the market.