Global Automotive Driveline Market is estimated to reach USD 65171.36 million by 2027, growing at a CAGR of 17.1 % between 2019 and 2027
Driveline is the set of components of the automotive power train that lies between the transmission and differential. It generally consists of a drive shaft and universal joints. It is a mechanical element used to transmit torque and rotation, usually used to connect other components of a drive train that cannot be linked directly due to the distance or the need to permit for relative movement between them. The factors contributing in the growth of the market are stringent emission regulations by governments globally have force OEM's to adopt the hybrid and electric vehicle technology, increasing demand for better fuel efficiency, increasing sales of electric & hybrid vehicles and rising per capita income.
Technological innovation in the field of automotive drivelines such as regenerative braking, automatic start-stop, E-CVT, and E-axle are the major driving forces for the automotive driveline. The choice of technology varies for a Hybrid Electric Vehicle (HEV), Plug-in Hybrid Electric Vehicle (PHEV), or Battery Electric Vehicle (BEV). Hence, the driveline market is reliant on the sales of electric and hybrid vehicles. The rising sales of electric and hybrid vehicles are driving the market for the automotive driveline.
The study covers detail analysis, growth and forecast of the Automotive Driveline Market. The report includes market analysis on global and regional level. The study covers historical data analysis from 2014 to 2017 and market forecast for 2019 to 2027 based on revenue generated. The study includes market value in terms of revenue in billion USD for years 2014-27 and compound annual growth rate (CAGR) in % for from 2019-2027. The market is expected to show constant growth between 2019-2027.
The report comprises value chain analysis for each of the product segments. Value chain analysis offers in depth information about value addition at each stage. The study includes drivers and restraints for Automotive Driveline Market along with their impact on demand during the forecast period. The study also provides key market indicators affecting the growth of the market. Research report includes major player analysis with shares of each player inside market, growth rate and market attractiveness in different end users/regions. Our study Automotive Driveline Market helps user to make precise decision in order to expand their market presence and increase market share.
The report provides Automotive Driveline Market Dynamics ,includes industry growth drivers, challenges, opportunities , risk, constraints as well as threats .Reports also includes Manufacturing Cost Analysis mainly included Raw Materials Analysis, Price Trend of product, Mergers & Acquisitions, Expansion, Key Suppliers of product, Concentration Rate of Automotive Driveline Market, Manufacturing Process Analysis. Research Report contains Market Effect Factors analysis mainly included Technology Progress, Consumer Needs Trend, External Environmental Change.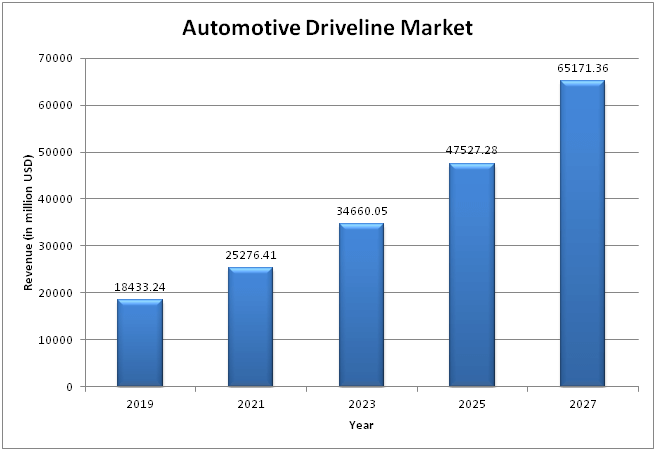 Global Automotive Driveline Market: Product Type
Series Driveline
Parallel Driveline
Power Split Driveline
Global Automotive Driveline Market: Application
Global Automotive Driveline Market: Competitive Analysis
Report includes accurate analysis of key players with Market Value, Company profile, SWOT analysis. The Study constitutes of following key players in Global Automotive Driveline Market:

ZF
Schaeffler
BorgWarner
GKN
Robert Bosch
Volkswagen
Ford Motors
Toyota Motors
Mahindra & Mahindra
Geographical analysis of Global Automotive Driveline Market:
North America
Europe

France
Germany
Spain
UK
Rest of Europe

Asia Pacific

China
Japan
India
South East Asia

Latin America
Middle East and Africa
Global Automotive Driveline Market Report delivers comprehensive analysis of :
Market Forecast for 2019-27
Market growth drivers
Challenges and Opportunities
Emerging and Current market trends
Market player Capacity, Production, Revenue (Value)
Supply (Production), Consumption, Export, Import analysis
End user/application Analysis
---
Automotive Driveline Market was valued at around USD 25276.41 million in 2021 & estimated to reach USD 76315.65865 by 2028.
Automotive Driveline Market is likely to grow at compounded annual growth rate (CAGR) of 17.1% between 2022 to 2028.
Yes, the report includes COVID 19 impact on the market.