Lead Acid Battery Market is estimated to grow at a CAGR of 5.1 % between 2022 and 2028
Overview
The battery that uses sponge lead and lead peroxide for the conversion of the energy into electrical power, such kind of battery is termed a Lead Acid Battery. The Lead Acid Battery is most typically employed in the facility stations and substations as a result of its higher cell voltage and lower price. The main key driver of growth for Global Lead-acid market is due to the increasing urbanization & industrialization and rising usage of battery in vehicles. Some of the key factors identified as drivers of the global Lead Acid Battery market are increasing demand for e-bikes and electric vehicles, lower maintenance and replacement costs, and reducing reliance on conventional fuel technologies. On the other hand, stringent lead emission standards and shift towards lithium-ion batteries are two glaring restraints hindering the prosperity of the Lead Acid Battery market. Nevertheless, increasing demand from the telecommunication sector is foreseen as a fresh new opportunity in this market.
Product type & Competitive analysis
On the basis of product line Global Lead Acid Battery Market is divided into VRLA battery grade, and Flooded battery grade. The flooded battery segment provided for more than 65 % of the total demand as of 2018. Although the demand share of flooded batteries is anticipated to lose a little ground over the course of the forecast period, it will continue to remain the most profitable segment until 2027 by a fair margin. Economical pricing of flooded batteries make them high in demand. The demand share of AGM battery is poised to increase considerably in the near future, expanding at an impressive growth rate during 2018 to 2027. Stationary Lead Acid Battery is expected to grow at a higher rate during the forecast period due to the rising dependency on electronics and increasing focus toward improved power quality.
The major key players present in Global Lead Acid Battery market are: Johnson Controls¸ Exide, CSB Battery, GS Yuasa Corporate, Enersys, EAST PENN Manufacturing, FIAMM, Sebang, Atlasbx, Amara Raja, C&D Technologies, Trojan, NorthStar Battery, Midac Power, ACDelco, Banner Batteries, First National Battery, Chaowei Power, Tianneng Power, Shoto, Camel, Fengfan, Leoch, Narada Power, Sacred Sun Power Sources, and Coslight Technology.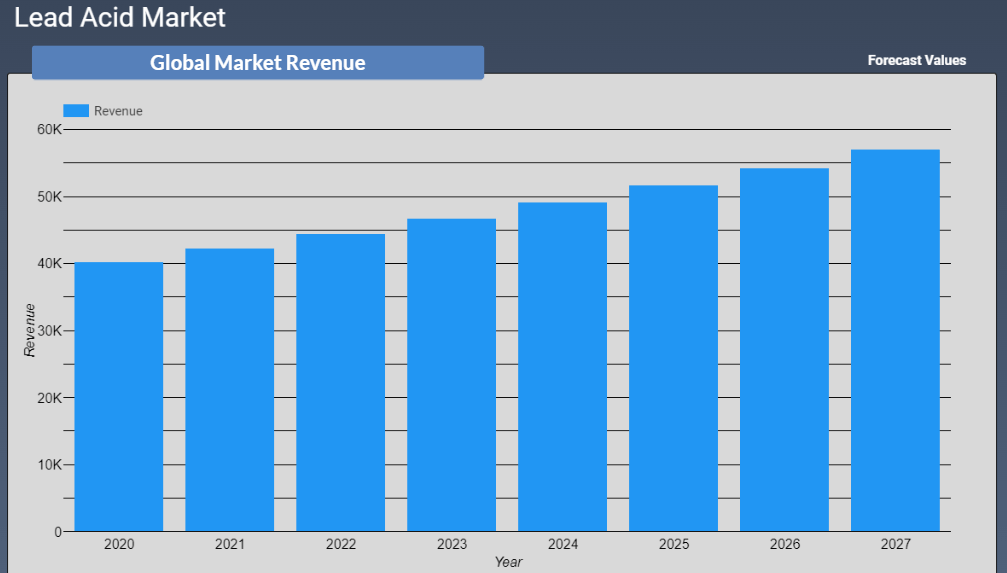 Application & Regional analysis
On the basis of end user/application Global Lead Acid Battery Market can be split into automotive starters, motorcycles and electric bike, forklifts and other vehicles, and UPS. Application-wise, the analysts have bifurcated the Lead Acid Battery market into grid storage, commercial, stationary industrial, residential grid storage, motive industrial, and transportation. Automotive sector holds around 48 % of the overall demand, although the demand for stationary industrial segment is expected to expand at an impressive CAGR during the forecast period.
Geographically, the region of Asia Pacific is currently most attractive market and the demand is projected to expand at CAGR of 5.1 % during the forecast period of 2019 to 2027. Flooded batteries, also known as wet batteries, use lead plates, sulphuric acid electrolyte, and plate battery. Although flooded batteries require maintenance, they are cheaper and come in various shapes and sizes, making them ideal for various applications. China currently dominates the APAC Lead Acid Battery market in terms of demand and accounted for more than 50% share in the overall Lead Acid Battery consumption in APAC. While North America and Western Europe are other two regional markets with substantial potential, demand from both is anticipated to increment at a sluggish growth rate on the back of growing adoption of alternatives.

Global Lead Acid Battery Market: Product Type
VRLA battery grade
Flooded battery grade
Global Lead Acid Battery Market : Application
Automotive Starter
Motorcycles and Electric Bikes
Forklifts
UPS
Global Lead Acid Battery Market : Competitive Analysis
Report includes accurate analysis of key players with Market Value, Company profile, SWOT analysis. The Study constitutes of following key players in Global Lead Acid Battery Market :

Johnson Controls
Exide
CSB Battery
GS Yuasa Corporate
Enersys
EAST PENN Manufacturing
FIAMM
Sebang
Atlasbx
Amara Raja
C&D Technologies
Trojan
NorthStar Battery
Midac Power
ACDelco
Banner Batteries
First National Battery
Chaowei Power
Tianneng Power
Shoto
Camel
Fengfan
Leoch
Narada Power
Sacred Sun Power Sources
Geographical analysis of Global Lead Acid Battery Market :
North America

U.S.A
Canada
Mexico
Rest of NA

Europe

France
Germany
UK
Rest of Europe

Asia Pacific

China
Japan
India
Singapore
Rest of APAC

Latin America
Middle East
Africa
Rest of World
Lead Acid Battery Market Report delivers comprehensive analysis of following parameters :
Market Estimates & Forecast from 2022 to 2028

Market Intelligence to consolidate decisions

Market growth drivers, emerging and current market trends

Challenges and Opportunities overview

In-detailed segment & End user/application analysis

Top player Production insight, Revenue (Value), market share, recent developments & future outlook

Supply (Production), Consumption, Export-Import analysis

Covid 19 impact & sustainability strategies in a post-pandemic market
---
Lead Acid Battery Market was valued at around USD 42347.61 million in 2021 & estimated to reach USD 59985.72566 by 2028.
Lead Acid Battery Market is likely to grow at compounded annual growth rate (CAGR) of 5.1% between 2022 to 2028.
segment dominated the global market in terms of revenue generation. region is likely to show the highest growth rate between 2021 to 2028.
Yes, the report includes COVID 19 impact on the market.