Piperylene Market is estimated to grow at a CAGR of 5.6 % between 2022 and 2028
Overview
Piperylene is produce during the manufacturing process and it is an olefins co-product. It is mainly used to produce hydrocarbon resins with applications in various industries, such as adhesives, paints, rubbers and so on. Among those applications, in 2017 demand from adhesives industry is the huge one which holds the more than 70% of market share. From the upstream industries to downstream industries, many piperylene manufacturers have overall industry chains. Piperylene is consists of 5 carbons chain with 2 double bonds and it is a high volatile and flammable organic compound.
Product type & Competitive analysis
Piperylene also known as 1, 3-pentadiene. Generally it is derived from the crude oil extraction via several numbers of extractions. It is produced as a by-product during the ethylene manufacturing and combustion of biomass. It is also consists of average toxicity which can be harm the biotic components in the environment and it is a colorless liquid with nasty smell. For the plastic production, adhesive production, and resin production it is used as an intermediate reactant. Rising demand for the end products like diaper fastenings, parcel tapes, inks and building materials and others is manufactured by the piperylene, is accounted to promote the growth of the global piperylene market in coming years.
Purity ≥99.5% and Purity <99%are primary product included in piperylene. Piperylene is available in two forms which is purity greater than 99.5% and purity less than 99%. It is used as a monomer in the production of adhesives, inks, and plastics. Piperylene possesses characteristics such as high toughness, mechanical strength, and high resistance to corrosion. It is used as a raw material in the production of hot melting and pressure sensitive products such as road marking paints, waterproof coatings, building materials, printed circuit boards, envelopes, parcel tapes, and diaper fastenings.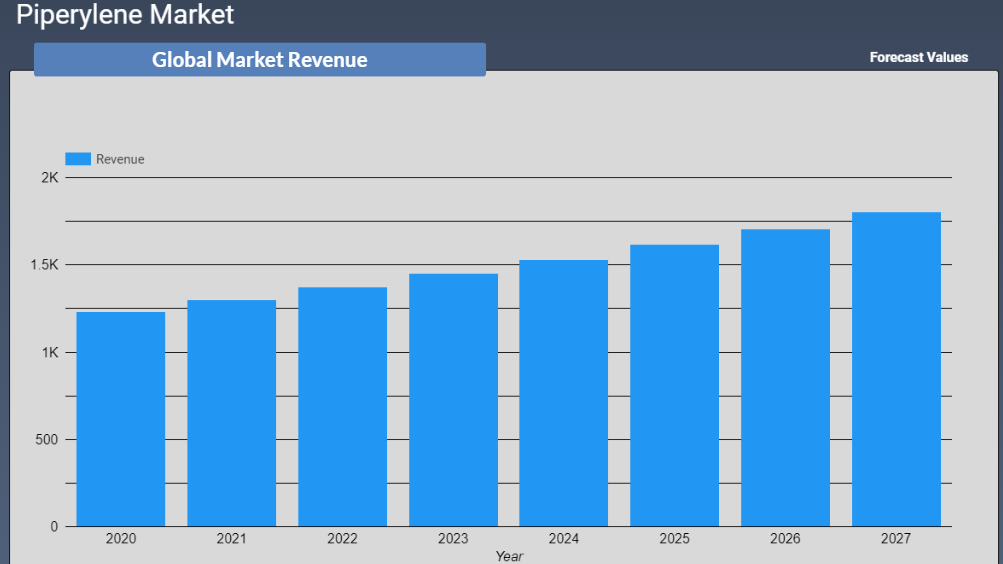 Application & Regional analysis
Study indicates that the Piperylene Market is divided into three applications which are epoxy hardener, tackifier, adhesive and resin. Crystal clear transparent water like appearance excellent rapid cure even at low temperatures, Good chemical solvent & water resistance, Superior corrosion resistance, Very good flexibility, Workable pot life, Non-critical mixing ratios, Excellent curing under humid & damp conditions, Water Based Epoxy System Available, Good adhesion to mechanically cleaned surfaces, Precisely processed, and Long shelf life are the feature of epoxy hardener. The application of epoxy hardener is Coating Industry, Epoxy Floor Coatings, and Marble Coatings etc. it is available in 200 Kgs Barrel or in more Kgs barrel or in small Kgs barrel. Epoxy Hardener are used for Epoxy Floor Coatings, Surface tolerant primers for metallic substrates, Solvent free, high solid coatings, Pipeline & tank coatings, Marine & industrial coatings, Marble Coatings, Powder Coatings, Surface Coatings, and Electrical Insulation Industry. For preparing the adhesives to rise the tack, tackifiers is used which is a chemical compound. Resin and epoxy are both adhesives commonly employed in the construction industry. They are also called plastic adhesives, and they are also used to bond together plastics, glass, and metals.
Geographically, the Piperylene is divided into United States, China, Europe, Japan, Southeast Asia, and India. Global production of piperylene increased from 2013 to 2017. China, USA and Japan are the major production regions of piperylene. Nearly 70% of piperylene comes from the three regions in 2017. As for consumption, China is the largest consumer of piperylene. With recovery of downstream industries, demand of hydrocarbon resins keeps upward tendency, stimulating the industry development of piperylene market accordingly. Asia Pacific dominates the overall market and expected to continue its control over the forecast period.
Continuously increasing demand of the end product synthesized by piperylene is anticipated to bolster the growth of the piperylene market across the globe. Moreover, growth in plastic and resin industries are believed to open a gateway of opportunities for the companies entering into the business of soft magnetic composites. It has several applications in various sectors such as automotive, aerospace and others which are expected to showcase significant rise piperylene market over the forecast period. The market is mainly expanding on the back of the growth and expansion of plastic industries in the region.

Global Piperylene Market: Product Type
Purity ≥99.5%
Purity <99%
Global Piperylene Market: Application
Epoxy Hardener
Adhesive and Resin
Tackifier
Global Piperylene Market: Competitive Analysis
Report includes accurate analysis of key players with Market Value, Company profile, SWOT analysis. The Study constitutes of following key players in Global Piperylene Market:

Lotte Chemical
Braskem
Dow Chemical
LyondellBasell
YNCC
Chevron Phillips Chemical
Eastman
Zibo Luhua Hongjin New Material
Geographical analysis of Global Piperylene Market:
North America
Europe

France
Germany
Spain
UK
Rest of Europe

Asia Pacific

China
Japan
India
South East Asia

Latin America
Middle East and Africa
Piperylene Market Report delivers comprehensive analysis of following parameters :
Market Estimates & Forecast from 2022 to 2028

Market Intelligence to consolidate decisions

Market growth drivers, emerging and current market trends

Challenges and Opportunities overview

In-detailed segment & End user/application analysis

Top player Production insight, Revenue (Value), market share, recent developments & future outlook

Supply (Production), Consumption, Export-Import analysis

Covid 19 impact & sustainability strategies in a post-pandemic market
---
Piperylene Market was valued at around USD 1300.38 million in 2021 & estimated to reach USD 1904.222572 by 2028.
Piperylene Market is likely to grow at compounded annual growth rate (CAGR) of 5.6% between 2022 to 2028.
segment dominated the global market in terms of revenue generation. region is likely to show the highest growth rate between 2021 to 2028.
Yes, the report includes COVID 19 impact on the market.