The global hardware encryption devices market is valued at USD 55.8 billion in 2016 and is expected to reach USD 805.5 billion by the end of 2026, growing at a CAGR of 30.6% between 2016 and 2026. Privacy and information security concerns have fueled the increased usage in recent years of data encryption. Encryption is the process whereby one form of information or content is scrambled into an unrecognizable state, according to the rules of a mathematical formula or algorithm. Encryption is an incredibly important tool for keeping your data safe. When your files are encrypted, they are completely unreadable without the correct encryption key. But there are actually two types of encryption – hardware and software.
Software encryption uses software tools to encrypt your data. Hardware encryption uses separate processor dedicated to the task of authentication and encryption. Hardware encryption is considered to be safer than software encryption because the encryption process is kept separate from the rest of the machine. This makes it much harder to intercept or break. Process of encryption/decryption is much faster in hardware encryption. Software encryption often causes a reduction in performance, including delays in processing, laggy response, and longer timeframes for computation.
Hardware encryption can offer several benefits beyond those provided by software encryption. These include faster algorithm processing, tamper-proof or tamper-resistant key storage, and protection against unauthorized code. Hardware encryption devices often have the ability to store encryption keys and other sensitive items in highly protected areas of RAM or flash memory. Since the encryption process is embedded within hardware, the system relies on the stability and robustness of the machinery. All-time activation of hardware encryption devices making it easier for the driver to meet the various government standards especially in applications across service sectors such as banking and financial institutions among others is also giving boost to this market.
Asia Pacific is the largest hardware encryption devices market both in terms of volume and revenue in 2016 due to expansion of IT and telecommunication services and followed by North America and Europe. Asia Pacific and North America region is anticipated to grow at a significant during the forecast period both in terms of value and volume. Rising concern for data privacy, data security issues and emerging trend of portable storage devices are the key factors favouring the Hardware Encryption market. Cost of hardware and updates of the hardware is only possible through device substitution and it is the barrier for grpwth of this market. Huge capital investments are inhibiting the Hardware Encryption market.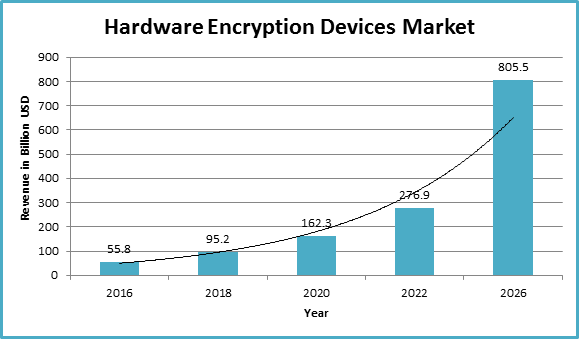 Hardware Encryption Devices Market Report: Product Type
Encrypted Hard Disk Drives
Encrypted Solid-State Drives
Hardware Security Module
Hardware Encryption Devices Market Report: Application
IT & Telecom
BFSI
Government & Public Utilities
Manufacturing Enterprise
Hardware Encryption Devices Market: Company Analysis
Western Digital Corp
Seagate Technology PLC
Samsung Electronics
Thales
Micron Technology Inc
NetApp
Kingston Technology Corp
Toshiba
Gemalto
Certes Networks Inc.
Kanguru Solutions
Geographical analysis of Hardware Encryption Devices Market:
United States
EU
China
Japan
South Korea
Taiwan
Hardware Encryption Devices Market Report delivers comprehensive analysis of :
Market Forecast for 2018-26
Market growth drivers
Challenges and Opportunities
Emerging and Current Market trends
Market player Capacity, Production, Revenue (Value)
Supply (Production), Consumption, Export, Import analysis
End user/application Analysis
---
Hardware Encryption Devices Market was valued at around USD million in 2021 & estimated to reach USD by 2028.
Hardware Encryption Devices Market is likely to grow at compounded annual growth rate (CAGR) of % between 2022 to 2028.
Yes, the report includes COVID 19 impact on the market.