Frozen Fish Market by Product Type ( Frozen Cartilage fish, Frozen Bony fish) by Application /End User(Direct Consumption, Processing Consumption) by Industry Analysis, Volume, Share, Growth, Challenges, Trends, and Forecast 2016–2024.
03-Jan-2018 | Number of pages: 115 | Report Code:PSMR-00204| Report Format : PDF | Status : Published
Demo Statistics
Global Frozen Fish Market: Summary
>Global Frozen Fish Market is estimated to reach $43.16 billion by 2024; growing at a CAGR of 7.1% between 2016 and 2024. . Frozen fish are prepared by freezing the fish to preserve them from the time of their preparation to consumption. Fresh fish are hard to find in market which is resulting in increasing demand for frozen fish . It works as a best alternative to fresh one. Freezing stops microbial growth and decrease enzymatic activity and therefore prevent or slow food damage.
According to the American Heart Association frozen fish contains low saturated fat and omega-3 fatty acids. Which can help you to lower blood pressure and thereby reduce the risk of heart problems. Fatty fish, like trout, salmon and mackerel are rich in omega-3 fatty acids. Fish, such as trout, cod, haddock and salmon, can supply small amounts of iron and calcium to your body.Process of "Freezing" extends the season of the fish.The popularity of convenience food products is increasing with hectic schedules and subsequent demand for quick meal options. Also growing working women population base, changing living standards, and the growth of urban settlements are some other factors responsible for popularity of convenience food products, and is subsequently helping in the growth of the global frozen fish market.
Important applications of Frozen Fish are:
• Direct Consumption
• Processing Consumption
Geographically, Global frozen fish market is covers North America, Europe, Asia Pacific, Middle East & Africa (MEA), and Latin America. In 2015 marketin Europe was attractive because of growing consumer preference for fish and seafood and the massive.The Northeast Atlantic fishing zone of North America accounted shares the maximum
catches. In upcoming years demand for frozen fish and seafood will increase due to environmental laws, strict fishing policies, and reduced fishing fleetin Europe and the surge in the per-capita expenditure in India and China.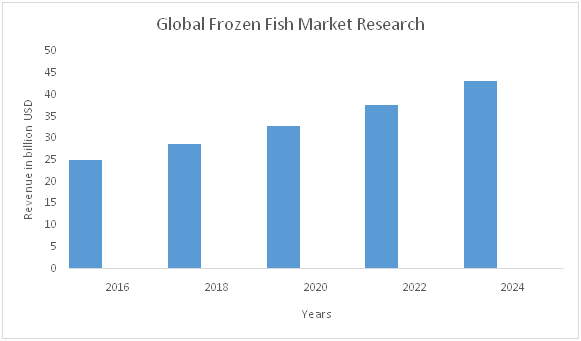 Global Frozen Fish: Product Type Analysis
• Frozen Cartilage fish
• Frozen Bony fish