Battery Separators Market Report by Product Type (Lead Acid, Li-ion) by Application / End User (Automotive, Consumer Electronics, Industrial) by Industry Analysis, Volume, Share, Growth, Challenges, Trends and Forecast 2018–2026.
26-Mar-2018 | Number of pages: 105 | Report Code:PSMR-00611| Report Format : PDF | Status : Published
Demo Statistics
Battery Separators market was valued at USD 2.65 billion in 2016 and is expected to reach USD 9.07 billion by 2026, at a CAGR of 13.1 % from 2016 to 2026.Battery Separators play a primary role in all batteries. The main function of the battery separator is to keep the positive and negative electrodes apart to prevent electrical short circuits. It also allows the fast transfer of the ionic charge carriers that are needed to complete the circuit for the passage of the current in an electro chemical cell.

Battery Separators market is segmented into Lead Acid and Li-ion Battery separator based on the product type. Lead Acid battery have very low energy to weight ratio. It has ability to supply high surge currents. These batteries are low in cost which makes them attractive for use in motor vehicles to provide high current used in automobile motors. Large size lead batteries are used in cell phone towers, hospitals, and power systems.

A lithium-ion battery or Li-ion battery is a type of rechargeable battery in which lithium ions move from the negative electrode to the positive electrode during discharge and back when charging. Among the end user applicants, it is commonly used in home electronics. They are one of the most popular types of rechargeable batteries for portable electronics, with a high energy density, tiny memory effect and low self-discharge. They are also growing in popularity for military, battery electric vehicle and aerospace applications.

Fastest growing market for battery separators is accounted by Asia Pacific. China is estimated to be the fastest-growing market for battery separators in the Asia Pacific region. China is forcasted to be the hub for production of the automobile sector. Factors for rising the demand of Battery in the market is present infrastructure developments , industrialization activities, opportunities.Major players in the global battery separator market are Toray Industry (Japan), Asahi Kasei (Japan), SK Innovation (South Korea), Freudenberg (Germany), Entek International (US), W-Scope Industries (Japan), Ube Industries (Japan), Sumitomo Chemical (Japan), Dreamweaver International (US), Bernard Dumas (France).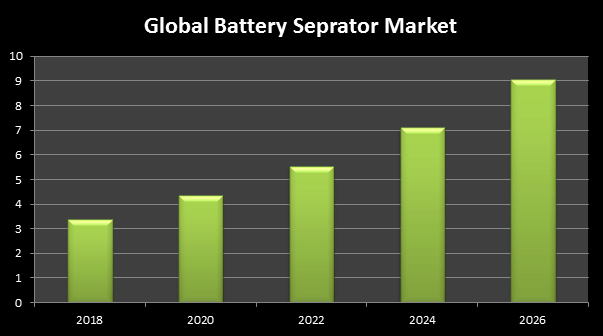 Battery Separators market : Competitive Analysis
Global Battery Separators market competition by top manufacturers/players, with Battery Separators sales volume, Price (USD/MT), revenue (Million USD) and market share for each manufacturer/player; the top players includes:
• Toray Industry (Japan)
• Asahi Kasei (Japan)
• SK Innovation (South Korea)
• Freudenberg (Germany)
• Entek International (US)
• W-Scope Industries (Japan)
• Ube Industries (Japan)
• Sumitomo Chemical (Japan)
• Dreamweaver International (US)
• Bernard Dumas (France)
Battery Separators market : Regional Analysis
• North America
• Europe
• China
• Japan
• Southeast Asia
• India
• Africa
• Latin America