3D Printing Medical Devices Market Report by Product Type ( External Wearable Devices, Clinical Study Devices) By Application /End User ( Hospital, Medical Center) by Industry Analysis, Volume, Share, Growth, Challenges, Trends and Forecast 2017–2025.
27-Feb-2018 | Number of pages: 116 | Report Code:PSMR-00307| Report Format : PDF | Status : Published
Demo Statistics
3D Printing Medical Devices Market: Summary
3D Printing Medical Devices Market is estimated to reach $2.77 billion by 2025; growing at a CAGR of 16.8% between 2017 and 2025. 3D printing is an additive type of manufacturing. In 3D printing process a three-dimensional object is created by building successive layers of raw material. Every layer is attached to one another until the object is fully completed. Objects are produced through a digital 3D file, such as a computer-aided design (CAD) drawing or a Magnetic Resonance Image (MRI).

No additional set up of equipment or tools is required as 3D printing allows designers to make changes easily .The flexibility of 3D printing devices allows manufacturers to create devices matched to a patient's anatomy (patient-specific devices) or even devices with very complex internal structures. These capabilities has created huge interest in 3D printing of medical devices and other products, including food, household items, and automotive parts. Scientists are researching how to manufacture living organs such as a heart or liver using the 3D printing process.

3D Printing Medical Devices are broadly classified into two types: External Wearable Devices and Clinical Study Devices. External Wearable Devices are those 3-D printing devices that are ideally customized to fit each patient. In this process, 3-D printing is usually accompanied by 3-D scanning helping to create the geometry. These devices can be attached to the outside of a person. These devices are larger or thicker than those surgical devices or implants that have to reach into a body. This actually helps to overcome any mechanical strength issues with 3-D printing. Clinical Study Devices are created for clinical studies where build quantities are low and design changes after evaluation are likely. Clinical Study Devices are having multiple plastic components where 3-D printing offers a cost effective way to create clinically usable parts in low cost.

Geographically, 3D Printing Medical Devices Market is segmented into several regions i.e. North America, Europe, Asia Pacific and Latin America, Middle East & Africa. North America holds the largest share of the global 3D printing medical devices market in 2017, while Asia-Pacific is expected to witness the highest growth during 2017 to 2025.Numbers of efforts are made by leading market players in emerging Asian countries such as new 3D printing research, training, and education centers and expanding their distribution networks are contributing to the growth of the 3D printing medical devices market in this regional segment.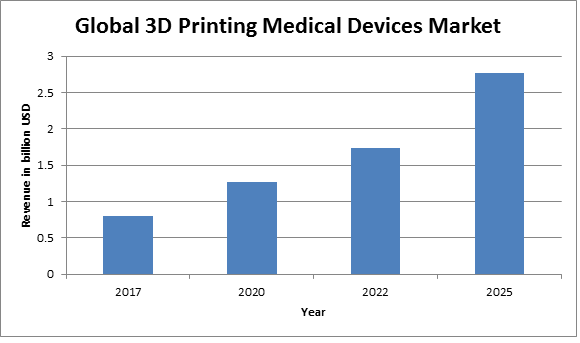 3D Printing Medical Devices Market: Product Type
• External Wearable Devices
• Clinical Study Devices
3D Printing Medical Devices Market: End User / Application
• Hospital
• Medical Center