Global Cryogenic Freezers Market is estimated to reach USD 363.11 million by 2027, growing at a CAGR of 6.2 % between 2019 and 2027
Cryogenic freezers are equipment which are designed with the ability to maintain cryogenic temperatures. The Cryogenic freezers maintains the temperature below -150o C. In, Cryogenic freezers, liquid nitrogen or liquid carbon dioxide are generally used as refrigerants. Liquid nitrogen or liquid carbon dioxide is purchased and stored in a pressurized storage vessel. The cryogen is piped as a liquid into the freezer unit and applied directly to the product in a variety of modes depending on the cryogen, freezer type or food product. The Cryogenic freezers maintains the temperature below -150oC which helps in reducing the stagnation process and provide maximum viability of samples. Any chemical, metabolic or enzymatic activities which can cause damage to the stored material tends to cease at this temperature. Cryogenic freezing also reduces the dehydration of the frozen items by retaining item quality, texture, color, and, in the case of food items, flavor at the suitable temperature. Cryogenic freezers are used in food processing & preservation, cells, blood banks, organelles, extracellular matrix, tissues and organs.
The Cryogenic Freezers Sales Market is projected to witness a significant increase in the demand of the cryogenic Freezers due to the increase in the need of the proper cryopreservation. The technological development and enhancement in medical industry has resulted in a significant rise in the demand of the Cryogenic Freezers. As the population is increasing the demand for food is also increasing which is resulting in the growth of the food industry. The major concern of any food industry is the proper preservation of their food and Cryogenic Freezers are most suitable for the preservation of the food. The growth of food industry will result in the growth of Cryogenic Freezers sale market.
The study covers detail analysis, growth and forecast of the Cryogenic Freezers Market. The report includes market analysis on global and regional level. The study covers historical data analysis from 2014 to 2017 and market forecast for 2019 to 2027 based on revenue generated. The study includes market value in terms of revenue in billion USD for years 2014-27 and compound annual growth rate (CAGR) in % for from 2019-2027. The market is expected to show constant growth between 2019-2027.
The report comprises value chain analysis for each of the product segments. Value chain analysis offers in depth information about value addition at each stage. The study includes drivers and restraints for Cryogenic Freezers Market along with their impact on demand during the forecast period. The study also provides key market indicators affecting the growth of the market. Research report includes major player analysis with shares of each player inside market, growth rate and market attractiveness in different end users/regions. Our study Cryogenic Freezers Market helps user to make precise decision in order to expand their market presence and increase market share.
The report provides Cryogenic Freezers Market Dynamics ,includes industry growth drivers, challenges, opportunities , risk, constraints as well as threats .Reports also includes Manufacturing Cost Analysis mainly included Raw Materials Analysis, Price Trend of product, Mergers & Acquisitions, Expansion, Key Suppliers of product, Concentration Rate of Cryogenic Freezers Market, Manufacturing Process Analysis. Research Report contains Market Effect Factors analysis mainly included Technology Progress, Consumer Needs Trend, External Environmental Change.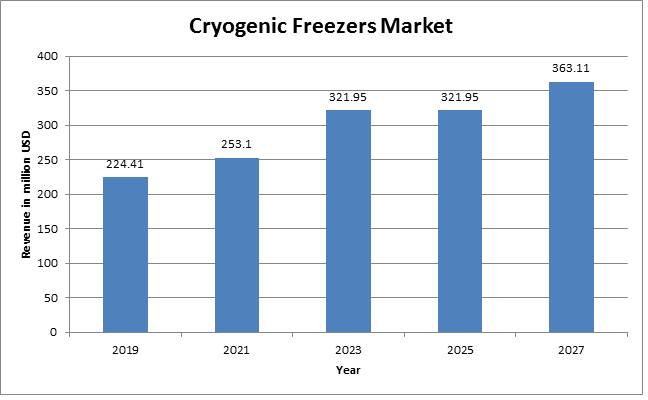 Global Cryogenic Freezers Market : Product Type
-150~-160 ℃
-160~-170 ℃
-170~-180 ℃
Global Cryogenic Freezers Market : Application
Corporate Laboratories
Hospitals and Blood Center
Universities and Research Institutions
Global Cryogenic Freezers Market : Competitive Analysis
Report includes accurate analysis of key players with Market Value, Company profile, SWOT analysis. The Study constitutes of following key players in Global Cryogenic Freezer Market:

Thermo
Panasonic
Arctiko
Planer
Taylor Wharton
Chart Industries
American Biotech
Nanolytik
VRV Group
Haier
Zhongke Meiling
Tiandijingyi
Aucma
Geographical analysis of Global Cryogenic Freezers Market:
North America
Europe

France
Germany
Spain
UK
Rest of Europe

Asia Pacific

China
Japan
India
South East Asia

Latin America
Middle East and Africa
Global Cryogenic Freezers Market Report delivers comprehensive analysis of :
Market Forecast for 2019-27
Market growth drivers
Challenges and Opportunities
Emerging and Current market trends
Market player Capacity, Production, Revenue (Value)
Supply (Production), Consumption, Export, Import analysis
End user/application Analysis
---
Cryogenic Freezers Market was valued at around USD million in 2021 & estimated to reach USD by 2028.
Cryogenic Freezers Market is likely to grow at compounded annual growth rate (CAGR) of % between 2022 to 2028.
Yes, the report includes COVID 19 impact on the market.