Global Aluminum Foil Market is estimated to reach USD 41.52 billion by 2027, growing at a CAGR of 5.6 % between 2019 and 2027
Aluminum foil is extracted from Bauxite which is refined to make a pure aluminum oxide called alumina. Alumina is charged with an electrical current known as electronic reduction process. The metal which is extracted from this process is than added to a wide variety of alloys allowing them to provide specific attributes suited for a variety of applications. The alloy mixture is melted and poured onto a cast and rolled frequently until the desired thickness is reached. The key driving factors in reaching the desired thickness is roll pressure, mil speed, and rolling oils.
Standard duty Aluminum foil is most common used food service foil, serving as high quality All-purpose solution. These foils are great for wrapping lighter items and covering containers for storage. Heavy duty Aluminum foil is great for moderate heat used in cooking situations for lining pans and cooking sheets. Whereas, extra heavy duty Aluminum foil is ideal for only high heat situations in direct contact with flames (lining grills).
Aluminum foil is used for packaging because it is highly malleable it can be easily converted to thin sheets and folded, rolled or packed. Aluminum is widely used for radiation shield, heat conductions and cable liners. Aluminum is also used for cooking (barbecuing) delicate foods, such as mushrooms and vegetables. Due to the increase demand for the microwave oven the consumption for foil as a microwave container is increasing. Rise in demand is primarily due to microwaves electromagnetic fields generating high potentials particularly at sharp points of the foil sheet and electric currents in the foil. Other uses are for art and decoration where Aluminum foil creates an oxide layer on the surface of Aluminum that accepts colored dyes on metallic salts.
China holds the largest share of the global Aluminum market which may be ascribed to the ability of Chinese manufacturer to produce at a lower cost than other international rivals (competitors) to capture market share. Other developing regions like India has a higher cost of this Aluminum foil as compared to other areas owing to have higher price of raw material and higher excise duty value. The developing nations having vast populations and untapped market condition provide an unparalleled growth prospects for the companies. Key industry participants includes Alufoil Products Co., Contital, Alcoa, Norsk Hydro, Novelis, Noranda Aluminum, Catty Corporation, Aluminum Foil Converters, Hindalco Industries Ltd., Loften Foil Co. and United Co. Rusal.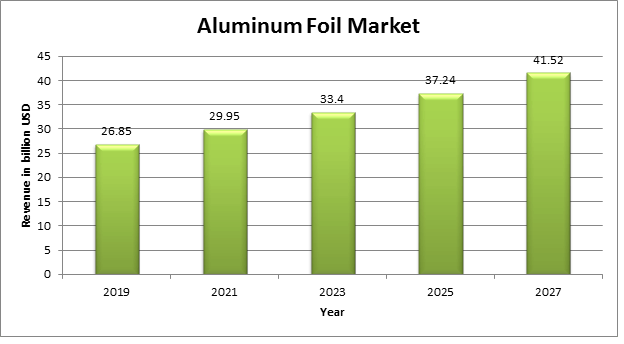 Global Aluminum Foil Market: Product Type
Standard Aluminum Foil
Heavy Duty Aluminum Foil
Extra Heavy Duty Aluminum Foil
Global Aluminum Foil Market : Application
Food & Beverages
Pharmaceuticals
Cosmetics
Global Aluminum Foil Market: Competitive Analysis
Report includes accurate analysis of key players with Market Value, Company profile, SWOT analysis. The Study constitutes of following key players in Global Aluminum Foil Market:

Alufoil Products Co.
Contital
Alcoa
Norsk Hydro
Novelis
Noranda Aluminum
Catty Corporation
Aluminium Foil Converters
Hindalco Industries Limited
Loften Foil Co.
United Co. Rusal
Geographical analysis of Global Aluminum Foil Market:
North America
Europe

France
Germany
Spain
UK
Rest of Europe

Asia Pacific

China
Japan
India
South East Asia

Latin America
Middle East and Africa
Global Aluminum Foil Market Report delivers comprehensive analysis of :
Market Forecast for 2019-27
Market growth drivers
Challenges and Opportunities
Emerging and Current market trends
Market player Capacity, Production, Revenue (Value)
Supply (Production), Consumption, Export, Import analysis
End user/application Analysis
---
Aluminum Foil Market was valued at around USD million in 2021 & estimated to reach USD by 2028.
Aluminum Foil Market is likely to grow at compounded annual growth rate (CAGR) of % between 2022 to 2028.
Yes, the report includes COVID 19 impact on the market.