The global cooling towers market is valued at USD 1.92 billion in 2016 and is expected to reach USD 3.17 billion by the end of 2026, growing at a CAGR of 5.15 % between 2017 and 2025.
A cooling tower is a specialized device used as a heat exchanger in order to reduce the water's temperature. A cooling tower extracts waste heat, when air and water are brought into direct contact with each other, to the atmosphere though the cooling of a water stream to a lower temperature. When the water flows through the cooling tower, it is exposed to air; a small amount of water is evaporated, creating a cooling action. The cooled water is then pumped back to the process equipment where it again absorbs heat. It will then be pumped back to the cooling tower to be cooled once again.
These are most common in industries such as oil refining, chemical processing, power plants, petrochemical plants, thermal power stations, chemical plants, manufacturing, electric power generation and steel mills. They are widely used to provide cooled water for air-conditioning, refrigeration, cold storage facilities, dry cleaning, medical equipment, hospitals, large commercial buildings, hotels and conference centers. There are varieties of cooling towers that are designed to handle water streams of only a few gallons of water per minute to thousands of gallons of water per minute. Stringent government regulations relating to the use of cooling towers across different regions are also expected to positively impact market growth.
The number of power plants is expected to increase as the global demand for electricity is raising thereby driving growth of this market. With the increasing urbanization and industrialization in developing countries, a tremendous rise in the number of construction activities across the residential and commercial sectors is expected to boost the demand for this market during forecast period. Unfortunately, cooling towers use large amounts of water when properly maintained, and can waste greater amounts of water when not maintained properly through wasteful practices, inefficient equipment and leaks.
Cooling towers are generally the most efficient means to remove large amounts of heat from air and equipment. Asia Pacific is the largest cooling towers market followed by Europe. Asia Pacific is expected to show highest growth rate during the forecast period. New technological advancements in actuators with new specifications, innovative concepts, and new applications are constantly evolving to provide improved cooling capacity, minimum components, improved installation & energy savings, and low maintenance cost in cooling towers system which is boosting cooling towers market during the forecast period globally.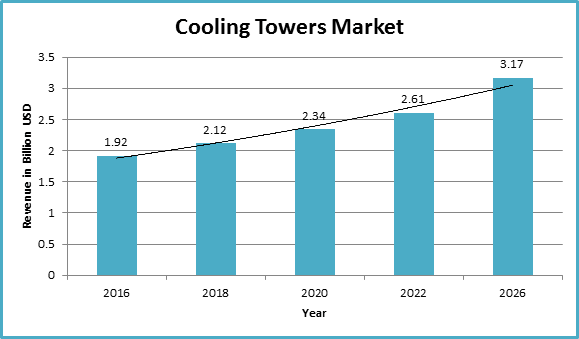 Cooling Towers Market : Product Type
Natural Draft Cooling Towers
Induced Draft Cooling Towers
Forced Draft Cooling Towers
Cooling Towers Market : Application
Oil and Gas
Machinery & Equipment Manufacturing
Food
Global Cooling Towers Market: Competitive Analysis
Report includes accurate analysis of key players with Market Value, Company profile, SWOT analysis. The Study constitutes of following key players in Global Cooling Towers Market:
Baltimore Aircoil Company
SPX Cooling Technologies
Evapco
Advance Cooling Towers
Delta
Niba
Paharpur
American Cooling Tower
GEA Heat Exchangers Group
Amcot Cooling Tower Corporation
Geographical analysis of Cooling Towers Market :
North America
Europe

France
Germany
Spain
UK
Rest of Europe

Asia Pacific

China
Japan
India
South East Asia

Latin America
Middle East and Africa
Cooling Towers Market Report delivers comprehensive analysis of :
Market Forecast for 2018-26
Market growth drivers
Challenges and Opportunities
Emerging and Current market trends
Market player Capacity, Production, Revenue (Value)
Supply (Production), Consumption, Export, Import analysis
End user/application Analysis
---
Cooling Towers Market was valued at around USD million in 2021 & estimated to reach USD by 2028.
Cooling Towers Market is likely to grow at compounded annual growth rate (CAGR) of % between 2022 to 2028.
Yes, the report includes COVID 19 impact on the market.