A locker is a small metal or wooden cupboard with a lock, where one can put their personal possessions, for example in a school, place of work, or sports club.The North America locker market is valued at USD 258 million in 2016 and is expected to reach USD 367.5 million by the end of 2026, growing at a CAGR of 3.6% between 2018 and 2026. In 2016, the lockers sales was 5.4 million doors in North America, and it will reach 6.69 million doors in 2022, growing at a CAGR of 3.63% between 2016 and 2022. The increasing market is driven by the demand from Entertainment/Fitness, Education/Libraries, Retail/Commercial and Express and Logistics etc.
In future, the demand from parcel lockers, express and logistics will drive the lockers market. For example, in Germany, DHL has 250,000 lockers and 20,000 parcel shops, and in France 60 million parcels are sent to pick-up points of lockers. The US is catching up quickly, with all the major delivery companies already having introduced limited trials, and progressed beyond, as have retailers such as Amazon now visible in most neighbourhoods. Now UPS has committed to the technology and, as the Wall Street Journal recently reported, will increase their shop Access Points from a few thousand to 20,000 by the end of the year.
The lockers has long history in North America, and now are being used in many industries like recreation centers, health clubs, hospitals, office break rooms, schools, restaurants, day care facilities, pool areas, gyms, country clubs, fire and police departments, apartments, etc. In North America, the lockers market is dominated by dozens of manufacturers, like Penco Salsbury Industries, Lyon, LLC, Locker Man, Hollman, Hadrian Manufacturing Inc., Ideal Products, American Locker, American Specialties, Inc., Longhorn Lockers, ProZone, Scranton Products, List Industries, DeBourgh Mfg and Foreman in United States; the Anthony Steel Manufacturing, Perfix, Lincora and Shanahan in Canada; and in Mexico the top manufactures are MAINDSTEEL, Grupo Promelsa and JM Romo etc.
North America Locker Market is segmented into slow pyrolysis, fast pyrolysis, and intermediate pyrolysis on the basis of pyrolysis method. Slow pyrolysis possesses largest market share in global market in 2017 and is expected to be the largest market share holder during the forecast period. Agriculture, animal feed, food, medicinal and consumer products sector are application sector segment of North America Locker Market. Agriculture is the largest sector in global North America Locker Market in 2017 and is anticipated to hold largest market share during forecast period.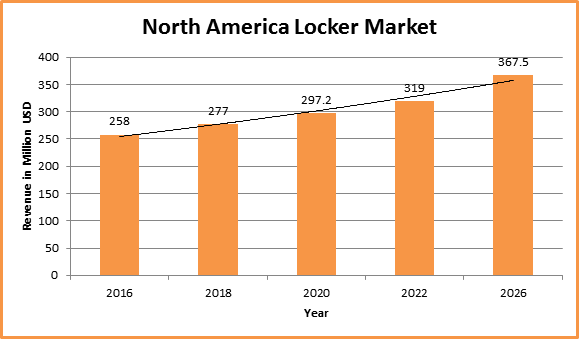 North America Locker Market : Product Type
Metal Lockers
Laminate Lockers
Wood Lockers
Plastic and Phenolic Lockers
North America Locker Market : Application
Entertainment/Fitness
Education/Libraries
Retail/Commercial
Express and Logistics (parcels etc.)
Global North America Locker Market: Competitive Analysis
Report includes accurate analysis of key players with Market Value, Company profile, SWOT analysis. The Study constitutes of following key players in Global North America Locker Market:

Penco
Salsbury Industries
Lyon, LLC
Locker Man
Hollman
Hadrian Manufacturing Inc.
Ideal Products
American Locker
American Specialties, Inc.
Longhorn Lockers
ProZone
Scranton Products
List Industries
DeBourgh Mfg
Foreman
Anthony Steel Manufacturing
Perfix
Lincora
Shanahan
MAINDSTEEL
Grupo Promelsa
JM Romo
North America Locker Market Report delivers comprehensive analysis of :
Market Forecast for 2018-26
Market growth drivers
Challenges and Opportunities
Emerging and Current market trends
Market player Capacity, Production, Revenue (Value)
Supply (Production), Consumption, Export, Import analysis
End user/application Analysis
---
North America Locker Market was valued at around USD million in 2021 & estimated to reach USD by 2028.
North America Locker Market is likely to grow at compounded annual growth rate (CAGR) of % between 2022 to 2028.
Yes, the report includes COVID 19 impact on the market.