Global Cardiac Arrhythmia Monitoring Devices Market is estimated to reach USD 9.03 billion by 2026, growing at a CAGR of 6.3 % between 2018 and 2026.
Cardiac Arrhythmia Monitoring Devices are mostly used in disorders like cardiac arrhythmia, continuous cardiac monitoring is essential as cardiac arrhythmia is not fully curable. So it's not practical to retain patient in hospital for extremely long durations nor its practical to ask patient to visit hospital on daily basis. So these Cardiac Arrhythmia Monitoring Devices are the best way to continuously monitor the patient who suffering from cardiac arrhythmia is through remote patient monitoring by using arrhythmia monitoring Devices. In technical terms it referred as telecardiology, in this Cardiac arrhythmia monitoring device provided to the patient suffering from cardiac arrhythmia. These devices fixed on the chest area of patient of patients superficially.
Cardiac Arrhythmia Monitoring devices mainly segmented on the basis of product type into ECG Devices, Implantable Loop Recorder, Cardiac Output Monitoring, Event Monitors, Holter Monitors. ECG (Electrocardiagram) is the most important monitoring device for the test in the investigation of heart-related problem. With the help of these devices doctor understand the possible role of the heart in a person symptoms. Implantable loop Recorder used in those cases where it's difficult to detect through ECG or 24 hour monitoring such as syncope. Holter Monitor used to test the wires that are connected to a smaller, portable device which ultimately attached to the chest. After the specified time period the monitor can be returned to your doctor to see whether any arrhythmias have been indicated.
Cardiac Arrhythmia Monitoring devices are widely applicable in Atrial Fibrillati, Bradycardia, Conduction Disorders, Premature Contraction, Tachycardia, Ventricular Fibrillation, rdcs. Remote monitoring of implantable cardiac defibrillators (ICD's) and pacemakers is commonly utilized in current practice but there is emerging interest into use of remote atrial tachycardia (AT) monitoring for tailored anti-coagulation in patients with atrial fibrillation. The recently released data from the IMPACT trial randomized participants to device-tailored anticoagulation based on AT alerts from existing ICD's or pacemakers vs. conventional office-based monitoring. Cardiac tests like electrocardiograms allows doctors to monitor hearts activity at rest and at one point in time. If heart has some problem then it rhythms and cardiac symptoms can be seen on irregular interval. Event monitor finds its main purpose in recording heart rate and rhythm during a cardiac symptoms. Event monitor works only when a person starts the device.
Global cardiac arrhythmia monitoring devices are segmented on the basis of geography into Latin America, North America, Europe, Asia Pacific and Middle East and Africa. North America is largest market share holder in cardiac arrhythmia monitoring devices market. However, the Asia-Pacific region is expected to grow at the highest CAGR during forecast period owing to high demand from developing economies such as China, India and Japan. United States is the largest manufacturer and consumer of Cardiac Arrhythmia Monitoring devices market in the world with Europe also play important roles in global Cardiac Arrhythmia Monitoring devices market while China is fastest growing region. New advancements in technology, high R&D investment by the global players, rising demand for automation and integration of multiple processes in Cardiac Arrhythmia Monitoring devices, Main key players in Cardiac arrhythmia monitoring devices are Baxter, Hospira, Abbott, Astra Zenec, Roche, Novartis, Pfizer, Eisai, Fresenius Se & Co., Hikma Pharmaceuticals.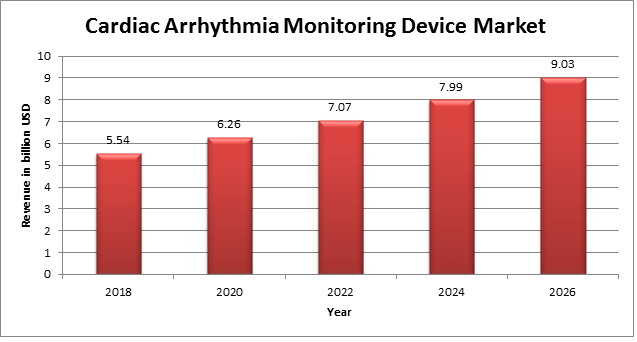 Cardiac Arrhythmia Monitoring Device Market : Product Type
ECG Devices
Implantable Loop Recorder
Cardiac Output Monitoring
Event Monitors
Holter Monitors
Cardiac Arrhythmia Monitoring Device Market : Application
Atrial Fibrillation
Bradycardia
Conduction Disorders
Premature Contraction
Tachycardia
Ventricular Fibrillation
Global Cardiac Arrhythmia Monitoring Device Market: Competitive Analysis
Report includes accurate analysis of key players with Market Value, Company profile, SWOT analysis. The Study constitutes of following key players in Global Cardiac Arrhythmia Monitoring Device Market:

Baxter
Hospira
abbott
Astra Zeneca
Roche
Novartis
Pfizer
Eisai
Fresenius Se & Co.
Hikma Pharmaceuticals
Geographical analysis of Cardiac Arrhythmia Monitoring Device Market:
North America
Europe

France
Germany
Spain
UK
Rest of Europe

Asia Pacific

China
Japan
India
South East Asia

Latin America
Middle East and Africa
Cardiac Arrhythmia Monitoring Device Market Report delivers comprehensive analysis of :
Market Forecast for 2018-26
Market growth drivers
Challenges and Opportunities
Emerging and Current market trends
Market player Capacity, Production, Revenue (Value)
Supply (Production), Consumption, Export, Import analysis
End user/application Analysis
---
Cardiac Arrhythmia Monitoring Device Market was valued at around USD million in 2021 & estimated to reach USD by 2028.
Cardiac Arrhythmia Monitoring Device Market is likely to grow at compounded annual growth rate (CAGR) of % between 2022 to 2028.
Yes, the report includes COVID 19 impact on the market.