Global Automated Cell Counter Market is estimated to reach USD 11.79 billion by 2026, growing at a CAGR of 7.5 % between 2018 and 2026.
Machines that automatically count the cells are known as automated cell counter. The sample cells loaded into an automated cell counter which uses optical or electrical impedance sensor which counts how many cells go through the tube. In order determine the number and types of cells present in a blood or urine sample automated cell counter used. Some automated cell counter is used to count cells for blood analysis and other for urine analysis. For a different cell, counters features vary including sample size requirement, quality, and cell types it can analyze, data management and whether or not it can differentiate between live and dead cells.
Automated cell counters are segmented into wide range on the basis of product type includes Hemocytometers, Spectrophotometers, Flow Cytometers, Electrical Impedance. In recent time, automated cell counting has become a more popular alternative to manual hemocytometer-based cell counting as it offers more relevant result in a fraction of time. The hemocytometer is counting-chamber is the device usually designed and used for counting blood cell. A spectrophotometer is a device which measure the amount photon absorbed after it passes through the sample solution. Flow cytometry is technology mainly used to analyze the physical and chemical characteristics of particles in a fluid as it passes through at least one laser. Electrical Impedance automated cell counter pull through an aperture breaks an electric circuit, indicating both the presence of a cell and size of the cell.
The automated cell counter widely applicable in industries such as Diagnostic Laboratories, Pharmaceutical, Hospitals, and Research Institutes. Primary factors contributing to the growth of the Global automated cell counters market are Government & corporate sponsorship and investment. Automated cell counters market is growing at higher pace with increasing number of cancer patient hence high demand for enhanced image analysis instruments and informatics improvisation acting as primary driving factors. Automated cell counting systems and hesitancy among researchers to adapt to advance cell counting techniques hinder the growth of automated cell counter market high prices of automated cell counting systems.
This research report presents a comprehensive assessment of the market and contains thoughtful insights, facts contains thoughtful insights, facts and statistically supported and industry-validated market data. Automated Cell Counters Market in APAC is estimated to grow at the highest CAGR during the forecast period. Technological advancement along with significant growth in the research industry, making China and India Automated Cell Counters Market most lucrative market globally. In Latin America, Brazil Market has shown significant growth in Automated Cell Counters sell volume. Increasing disposable income hence healthcare awareness and research advancement are major reasons for high CAGR.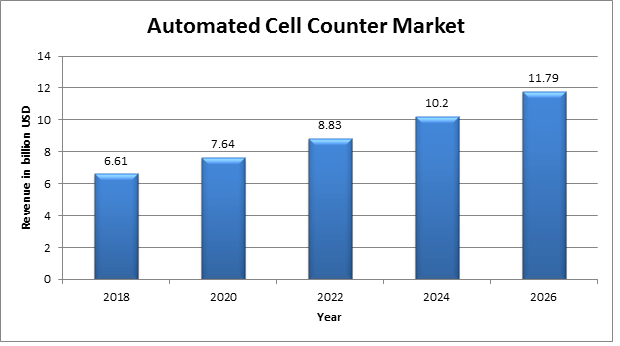 Automated cell Counter Market : Product Type
Hemocytometers
Spectrophotometers
Flow Cytometers
Electrical Impedance
Automated Cell Counters Market : Application
Diagnostic Laboratories
Pharmaceutical
Hospitals
Research Institutes
Global Automated cell counter Market : Competitive Analysis
Report includes accurate analysis of key players with Market Value, Company profile, SWOT analysis. The Study constitutes of following key players in Global Automated Cell Counter Market:

Thermo Fisher Scientific
Bio-Rad
Beckman Coulter
Countstar
Merck Millipore
Roche Diagnostics
ViroCyt
ChemoMetec
Nexcelom
Olympus
Eppendorf
Warner Instruments
Molecular Devices
New Brunswick Scientific
Sysmex
Dynalon
Oxford Optronix
Geographical analysis of Automated cell Counter Market:
North America
Europe

France
Germany
Spain
UK
Rest of Europe

Asia Pacific

China
Japan
India
South East Asia

Latin America
Middle East and Africa
Automated Cell Counters Market Report delivers a comprehensive analysis of the following parameters :
Market Forecast for 2018-26
Market growth drivers
Challenges and Opportunities
Emerging and Current market trends
Market player Capacity, Production, Revenue (Value)
Supply (Production), Consumption, Export, Import analysis
End-user/application Analysis