Global Bee Products Market is estimated to reach USD 12996.15 million by 2027, growing at a CAGR of 3.7% between 2019 and 2027
Bee Products are derived from plants and chemically synthesized by the bees themselves. Bee products are obtained from honey beehives such as honey, bee bread, bee venom, bee pollen, propolis, and royal jelly for sustaining and retaining health. Bee products are highly rich in active components such as flavonoids, phenolic acid, phenolic compounds, terpenes, and enzymes, which have biological functions in preventing some diseases and promoting good health. Bee Products have distinct efficacies with significant nutritional properties and functional values. Thus, the bee products can be developed into potent apitherapeutic agents. The consumption of the Bee Products positively contributes toward excellent health maintenance, well-being, and reduced chronic illness.
Bee Product market is expected to make a significant growth in the forecasted period. The Bee products have a strong nutritional content and play a major role in maintaining a good health. Recent years have seen the fast application of bee products in both traditional and modern medicine. Currently, many studies are targeted toward investigating directed health benefits and pharmacological properties of bee products due to their efficacies, leading to the increasing development of nutraceuticals and functional food from these products. Moreover, People are now getting aware about the various benefits to consume bee products which are increasing the demand of the bee products in the market.
Technological advancement in apiculture has made it easier and consumes less time to extract the bee products from the beehive which has increased the supply of bee products in the market. Increase in population is the other factor responsible for the growth of bee products market. As the population is increasing, the demand of the bee products is also increasing resulting in the growth of Bee Product Market.
The study covers detail analysis, growth and forecast of the Bee Products Market. The report includes market analysis on global and regional level. The study covers historical data analysis from 2014 to 2017 and market forecast for 2019 to 2027 based on revenue generated. The study includes market value in terms of revenue in billion USD for years 2014-27 and compound annual growth rate (CAGR) in % for from 2019-2027. The market is expected to show constant growth between 2019-2027.
The report comprises value chain analysis for each of the product segments. Value chain analysis offers in depth information about value addition at each stage. The study includes drivers and restraints for Bee Products Market along with their impact on demand during the forecast period. The study also provides key market indicators affecting the growth of the market. Research report includes major player analysis with shares of each player inside market, growth rate and market attractiveness in different end users/regions. Our study Bee Products Market helps user to make precise decision in order to expand their market presence and increase market share.
The report provides Bee Products Market Dynamics ,includes industry growth drivers, challenges, opportunities , risk, constraints as well as threats .Reports also includes Manufacturing Cost Analysis mainly included Raw Materials Analysis, Price Trend of product, Mergers & Acquisitions, Expansion, Key Suppliers of product, Concentration Rate of Bee Products Market, Manufacturing Process Analysis. Research Report contains Market Effect Factors analysis mainly included Technology Progress, Consumer Needs Trend, External Environmental Change.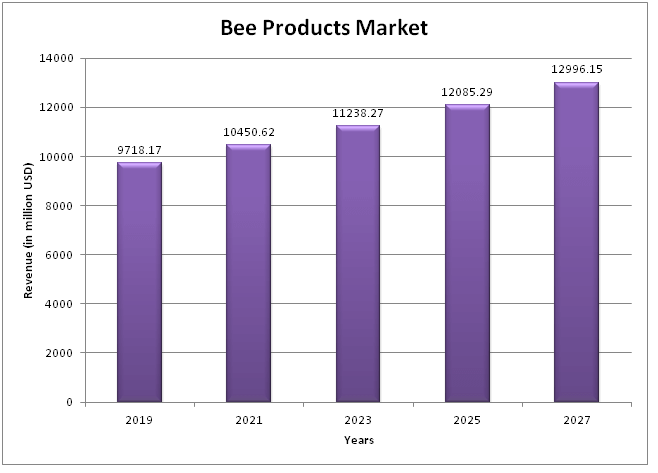 Global Bee Products Market: Product Type
Global Bee Products Market: Application
Food Industry
Cosmetic Industry
Pharmaceutical Industry
Others
Global Bee Products Market: Competitive Analysis
Report includes accurate analysis of key players with Market Value, Company profile, SWOT analysis. The Study constitutes of following key players in Global Bee Products Market:

Apis Flora
Comvita
MN Propolis
Manuka Health
Miller's Honey Company
Dabur India Limited
Geographical analysis of Global Bee Products Market:
North America
Europe

France
Germany
Spain
UK
Rest of Europe

Asia Pacific

China
Japan
India
South East Asia

Latin America
Middle East and Africa
Global Bee Products Market Report delivers comprehensive analysis of :
Market Forecast for 2019-27
Market growth drivers
Challenges and Opportunities
Emerging and Current market trends
Market player Capacity, Production, Revenue (Value)
Supply (Production), Consumption, Export, Import analysis
End user/application Analysis
---
Bee Products Market was valued at around USD 10450.62 million in 2021 & estimated to reach USD 13477.00381 by 2028.
Bee Products Market is likely to grow at compounded annual growth rate (CAGR) of 3.7% between 2022 to 2028.
Yes, the report includes COVID 19 impact on the market.