Asia Pacific Hair Styling Tools Market is estimated to reach USD 18821.26 million by 2027, growing at a CAGR of 7.7 % between 2019 and 2027
Hair play an integral part in enhancing an individual's appearance. Healthy, shiny, and well-groomed hair add to an individual's aesthetics. Therefore, people take care of their hair, try different hairstyles, and use various tools to look attractive. Gone are the days when hair tools were limited. Currently, a broad range of hair tools that are available in the market, especially for women as they are major consumers of hair accessories. Hair styling supplies market has been pouring with increased uses of hair styling and grooming over the Asia pacific region. Large number of market players are consistently presenting inventive and extensive variety of hair styling tools to enable individual buyers and salon experts to make new looks. Asia pacific hair styling tools market has grown significantly in past couple of years, altogether raising the revenue of hair styling types of gear market.
There is a high demand of hair styling products that don't damage customer's hair. Farouk Systems are utilizing nanomaterials in their hair press; the organization is additionally utilizing nanomaterial in a huge range of hair curlers, hair brushes, and hair dryers. The Nano ceramic metallic composite utilized as a part of hair styling irons and outlet of hairdryers discharges the good particles and infrared wavelengths that shield hair from ill effect of warmth. Advancement of new products that are drawing in the new consumer base is foreseen to surge the sales of hair styling tools market. Rising demand for portable and lightweight hair styling tools is the key driving factor for growth of hair styling tools market in APAC region. Consumers prefer light weight tools while handling hair styling tools for ease of hair styling. Innovation plays a significant role in growth of market as it fulfils the consumer demand of better features with improved quality.
The study covers detail analysis, growth and forecast of the Asia Pacific Hair Styling Tools Market. The report includes market analysis on global and regional level. The study covers historical data analysis from 2014 to 2017 and market forecast for 2019 to 2027 based on revenue generated. The study includes market value in terms of revenue in billion USD for years 2014-27 and compound annual growth rate (CAGR) in % for from 2019-2027. The market is expected to show constant growth between 2019-2027.
The report comprises value chain analysis for each of the product segments. Value chain analysis offers in depth information about value addition at each stage. The study includes drivers and restraints for Asia Pacific Hair Styling Tools Market along with their impact on demand during the forecast period. The study also provides key market indicators affecting the growth of the market. Research report includes major player analysis with shares of each player inside market, growth rate and market attractiveness in different end users/regions. Our study Asia Pacific Hair Styling Tools Market helps user to make precise decision in order to expand their market presence and increase market share.
The report provides Asia Pacific Hair Styling Tools Market Dynamics ,includes industry growth drivers, challenges, opportunities , risk, constraints as well as threats .Reports also includes Manufacturing Cost Analysis mainly included Raw Materials Analysis, Price Trend of product, Mergers & Acquisitions, Expansion, Key Suppliers of product, Concentration Rate of Asia Pacific Hair Styling Tools Market, Manufacturing Process Analysis. Research Report contains Market Effect Factors analysis mainly included Technology Progress, Consumer Needs Trend, External Environmental Change.
Distribution is one of the key challenges for the market players. The Asia pacific hair styling market is highly dependent on exclusive/full-service distributors and open-line channel for a majority of the purchases. The market players are focusing on open-line channels for the distribution of their products as they reach customers through e-commerce platforms and retail stores.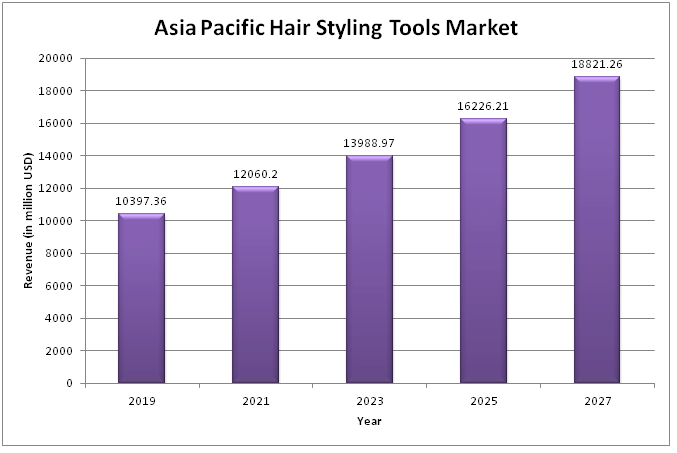 Asia Pacific Hair Styling Tools Market: Product Type
Hair Dryers
Hair Curlers & Rollers
Hair Straighteners
Hair Brushes & Combs
Asia Pacific Hair Styling Tools Market: Application
Professional Users
Individual Users
Asia Pacific Hair Styling Tools Market: Competitive Analysis
Report includes accurate analysis of key players with Market Value, Company profile, SWOT analysis. The Study constitutes of following key players in Asia Pacific Hair Styling Tools Market:

WAHL(US)
Andis(US)
Oster(US)
Philips(NL)
Panasonic(JP)
VS Sassoon(US)
Conair(US)
Remington(UK)
Ningbo Trueman Electric(CN)
Paiter(CN)
SID(CN)
POVOS(CN)
RIWA(CN)
Geographical analysis of Asia Pacific Hair Styling Tools Market:
China
Japan
India
Singapore
South Korea
Malaysia
Rest of APAC
Asia Pacific Hair Styling Tools Market Report delivers comprehensive analysis of :
Market Forecast for 2019-27
Market growth drivers
Challenges and Opportunities
Emerging and Current market trends
Market player Capacity, Production, Revenue (Value)
Supply (Production), Consumption, Export, Import analysis
End user/application Analysis
---
Asia Pacific Hair Styling Tools Market was valued at around USD 12060.2 million in 2021 & estimated to reach USD 20270.49868 by 2028.
Asia Pacific Hair Styling Tools Market is likely to grow at compounded annual growth rate (CAGR) of 7.7% between 2022 to 2028.
Yes, the report includes COVID 19 impact on the market.