Global Bee Pollen Market is estimated to reach USD 1003.36 million by 2027, growing at a CAGR of 5.7% between 2019 and 2027
Bee pollen is a type of pollen ball that has been packed by worker honeybees into pellets. Bee bread is also the bee pollen with extra honey and bee secretions and put in storage of brood cells. Chambers of honeybees or of wood and mud created by female ground-nesting (such as the Leaf cutting Bee) bees. With the Leaf cutting Bee, when the pollen ball is complete, a single female lays an egg on top of the pollen ball, and seals the brood cell Pollen balls are harvested as food for humans. Bee pollen is sometimes referred to as ambrosia. Whereas with Honeybees, the thing to keep in mind is that the forager bees that gather pollen do not eat it themselves, since when they transition to seeking, they stop producing the proteolytic enzymes which is essential to digest it.
So the foragers unload the pollen they've gathered directly into open cells located at the interface between the brood and stored honey, creating a typical band of what is called beebread - the material which is the main food source for honey bee larvae and workers. Bee pollen boosts brain greatly, lifting brain fatigue, improving alertness and helping concentration levels over an extended period of time. Rich in the vitamins of B1, B2 and B3 – these are necessary for a healthy nervous system and powerful detoxifiers, especially to the brain. They are often referred to as "anti-stress" or "morale" vitamins - when the nervous system is working optimally anxiety and stress can be greatly lessened.
The study covers detail analysis, growth and forecast of the Bee Pollen Market. The report includes market analysis on global and regional level. The study covers historical data analysis from 2014 to 2017 and market forecast for 2019 to 2027 based on revenue generated. The study includes market value in terms of revenue in billion USD for years 2014-27 and compound annual growth rate (CAGR) in % for from 2019-2027. The market is expected to show constant growth between 2019-2027.
The report comprises value chain analysis for each of the product segments. Value chain analysis offers in depth information about value addition at each stage. The study includes drivers and restraints for Bee Pollen Market along with their impact on demand during the forecast period. The study also provides key market indicators affecting the growth of the market. Research report includes major player analysis with shares of each player inside market, growth rate and market attractiveness in different end users/regions. Our study Bee Pollen Market helps user to make precise decision in order to expand their market presence and increase market share.
The report provides Bee Pollen Market Dynamics ,includes industry growth drivers, challenges, opportunities , risk, constraints as well as threats .Reports also includes Manufacturing Cost Analysis mainly included Raw Materials Analysis, Price Trend of product, Mergers & Acquisitions, Expansion, Key Suppliers of product, Concentration Rate of Bee Pollen Market, Manufacturing Process Analysis. Research Report contains Market Effect Factors analysis mainly included Technology Progress, Consumer Needs Trend, External Environmental Change.
North America ranks the second in terms of production volume of bee pollen worldwide and expected to rise having a large number of producers and increasing consuming population. Europe comes the third in terms of production of bee pollen worldwide. Due increase in application and rise in demand market for bee pollen is expected to stay positive during the forecast period. With more interest of investors and increasing awareness among people as bee pollen supplements can be introduced in underdeveloped and developing countries, especially in Latin America and MEA regions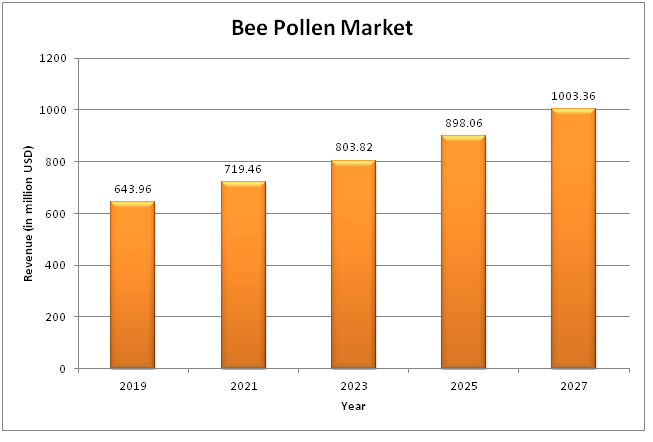 Global Bee Pollen Market: Product Type
Wild Flower Bee Pollen
Camellia Bee Pollen
Rape Bee Pollen
Global Bee Pollen Market: Application
Food Additives
Feed Additives
Pharmaceuticals
Cosmetics
Global Bee Pollen Market: Competitive Analysis
Report includes accurate analysis of key players with Market Value, Company profile, SWOT analysis. The Study constitutes of following key players in Global Bee Pollen Market:

Honey Pacifica
Beenefits
YS Bee Farms
Sattvic Foods
Beekeeper's Naturals
Livemoor
Comvita
Bee King's
Tassot Apiaries
Shiloh Farms
Kline Honey Bee Farm
Crockett Honey
SEVENHILLS
Hilltop Honey
Annsley naturals Southwest
Stakich
Y.S. Organic Bee Farms
Geographical analysis of Global Bee Pollen Market:
North America
Europe

France
Germany
Spain
UK
Rest of Europe

Asia Pacific

China
Japan
India
South East Asia

Latin America
Middle East and Africa
Global Bee Pollen Market Report delivers comprehensive analysis of :
Market Forecast for 2019-27
Market growth drivers
Challenges and Opportunities
Emerging and Current market trends
Market player Capacity, Production, Revenue (Value)
Supply (Production), Consumption, Export, Import analysis
End user/application Analysis
---
Bee Pollen Market was valued at around USD 719.46 million in 2021 & estimated to reach USD 1060.551016 by 2028.
Bee Pollen Market is likely to grow at compounded annual growth rate (CAGR) of 5.7% between 2022 to 2028.
Yes, the report includes COVID 19 impact on the market.