The global Automotive Rain Sensors market is valued at USD 3.7 billion in 2016 and is expected to reach USD 7.07 billion by the end of 2026, growing at a CAGR of 6.7 % between 2017 and 2025. Automotive rain sensors detect rain falling on the windshield of a vehicle. They are commonly used for a system designed to clear the windshield of rain, snow, and debris without driver intervention. Earlier rain sensors were only incorporated in luxury cars but now it has become possible to install the rain sensor in various segments owing to the decrease in average unit price.
Automotive rain sensors technology allows the driver to activate the windshield wipers once, and then forget about them. Automotive rain sensors are programmed to automatically activate and alter the speed and rate of the wiper blades to keep outward visibility unobstructed at all times. If other vehicles splash or spray water or debris on the windshield, the rain-sensing system automatically intervenes by starting the wipers to keep visibility unobstructed. Automotive rain sensors ensure clear view through the windscreen. Passenger cars hold largest share in the automotive rain sensor market as compared to light commercial vehicle, and heavy commercial vehicle.
Automotive rain sensors carry certain inconveniences. A single drop of water automates the wipers. Thus, frequent activation of wipers can damage the windshield. This inconvenience can hamper the usage of automotive rain sensors. The overall cost of vehicles has increased due to the introduction of advanced electrical features. This is a major factor hampering the automotive rain sensor market. The increasing demand for driver safety & comfort in automobiles are expected to drive the rain sensor market during the forecast period.
Europe is the largest automotive rain sensors market followed by North America. Europe and North America together accounting for more than 50% of the global market share in the automotive rain sensor market. Asia Pacific will remain as the fastest growing market in forecast period. Improvement in the technological advancement, modern mass production of vehicles and increasing demand for luxury features, are the key factors that drive the automotive rain sensor market. Also, increased industrialization with infrastructure development generates demand for commercial vehicles will also boost the market's growth.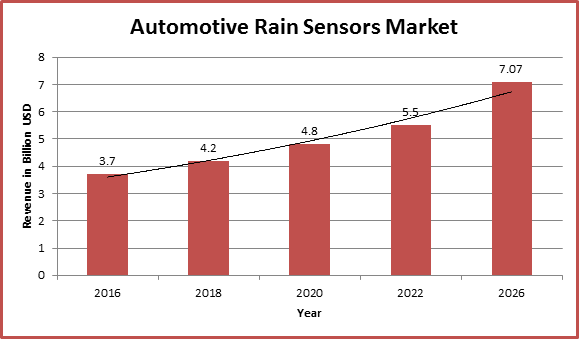 Automotive Rain Sensors Market : Product Type
Automotive Rain Sensors Market : Application
Passenger Car (PC)
Light Commercial Vehicle (LCV)
Heavy Commercial Vehicle (HCV)
Global Automotive Rain Sensors Market : Competitive Analysis
Report includes accurate analysis of key players with Market Value, Company profile, SWOT analysis. The Study constitutes of following key players in Global Automotive Rain Sensors Market:

Denso Corporation (Japan)
Hella KGAA Hueck & Co. (Germany)
ZF TRW (U.S.)
Robert Bosch GmBH (Germany)
Hamamatsu Photonics K.K.(Japan)
Mitsubishi Motors Corporation (Japan)
Vishay Intertechnology Inc.(the U.S.)
Melexis Microelectronic Systems (Belgium)
The Kostal Group (Germany)
Valeo SA (France)
Geographical analysis of Automotive Rain Sensors Market :
North America
Europe

France
Germany
Spain
UK
Rest of Europe

Asia Pacific

China
Japan
India
South East Asia

Latin America
Middle East and Africa
Automotive Rain Sensors Market Report delivers comprehensive analysis of :
Market Forecast for 2018-26
Market growth drivers
Challenges and Opportunities
Emerging and Current market trends
Market player Capacity, Production, Revenue (Value)
Supply (Production), Consumption, Export, Import analysis
End user/application Analysis
---
Automotive Rain Sensors Market was valued at around USD million in 2021 & estimated to reach USD by 2028.
Automotive Rain Sensors Market is likely to grow at compounded annual growth rate (CAGR) of % between 2022 to 2028.
Yes, the report includes COVID 19 impact on the market.