The global automotive drive shafts market is valued at USD 6.1billion in 2016 and is expected to reach USD 12.3 billion by the end of 2026, growing at a CAGR of 7.3% between 2016 and 2026. The automotive drive shaft is also called propeller shaft or prop shaft. The automotive drive shaft is a spinning tube that connects to the rear of the transmission and transmits the spinning power that began in the engine to the back of the vehicle at the differential (more on that in a bit). The automotive drive shaft is primarily used to transfer torque between components that are separated by a distance, since different components must be in different locations in the vehicle.
Automotive drive shafts are used differently in different vehicles. They vary greatly in cars with distinct configurations for front-wheel drive, four-wheel drive, and the previously mentioned front-engine rear-wheel drive. Other vehicles also use drive shafts, like motorcycles, locomotives, and marine vessels. Automotive drive shafts are made up of steel, aluminum and carbon fiber. Aluminum drive shafts are light and sturdy which reduces overall weight of the vehicle and hence require less fuel and produce more rotating speed. Steel drive shafts are very heavy which makes the overall weight of the vehicle very heavy, requiring more fuel to run and thus requires a lot of horsepower to transmit torque and rotate.
Automotive drive shaft designs come in three types torque tube drive shaft, hotchkiss drive shaft, flexible drive shaft. Torque tube drive shafts were used on older vehicles and are still used on some trucks and SUVs today. The automotive drive shaft itself is enclosed in a tube that connects the transmission and differential via a single universal joint, or U-joint for short. Hotchkiss drive shafts are the more common drive shaft design. It has an open design, meaning it can actually see spin beneath car when it's moving. Hotchkiss drive shafts use two U-joints. Flexible drive shaft types have high longevity and permits continuous rotation in vehicles even at high speed.
Asia-Pacific is anticipated to remain the largest automotive drive shafts market during the forecast period followed by North America. China is the biggest market for automotive drive shafts market followed by India and USA. Increasing population, urbanization, industrialization, increasing production of vehicles in emerging economies of India, China, and Japan is expected to booming this market during forecast period.The global automotive drive shafts market has been segmented on the basis of vehicle into passenger vehicles, heavy and light commercial vehicles. Heavy commercial vehicles are expected to show remarkable progress over the forecast period. As heavy commercial vehicles form the backbone of the economy, they will continue to demand automotive drive shafts more than the other segments.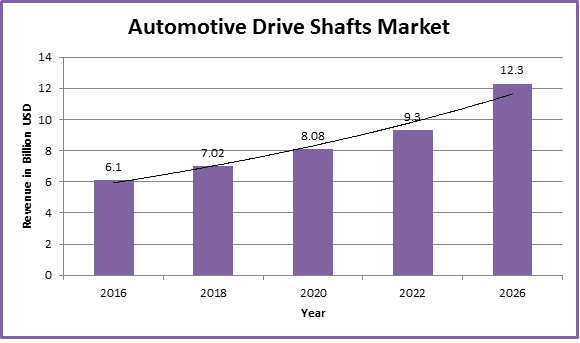 Automotive Drive Shafts Market : Product Type
Hotchkiss Drive Shaft
Flexible Drive Shaft
Torque Tube Drive Shaft
Automotive Drive Shafts Market: Application
Passenger Vehicle
Light commercial vehicle
Heavy commercial vehicle
Global Automotive Drive Shafts Market: Competitive Analysis
Report includes accurate analysis of key players with Market Value, Company profile, SWOT analysis. The Study constitutes of following key players in Global Automotive Drive Shafts Market:

GKN PLC
American Axle Manufacturing Inc.
Dana Incorporated
Magneti Marelli S.p.A.
Röchling Group
Nexteer Automotive
Xuchang Yuangdong Driveshaft Co., Ltd.
Neapco Holdings, LLC
The Timken Company
Wangxiang Qianchao Co., Ltd.
Yamada
Meritor
Geographical analysis of Automotive Drive Shafts Market :
North America
Europe

France
Germany
Spain
UK
Rest of Europe

Asia Pacific

China
Japan
India
South East Asia

Latin America
Middle East and Africa
Automotive Drive Shafts Market Report delivers comprehensive analysis of :
Market Forecast for 2018-26
Market growth drivers
Challenges and Opportunities
Emerging and Current market trends
Market player Capacity, Production, Revenue (Value)
Supply (Production), Consumption, Export, Import analysis
End user/application Analysis
---
Automotive Drive Shafts Market was valued at around USD million in 2021 & estimated to reach USD by 2028.
Automotive Drive Shafts Market is likely to grow at compounded annual growth rate (CAGR) of % between 2022 to 2028.
Yes, the report includes COVID 19 impact on the market.