Automotive Electronic Control Unit (ECU) Market is estimated to reach USD 55568.49 million by 2027, growing at a CAGR of 7.2 % between 2019 and 2027
Automotive ECU or Electronic Control Unit is a family of computer systems that maintain and controls the entirety of electronic, electrical and mechanical systems of a vehicle. ECU can be classified based on the functions such as Engine Control Module (ECM), Body Control Module (BCM), Electronic Brake Control Module (EBCM), Powertrain Control Module (PCM), Transmission Control Module (PCM), Suspension Control Module (SCM), Door Control Unit (DCM), Battery Management System (BMS), General Electric Module (GEM) and others. Automotive functions reaching from the movement of the windows to the amount of air-fuel mixture necessary for each engine cylinder has an ECU system embedded with it which is recorded, analysed and stored in the microcontroller.
Technological advancements in automotive technology has led to a rise in application of complex ECUs in a vehicle. Some of the automobile models running today in the market have more than 80 different ECUs present in it. Increased demand for technologically advanced vehicles like hybrid cars in the developed and developing countries is one of the major factors driving the growth of ECU market. Government regulations to reduce fuel usage and increasing demand for better mileage of the vehicles by the general public is another major factor leading to high growth of ECU market in the automotive industry. The steady growth of alternative vehicle choices such has the hybrid and pure electric cars in the developed nations has contributed significantly to the ECU market due to high complexities of these vehicles over conventional vehicles.
Ease of driving, driver safety, security concerns, low maintenance demanded by the customers are also some of the factors driving the growth of ECU market. The involvement of smartphones connected to the vehicle providing the driver with real time information about the state of vehicle is a major trend in recent times. These advanced ECU systems with the provision to connect with the smartphones easily can lead to an improvement in the growth of ECU systems. An ECU system usually includes of electronic and mechanical components working in tandem with each other. Perfect combination of these components is a major challenge which in turn can hamper the growth of the ECU market.
By product type, the U.S automotive electronic control unit can be segmented into ADAS & Safety System, Chassis Electronics, Infotainment, and Power Train. Advanced driver assistance systems (ADAS) & safety segment has formed several growth opportunities for the automotive ECU market. They provide highly-automated driving specifications, intelligent tire control functions, and telemetry data analysis in the autonomous and semi-autonomous vehicles. It contains control and monitoring features, such as ABS, blind spot detection, LDW and AEB systems, Tire Pressure Monitoring System (TPMS), and Electronic Stability Control (ESC).
Additionally, favourable government initiatives coupled with the reduction of carbon emissions are driving the consumption. Moreover, infotainment and communication segment are growing in popularity in the passenger vehicles, further driving the automotive ECU market. These systems comprise control units that provide enhanced internet and vehicle bus system connection to enable improved communication between the vehicle, driver, and the outside world. Additionally, with the rising demand for luxurious and smart vehicles, automotive manufacturers are using ECUs to create connected car systems, which provides a combination of entertainment and information for an enhanced in-vehicle experience.
As per application side, the U.S automotive electronic control unit market can be categorized into Passenger Cars and Commercial Vehicles. The passenger cars segment dominated the automotive ECU market, owing to the increased implementation of control units in these vehicles. Passenger cars together with luxury vehicles have a large number of ECUs as compared to other vehicles due to advanced features offered in the vehicle management systems such as enhanced driver remote functions and vehicle software upgrading.
Additionally, the increasing status of luxury vehicles across the globe due to rising consumer spending capabilities and improved lifestyles is driving the automotive electronics control unit market growth. The commercial vehicle segment is expected to grow the industry due to their requirement in the telematics and IoT-controlled functions. These vehicles use high-end and robust ECUs that are easily programmable and offer varied safety measures for the engines and transmission systems.
In terms of region, the North American region consists of the U.S., and Canada. Latin America region consists of Mexico and Brazil. North America has witnessed a stable growth rate in the adoption of hybrid and electric vehicles leading to improved sales of automotive ECU market in the region. This is attributed to the increasing demand for luxury cars in the region. Moreover, the growing demand for energy-efficient vehicles and strict government regulations to reduce carbon emissions are driving the overall market demand. The growing preference for connected cars is also contributing toward the regional market growth. For instance, the Californian government has set up a target of reaching 1.5 million zero-emission vehicles, thus boosting the regional demand.
Major players in the U.S automotive ECU market include Delphi Technologies, Continental AG, Denso Corporation, ZF Friedrichshafen, and Robert Bosch GmbH. Key players are adopting product development and production process innovation strategies to provide highly-efficient control solutions for OEMs. To achieve the targeted profit margins, companies are adopting innovative business models focusing on the value creation and provision, long-term supplier & customer partnerships, and leading technology solutions. Rising popularity of driverless and semi-autonomous vehicles due to the advantages offered such as increased safety & efficiency and low energy consumption, is compelling the companies to develop highly advanced control units.
The U.S automotive electronics control unit industry is highly fragmented due to the presence of several major and small players. The growing awareness for road safety and comfortable & luxurious automobile functions has driven the demand for these products. The market needs to comply with stringent government regulations and standards related to the unit production process and controlling carbon emissions. The industry players are investing highly on R&D to develop technically-equipped products in areas related to infotainment, powertrain, chassis, and related technologies.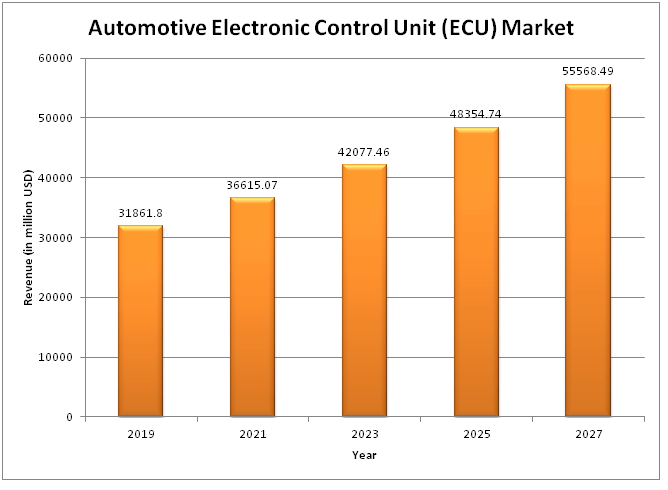 Automotive Electronic Control Unit (ECU) Market: Product Type
ADAS & Safety System
Chassis Electronics
Infotainment
Power Train
Automotive Electronic Control Unit (ECU) Market: Application
Passenger Cars
Commercial Vehicles
Automotive Electronic Control Unit (ECU) Market: Competitive Analysis
Report includes accurate analysis of key players with Market Value, Company profile, SWOT analysis. The Study constitutes of following key players in Automotive Electronic Control Unit (ECU) Market:

Delphi Technologies
Continental AG
Denso Corporation
ZF Friedrichshafen
Robert Bosch GmbH
Geographical analysis of Automotive Electronic Control Unit (ECU) Market:
North America
Europe

France
Germany
Spain
UK
Rest of Europe

Asia Pacific

China
Japan
India
South East Asia

Latin America
Middle East and Africa
Automotive Electronic Control Unit (ECU) Market Report delivers comprehensive analysis of :
Market Forecast for 2019-27
Market growth drivers
Challenges and Opportunities
Emerging and Current market trends
Market player Capacity, Production, Revenue (Value)
Supply (Production), Consumption, Export, Import analysis
End user/application Analysis
---
Automotive Electronic Control Unit (ECU) Market was valued at around USD 36615.07 million in 2021 & estimated to reach USD 59569.41927 by 2028.
Automotive Electronic Control Unit (ECU) Market is likely to grow at compounded annual growth rate (CAGR) of 7.2% between 2022 to 2028.
Yes, the report includes COVID 19 impact on the market.