Automotive Diesel Particulate Filter Market is estimated to reach USD 7597.24million by 2027, growing at a CAGR of 3.8 % between 2019 and 2027
Diesel Particulate Filter (DPF) are devices used to capture diesel particulates, thus preventing their release into the atmosphere. DPF is ideally suited to control the solid fraction of diesel particulates due to its particle deposition mechanism. It includes elemental carbon and related black smoke emission. DPF captures particle emission by a combination of filtration mechanism methods such as inertial deposition, diffusional deposition, or flow line interception. Particulates collected are removed on a continuous or periodic basis through thermal regeneration. DPF is highly effective in controlling solid particulate emission including solid particulate substance. However, it may exhibit limited or total ineffectiveness when dealing with liquid fractions of particulate matter emissions including Soluble Organic Fraction (SOF) and sulphate particulates.
In order to surmount this, major manufacturers are incorporating additional functional components compatible with ultra-low sulphur fuels. In general, diesel engine exhibits better fuel economy over gasoline engine and helps in reducing CO2 emission. The technology to further reduce NOx and particulate matter in diesel engine exhaust needs to be improved in order to meet the stringent emission norms to control vehicular exhaust. A conventional Selective Catalytic Reduction (SCR) system, a Diesel Particulate Filter (DPF) comprising Diesel DPF (DOC) and urea-SCR catalyst. Implementation of stringent emission regulations has resulted in the development of SCR system with larger volume.
China and India dominating the market in terms of largest vehicle production in the Asia pacific region. However, they have limited penetration of Diesel Particulate Filter due to lax emission regulations at present. Both these countries have decided to implement stringent emission regulations by 2020. Hence, the demand for Diesel Particulate Filter is estimated to increase in the Asia Pacific region during the forecast period. However, the aftermarket is projected to remain small as the replacement miles for Diesel Particulate Filter are significantly more than other components.
The study covers detail analysis, growth and forecast of the Automotive Diesel Particulate Filter Market. The report includes market analysis on global and regional level. The study covers historical data analysis from 2014 to 2017 and market forecast for 2019 to 2027 based on revenue generated. The study includes market value in terms of revenue in billion USD for years 2014-27 and compound annual growth rate (CAGR) in % for from 2019-2027. The market is expected to show constant growth between 2019-2027.
The report comprises value chain analysis for each of the product segments. Value chain analysis offers in depth information about value addition at each stage. The study includes drivers and restraints for Automotive Diesel Particulate Filter Market along with their impact on demand during the forecast period. The study also provides key market indicators affecting the growth of the market. Research report includes major player analysis with shares of each player inside market, growth rate and market attractiveness in different end users/regions. Our study Automotive Diesel Particulate Filter Market helps user to make precise decision in order to expand their market presence and increase market share.
The report provides Automotive Diesel Particulate Filter Market Dynamics ,includes industry growth drivers, challenges, opportunities , risk, constraints as well as threats .Reports also includes Manufacturing Cost Analysis mainly included Raw Materials Analysis, Price Trend of product, Mergers & Acquisitions, Expansion, Key Suppliers of product, Concentration Rate of Automotive Diesel Particulate Filter Market, Manufacturing Process Analysis. Research Report contains Market Effect Factors analysis mainly included Technology Progress, Consumer Needs Trend, External Environmental Change.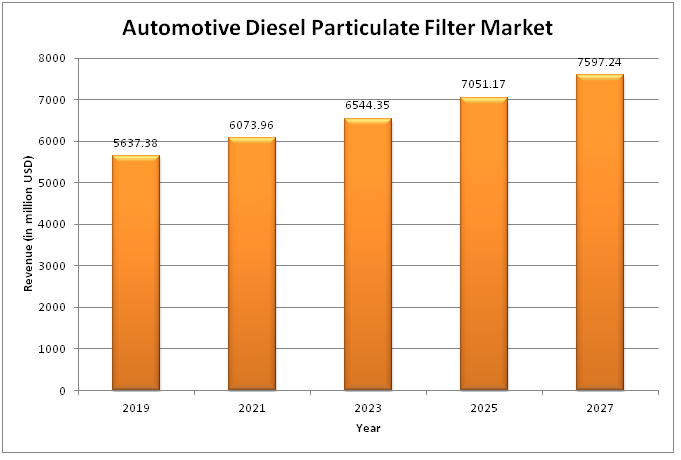 Automotive Diesel Particulate Filter Market: Product Type
Regenerating Type Filters
Disposable Type Filters
Automotive Diesel Particulate Filter Market: Application
Light Commercial Vehicles
Heavy Commercial Vehicles
Passenger Cars
Automotive Diesel Particulate Filter Market: Competitive Analysis
Report includes accurate analysis of key players with Market Value, Company profile, SWOT analysis. The Study constitutes of following key players in Automotive Diesel Particulate Filter Market:

Delphi
Tenneco
Freudenberg Filtration
Denso
Dow Automotive
Johnson Matthey
Weifu
SPMC
MANN+HUMMEL
EEC
NGK Insulators
Dinex
Donaldso
ESW Group
Eminox
Bosal
HJS Emission Technology
HUSS
DCL
Clean Diesel
RYPOS
Geographical analysis of Automotive Diesel Particulate Filter Market:
North America
Europe

France
Germany
Spain
UK
Rest of Europe

Asia Pacific

China
Japan
India
South East Asia

Latin America
Middle East and Africa
Automotive Diesel Particulate Filter Market Report delivers comprehensive analysis of :
Market Forecast for 2019-27
Market growth drivers
Challenges and Opportunities
Emerging and Current market trends
Market player Capacity, Production, Revenue (Value)
Supply (Production), Consumption, Export, Import analysis
End user/application Analysis
---
Automotive Diesel Particulate Filter Market was valued at around USD 6073.96 million in 2021 & estimated to reach USD 7885.938796 by 2028.
Automotive Diesel Particulate Filter Market is likely to grow at compounded annual growth rate (CAGR) of 3.8% between 2022 to 2028.
Yes, the report includes COVID 19 impact on the market.