Automotive Camera Module Market is estimated to reach USD 66450.45 million by 2027, growing at a CAGR of 9.5 % between 2019 and 2027
Automotive camera is a camera which can be installed at front side, rear side, or inside a vehicle for safety drives. Camera modules contain image sensors that are fixed with electronics modules in a vehicle. Automotive camera vehicles utilize cameras and radars to sense the surrounding environment and get a quicker response to prevent collisions, provides enhanced driving experience, and records drivers inclination. The benefit of automotive cameras is assistance in airbag control, blind spot detection, nap prevention, lane & border detection, and parking. Advanced driver assistance system (ADAS) and security & surveillance systems in automotive are using advanced technologies in camera module systems.
Advanced driver assistance systems (ADAS) coordinates with automotive camera module systems to improve the performance of safety systems. To enhance the quality of cameras and enable visibility conditions at night, manufactures are offering Night Vision cameras that provide wide-angle view under limited visibility conditions. Some key vendors offered Night Vision that is equipped with infrared technology that helps analyse and capture images even when the vehicle is in motion. It detects pedestrians more accurately in comparison to headlights and conventional cameras.
The study covers detail analysis, growth and forecast of the Automotive Camera Module Market. The report includes market analysis on global and regional level. The study covers historical data analysis from 2014 to 2017 and market forecast for 2019 to 2027 based on revenue generated. The study includes market value in terms of revenue in billion USD for years 2014-27 and compound annual growth rate (CAGR) in % for from 2019-2027. The market is expected to show constant growth between 2019-2027.
The report comprises value chain analysis for each of the product segments. Value chain analysis offers in depth information about value addition at each stage. The study includes drivers and restraints for Automotive Camera Module Market along with their impact on demand during the forecast period. The study also provides key market indicators affecting the growth of the market. Research report includes major player analysis with shares of each player inside market, growth rate and market attractiveness in different end users/regions. Our study Automotive Camera Module Market helps user to make precise decision in order to expand their market presence and increase market share.
The report provides Automotive Camera Module Market Dynamics ,includes industry growth drivers, challenges, opportunities , risk, constraints as well as threats .Reports also includes Manufacturing Cost Analysis mainly included Raw Materials Analysis, Price Trend of product, Mergers & Acquisitions, Expansion, Key Suppliers of product, Concentration Rate of Automotive Camera Module Market, Manufacturing Process Analysis. Research Report contains Market Effect Factors analysis mainly included Technology Progress, Consumer Needs Trend, External Environmental Change.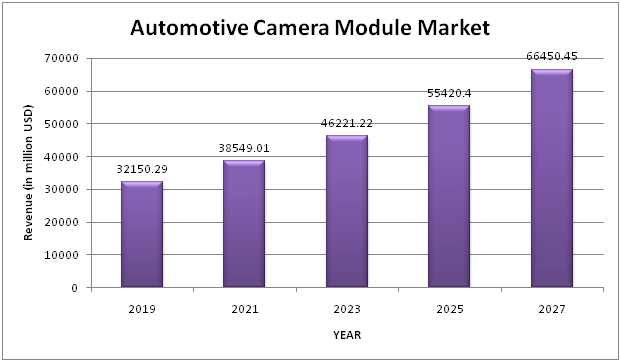 Automotive Camera Module Market: Product Type
Backup Camera
Black Box Camera
Automotive Camera Module Market: Application
Automotive Camera Module Market: Competitive Analysis
Report includes accurate analysis of key players with Market Value, Company profile, SWOT analysis. The Study constitutes of following key players in Automotive Camera Module Market:
LG Innotek
SEMCO
Sharp
Sunny Optical
Partron
ZF TRW
MCNEX
CAMMSYS
Powerlogic
BYD
Tung Thih
STMicroelectronics
Geographical analysis of Automotive Camera Module Market:
North America
Europe

France
Germany
Spain
UK
Rest of Europe

Asia Pacific

China
Japan
India
South East Asia

Latin America
Middle East and Africa
Automotive Camera Module Market Report delivers comprehensive analysis of :
Market Forecast for 2019-27
Market growth drivers
Challenges and Opportunities
Emerging and Current market trends
Market player Capacity, Production, Revenue (Value)
Supply (Production), Consumption, Export, Import analysis
End user/application Analysis
---
Automotive Camera Module Market was valued at around USD 38549.01 million in 2021 & estimated to reach USD 72763.24575 by 2028.
Automotive Camera Module Market is likely to grow at compounded annual growth rate (CAGR) of 9.5% between 2022 to 2028.
Yes, the report includes COVID 19 impact on the market.