The revenue of global Vinylphosphonic Acid market is valued at 11.1 million USD in 2016 and it is expected to reach 25.78 million USD by the end of 2026, growing at a Growth Rate of 8.79% between 2016 and 2026. Vinylphosphonic acid(VPA) is an organophosphorus compound with the formula C2H3PO3H2. Vinylphosphonic acid(VPA) is polymerized at 80 °C to give a high‐molecular‐weight polymer by free radical polymerization. Vinylphosphonic acid(VPA) , lits polymers and co-polymers are particularly suitable for applications involving interfaces. Vinylphosphonic acid(VPA) gives polyvinylphosphonic acid, through polymerization, is widely used as adhesion interfaces between coatings and the substrates to which they are applied.
Vinylphosphonic acid (VPA) has excellent heat and hydrolysis stability as well as flame-retardant properties and also posses strong metal complexation and adhesion properties with dispersing benefits. Need for innovative products in daily life is steadily increasing so new materials suitable to meet these requirements have to be developed. Poly vinylphosphonic acid and its derivatives which include poly vinylphosphonates and poly vinylphosphine oxides have been developed as functional synthetic polymers and gained importance in the polymer applications.
The use of Vinylphosphonic acid(VPA)which is colorless/odorless, water-soluble offers technical and economic benefits. The high purity and quality of Vinylphosphonic acid(VPA) products offers a high final polymer quality. Polyvinylphosphonic acid is a versatile polyelectrolyte useful in several applicationswhich includes proton conductor for fuel cells, chemical and biological sensors, biocomposite materials and surface modification and adhesion. Vinylphosphonic acid (VPA) and vinylphosphonic acid dimethylester (VPA-DME) offer numerous advantages such as they can be used as monomer, polymer and co-polymerSolubility in water and most organic solvents.
Technical advancement, Large expenditure on R&D, Government support and increased urbanization are the prime reasons for the growth of Global Vinylphosphonic Acid Market. Asia-Pacific has emerged as a market leader in Global Vinylphosphonic Acid market followed by US. US and Europe play significant role due to large number of researches for the development of advance Global Vinylphosphonic Acid and its polymers. Due to large population base and rise in health awareness are the main factors contributing to the growth of market in Asia-Pacific. Europe,Middle East, Africa and South American Vinylphosphonic Acid Market has also shown healthy growth in recent years.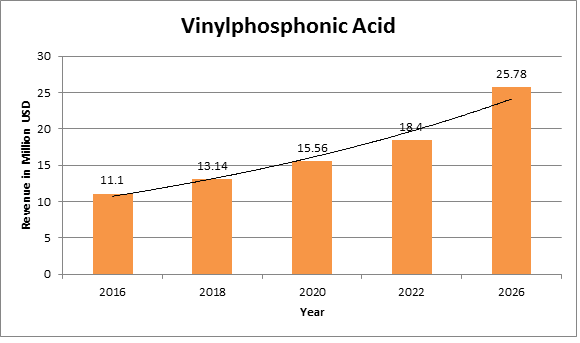 Vinylphosphonic Acid Market Report: Product Type
Vinylphosphonic Acid Market Report: Application
Printing
Coating
Water Treatment & Oil Well
Fuel Cells
Vinylphosphonic Acid Market: Company Analysis
Euticals
BASF
Solvay Novecare
Geographical analysis of Vinylphosphonic Acid Market:
North America
Europe

France
Germany
Spain
UK
Rest of Europe

Asia Pacific

China
Japan
India
South East Asia

Latin America
Middle East and Africa
Vinylphosphonic Acid Market Report delivers comprehensive analysis of :
Market Forecast for 2018-26
Market growth drivers
Challenges and Opportunities
Emerging and Current Market trends
Market player Capacity, Production, Revenue (Value)
Supply (Production), Consumption, Export, Import analysis
End user/application Analysis
---
Vinylphosphonic Acid Market was valued at around USD million in 2021 & estimated to reach USD by 2028.
Vinylphosphonic Acid Market is likely to grow at compounded annual growth rate (CAGR) of % between 2022 to 2028.
Yes, the report includes COVID 19 impact on the market.